Found December 06, 2012 on Fox Sports North:
EDEN PRAIRIE, Minn. Jared Allen's reputation as one of the league's best pass rushers has earned him extra attention from opposing offenses. Now, Allen and the Chicago Bears are both saying his reputation in a different manner will save him from any extra attention on Sunday. Allen, who knocked out Chicago Bears offensive linemen Lance Louis with a vicious block on an interception return when the two teams met just two weeks ago, doesn't expect to encounter any payback when the Minnesota Vikings host Chicago this weekend. Meanwhile, the Bears are saying the same thing in advance of the game, trusting that Allen didn't intend to injure Louis, who is out for the season with a knee injury because of the hit. "I don't think that Jared is that type of player," Chicago quarterback Jay Cutler said Wednesday in a conference call with Minnesota reporters. "I don't think he was out intentionally to hurt anybody. I've played against him when we were in Denver and he was with the Chiefs, and now in Minnesota. You don't want those things to happen. We wish that he would have hit him a little bit lower, but it didn't happen. We can't worry about it. We have enough on our plate to worry about as is to worry about those types of things." Allen was fined 21,000 for the hit, which didn't receive a flag in the game. Allen had left his feet and drove his shoulder into the head and shoulder area of an unsuspecting Louis after Vikings cornerback Antoine Winfield had intercepted Cutler. Allen has said repeatedly he didn't mean to injure Louis and has expressed his sympathy to Louis. But Allen doesn't expect any retribution from Chicago on Sunday, saying the Bears could have targeted him in the last game. Allen said he takes pride in hearing opponents such as Cutler say they know he's not a dirty player. "Again, my intent was never to hurt anybody," Allen said. "All I do is try to play good, hard football and that's what I try to put on the field every Sunday. So, yeah, to hear guys like Jay say that, it just goes to speak that the years I've been playing this game, I mean, I try to play it the right way. And if my peers recognize that, that's the best respect I can get." Allen is dealing with lower back spasms as well as a torn labrum in his shoulder. He sat out Thursday's practice, but coach Leslie Frazier said he expects Allen to practice Friday and play Sunday. For Allen, it was another week in the training room during a season in which he's spent more time there than in any other year. Allen, who has dealt with a variety of injuries this season -- including groin, neck, back and shoulder problems -- has missed onlyh three games in his nine-year career. "You always deal with something," Allen said. "I've just been blessed not to be in the training room throughout my career. I think everybody will have one to two years in their career, where some guys, they spend their whole careers in the training room. I've been blessed not to have that. So, God willing, I've been able to play through everything and go out there and try to help my team win football games." Cook returns to practice: Cornerback Chris Cook, who has been out since breaking a bone in his wrist Oct. 25, returned to practice Thursday for the first time since the injury. Cook, the team's top cover cornerback who was putting together another strong season, was put on injured reserve but was designated as the team's one player who could return this season. He has to be held out at least six games and will be eligible to return for the second-last game of the season at Houston. Frazier said Cook is on track to play in that game. "Yes, that's the goal," Frazier said. "It was good to see him out here today moving around. So we have to see how progresses, but that's the goal." Cook vowed a few weeks ago that he would return, and returning to practice Wednesday with a brace on the wrist was the first step. Frazier has option to switch QBs: Frazier has received plenty of questions about sticking with starting quarterback Christian Ponder and not replacing him with Joe Webb during Sunday's disappointing performance. With Rick Spielman having full control over the roster now that he's the general manager, there had been some question whether Frazier had the right to pull Ponder for performance reasons. "At the end of the day, when we're in the heat of the moment, it comes back to me making that decision," Frazier said Wednesday. "That's something that, as an organization, you're always talking about every player on your roster. Rick and I do it every week. We talk about our players, where they are, what they're doing, how they're performing. But when we're at out there in the ballgame, I can't call up Zygi or Mark or Rick and say, Hey, what do you think? Should this guy stay in or out?' Coach Frazier has to make that decision, so that's on me." Frazier said he has the authority to make the change and said making in-game decisions was part of the discussion when he was hired to be the coach. "That was one of the good things about when they hired me to be the head coach," Frazier said. "They allowed me to make changes, similar to what I had to do a year ago in Detroit. I can make those changes throughout the course of the game without having to get that red phone and put a call in to New York or wherever." Follow Brian Hall on Twitter.
Original Story:
http://www.foxsportsnorth.com/12/06/1...
THE BACKYARD
BEST OF MAXIM
RELATED ARTICLES
LIQUORED UP
With the division rival Bears heading to town, Vikings linebacker Chad Greenway wants fans to arrive at the game "super-duper drunk" by drinking "liquor, not beer."
This is Mark Swanson. I'll bet his friends called him "Swanny" in high school. Or Marky. Or ... Well, he's allegedly 39 years old, so maybe he's young enough to have gone by Marky Mark? I don't know. Either way, he's a Minnesota Vikings fan who recently attended a Vikings/Packers game at Lambeau field. In retrospect, he probably wishes he wouldn'...
The Vikings are fresh off a heartbreaking loss to the Packers. Sitting at 6-6 Chad Greenway knew he had to say something to get his fans fired up for this weekends game against the Bears. Lets just say he now has the best quote of the 2012 NFL season and maybe one of the best of all time. According to the Star Tribune, Greenway said: We have to play accordingly and our fans have...
The Chicago Bears' defense is finding it difficult to close out games and showing signs of some real wear and tear. Playing without injured linebacker Brian Urlacher and with several other lineup changes, the Bears will have to find a way to turn it around Sunday against a Minnesota Vikings offense that can run opponents into the ground behind Adrian Peterson. A win would also...
The Minnesota Vikings have placed wide receiver Percy Harvin on season-ending IR due to an ankle injury, reports Gregg Rosenthal of NFL.com. The Vikings placed Harvin on injured reserve Wednesday with an ankle injury that never recovered. Reports suggested Harvin suffered a ligament tear. It was reported yesterday that Harvin's ankle injury he sustained Nov. 4 during...
Kelvin Hayden will get the start at cornerback in place for injured Tim Jennings when the Chicago Bears travel to Minnesota Sunday to face the Vikings. Jennings was hurt late in the Bears overtime loss to Seattle. In his place steps the veteran Hayden, who has played the nickel back role for much of the season. Hayden's experienced in the [...]
Less than two weeks ago, the Chicago Bears ended a two game losing streak by defeating the Minnesota Vikings at Soldier Field 28-10. The Bears' defense held the Vikings to 258 yards of total offense and just one touchdown while forcing three turnovers. In order for the Bears to remain in the drivers seat for at least a wild card spot, the defense will once again have to slow down...
How Many Boos Does Christian Ponder Get? Does he get all the boos? Every single one? Will any of them be directed at Big Leslie or Bill Musgrave? I would think some of them would be, wouldn't you? When will they start? Right away? When the offense runs out on to the field? I bet they'll announce the defense to prevent that from happening. But as soon as the offense takes...
When the Chicago Bears (8-4) and Minnesota Vikings (6-6) meet in the Metrodome on Sunday afternoon, it will be the second time in three weeks that these two teams have faced off. In the Thanksgiving weekend matchup between the two teams Chicago walked out of Soldier Field with a 28-10 victory.  However, this will be a much different Bears team that faced the Vikings two weeks ago...
With Tim Jennings likely to miss this Sunday's contest against the Minnesota Vikings, the Chicago Bears will turn to Kelvin Hayden to take over the starting cornerback role.
After a long layoff, induced by poor play and landing in Lovie Smith's doghouse, D.J. Moore will be back in his familiar role as Chicago's nickelback on Sunday against the Vikings.
NFL News

Delivered to your inbox

You'll also receive Yardbarker's daily Top 10, featuring the best sports stories from around the web. Customize your newsletter to get articles on your favorite sports and teams. And the best part? It's free!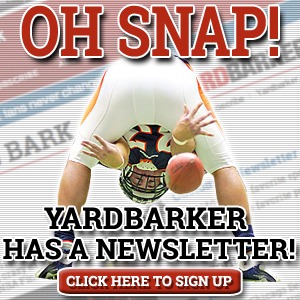 Latest Rumors
The Backyard

Today's Best Stuff

For Bloggers

Join the Yardbarker Network for more promotion, traffic, and money.

Company Info

Help

What is Yardbarker?

Yardbarker is the largest network of sports blogs and pro athlete blogs on the web. This site is the hub of the Yardbarker Network, where our editors and algorithms curate the best sports content from our network and beyond.