Found July 16, 2012 on CJ Sports NFL Talk:
PLAYERS:
Matt Forte
,
Brandon Marshall
,
Alshon Jeffery
,
Michael Bush
,
Jay Cutler
,
Devin Hester
,
Earl Bennett
,
Eric Weems
,
Kahlil Bell
,
Kellen Davis
,
Jared Allen
,
Clay Matthews
,
Ndamukong Suh
,
Drew Brees
TEAMS:
Chicago Bears
,
Detroit Lions
,
Minnesota Vikings
,
Green Bay Packers
,
New Orleans Saints
,
Houston Rockets
The Chicago Bears and their pro-bowl running back Matt Forte have agreed to a new contract that is worth $32 million dollars over 4 years according to ESPN…
http://espn.go.com/chicago/conversations/_/id/8170553/matt-forte-chicago-bears-agree-4-year-32m-contract-source-says.
Terms of the new agreement have yet to be disclosed, but you can rest assured that the folks at Halas Hall and Chicago Bears fans are all breathing a sigh of relief.In this case it may not be considered an overstatement to say that a few retired hall of fame players from various teams, Chicago Bears past and present, most every NFL analysts, as well as the parties involved in the negotiations of the contract are all happy to get this saga over with.
The Bears on many fronts will now be expected to compete with their NFC North rivals the Green Bay Packers and the resurgent Detroit Lions for the best record in a division that many people consider to be the best in pro football going into the 2012-2013 season.
Now that Matt Forte has been placed back into the fold and with the additions of WR's Brandon Marshall and rookie Alshon Jeffery, as well as the free agent signing of RB Michael Bush, Bears QB Jay Cutler will have a plethora of offensive options at his disposal. When you also take into account the Bears QB will have Devin Hester, Cutler's college teammate WR Earl Bennett, newly signed return specialist/WR Eric Weems, 3rd string RB Kahlil Bell, and TE Kellen Davis to round out his offensive corps, you could argue that this could possibly be the best offensive cast that the Chicago Bears have had in their storied history and maybe one of the best in the NFL this coming season.
Along with the talented roster the Bears now have on the offensive side of the ball they will have a new perception, one that is of high expectations. Super-Bowl and Bourbon Street expectations will be the average fans only end to a season with so much fire power at its disposal.
Here is the problem, the Bears offense may look like a Ferrari on the outside, but if you check under the hood you might be shocked to find it has the engine of an old YUGO. To put it bluntly, the Bears O-Line is not the best in the NFL by any stretch of the imagination. Mike Tice has moved from O-line coach to the new Bears offensive coordinator and if anyone knows, he knows that he does not have pro-bowlers to work with when it comes to protecting the GQ QB from the Packers and Vikings and Lions Oh My. No, instead he has the "lunch bucket crew".  A "rag-tag line" of what if's and what not's to patch together whichever way they fit on any given play. A crew that looks more like a group suited to star in a WWE tag team cage match, than one asked to protect the franchise player and the Super Bowl hopes of a team that hasn't been in more than 25 years. Tice knows the ropes and will have to do whatever it takes to give Jay and his high flying circus a millisecond more to be able to get the ball down field.
Will the Bears O-line have enough to fend off Jared Allen, Clay Matthews, or Ndamukong Suh twice in this upcoming season?  Who will step up to make sure that the Bears can keep Cutler on the field and off his back? Forte' signing at least helps, he also knows what Cutler needs, that leak out pass into the flank at the last second.
Are the Bears Super Bowl contenders now that they have a trifecta on offense with Marshall, Forte' and Cutler?  Not quite, if you want me to be honest.
First, as alluded to before fans need to see evidence that the O-Line can give Cutler time to get the ball down the field. Next, the Bears have to show that they can still flex their defensive muscle on the other side of the ball. The firm of Urlacher, Briggs, and Spellman have been proven to hold QB's and RB's in contempt over the years, will they still have enough left in the tank  to bring the gavel down when it counts in the 4th quarter of big games this season?
Bears fans, even with a few unanswered questions, however should be rejoicing with this signing. Forte' gives the Bears as good a chance as any team in the NFL to win this season Lombardi Trophy. Forte' himself is a multiple weapon system, running, catching, and blocking are all done by him at a pro-bowl level and they are all wrapped up in one package. It still amazes me to think of what the Bears are on paper this season, knowing the history of the team. For the first time the Bears have a weapons arsenal that is completely stacked, all they need is a shield that is strong enough to hold off the would be predators. If I were a Bears fan, I wouldn't make hotel reservations for New Orleans just yet, but I don't think it would be so bad if you wanted to check rates and availability.
Related articles
Original Story:
http://110sportztalk.com/bears-matt-f...
THE BACKYARD
BEST OF MAXIM
RELATED ARTICLES
Matt Forte's contract situation has been the talk around Chicago all offseason, and it appears the two sides have come to a resolution. Forte has agreed to a four-year contract with the Bears worth roughly $32 million, according to ESPN.com's Adam Schefter. The two sides had until 4 p.m. ET on Monday to reach an agreement, or else the running back would have played the upcoming...
Under the gun of today's deadline for franchise players to agree to multi-year contracts with their teams, the Chicago Bears agreed to terms with running back Matt Forte. Sean Jensen of the Chicago Sun-Times, who broke word of the deal, indicates it's a four-year deal. Financial terms have not yet been confirmed, but Adam Schefter notes the deal averages about $8 million...
According to Sean Jensen of the Chicago SunTimes the Chicago Bears and Matt Forte have agreed to terms on a four-year contract today. News of the signing went out on twitter and from there many other NFL sources confirmed it. The news comes a little over three hours before the deadline that would have prevented Forte from signing a long term contract. Adam Schefter tweeted out...
Getty Images According to Vaughn McClure of the Chicago Tribune, as of early this morning there's still no indication whether or not the Bears and Matt Forte will agree on a new contract before today's 4pm est deadline. Over the weekend there were some indications that both the Bears and Forte were close to getting a deal done.  All we can do now is wait and see what happens.
The Chicago Bears reportedly have agreed to a four-year, $32 million contract extension with pro-bowl running back Matt Forte, per the Chicago Tribune. Forte had until 3p eastern time to either have accept the team's franchise tag tender, hold out, or agree to an extension with the Bears. Forte performed at an all-pro level in [...]
The Chicago Bears will avoid having to pay running back Matt Forte the franchise tag, and Forte will avoid having to hold out. Multiple outlets are reporting that both parties agreed to a four year contract Monday, the deadline day. Now the Bears will not have to pay Forte $7.74 million. The Bears signed veteran running back Michael Bush to a four-year, $12 million contract ($7...
Many Chicago Bears fans have been patiently waiting to hear the outcome of negotiations between the Bears and Running Back Matt Forte. Finally they have come to an agreement: $32 million contract over 4 years. Impatient fans were sweating over the wait and starting to get heated over Forte's lack of agreeing, perhaps he felt pressured into [...]
Earlier in the day, news broke that Matt Forte had been signed a long term deal with the Bears, surprising everyone who had covered the contract dispute between the two sides. This afternoon, kicker Josh Scobee signed with the Jacksonville Jaguars ending a similar contract dispute in Northern Florida. Now you can add Ray Rice to the list. According to Albert Breer, Ray Rice and the...
With the Bears and Matt Forte ending their soap opera by striking a long-term agreement, the Monsters of the Midway now have virtually no distractions heading into training camp next week. That allows the Bears to focus solely on the task at hand: winning a Super Bowl title. And they better do it quickly, because after this year the window may be closing. Jay Cutler, Matt Forte...
With the signing of Matt Forte to a four year contract, we now turn our focus to who the Chicago Bears should look sign a contract extension. Recently it was reported that the Bears would have 17 of 22 starters hitting the free agent market in the next two seasons (barring Forte not signing his extension) that number dropped to 16 after Forte signed his deal. This number is extremely...
Source: 2012 LENOX Industrial Tools 301 at New Hampshire on Race Comics Related articles Bears Matt Forte Signs New 4 year Deal- Super Bowl Next?(110sportztalk.com) Steve Stricker's Streak Ends: Johnson Wins TPC John Deere Run(110sportztalk.com)
The 2011 NFL Season came to an end with many big name superstars heading to free agency or getting franchise tenders from the clubs they have played for.  Four of these superstars shared something in common. They all are franchise running backs who play important roles in their teams' playbook. Now that the signing period came to end, to get franchised players signed long...
NFL News

Delivered to your inbox

You'll also receive Yardbarker's daily Top 10, featuring the best sports stories from around the web. Customize your newsletter to get articles on your favorite sports and teams. And the best part? It's free!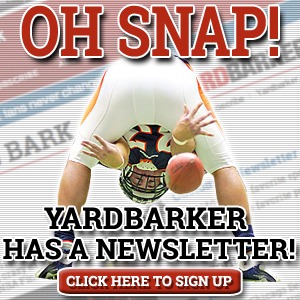 Latest Rumors
The Backyard

Today's Best Stuff

For Bloggers

Join the Yardbarker Network for more promotion, traffic, and money.

Company Info

Help

What is Yardbarker?

Yardbarker is the largest network of sports blogs and pro athlete blogs on the web. This site is the hub of the Yardbarker Network, where our editors and algorithms curate the best sports content from our network and beyond.