Found November 13, 2012 on Midway Illustrated:
After Bears quarterback Jay Cutler went down with a concussion, in stepped high-priced veteran backup Jason Campbell to relax the fears of Bears fans.  Campbell's signing in the off-season was seen as a major upgrade over Caleb Hanie but instead Campbell struggled nearly as much as Hanie did in relief of Cutler.  Jason Campbell's struggles were all together far too predictable and it's something that myself and Jeremy Stoltz of BearReport.com covered consistently on our podcast during training camp.  He earned the nickname Checkdown Charlie based on everything he did in the preseason.  Rather than push the ball down the field, Campbell would constantly take the check down option.  Jeremy specifically reported after the Week 3 pre-season game:   I've said it before so I'll try not to beat a dead horse but Jason Campbell worries me. He constantly checks down and when he does throw deep, he's usually off target. He's not going to kill the offense if called into duty but the team will need to consistently execute drives of 10 or more plays if they want to score points with Campbell under center. This was in practice and not up against a real defense in game situations that Campbell would constantly chicken out of going down the field.  He honestly looked scared throughout training camp and at no point did he practice or play better than Josh McCown.  McCown throughout practice and camp played far better than Campbell, but due to the price tag and youth and experience and reputation  Campbell came with, he won the job.   Campbell had absolutely business being named the starter, and yet the Bears went with him anyway.  As a result he experienced the expected pathetic effort against the Houston Texans.  Campbell's check down habit was even maddening for color man Chris Collinsworth who lit into Campbell for taking a check down rather than taking a shot at a wide open Brandon Marshall which could have gotten the Bears a first down in the fourth quarter.   "The protection was perfect Al, and he missed an opportunity "you have Brandon Marshall down the field here, Kareem Jackson is going to fall down on the coverage or get knocked down.  And he still had time there was no body around Jason Campbell.  He had time to read this one out he did not have to check this one down.  They had their opportunity for the first down on that play."  said Collinsworth.   As the All-22 tape of this play shows, the defender does in fact fall down (yellow oval) and Marshall is then wide open with plenty of protection in the pocket for Jason Campbell.  This is precisely the reason why I'm afraid of Campbell continuing to be the Bears' backup QB and potential starter this week against the 49ers.   The question is what happens next if Cutler misses time?  The Bears did go out and resign veteran Josh McCown, but that figures to be a move that is insurance for Campbell rather than a move to replace the veteran.  We don't know how bad Cutler's concussion is, the only indication was from Lovie Smith during his post game press conference.   ""We're hopeful, (to have Cutler available for the 49ers) but you can't go that far. We just know he had symptoms, which started clearing up after the half. Smith said.   While there is no reason to panic, there is absolute cause for concern surrounding the habits Campbell has shown in his short tenure in Chicago.  What we saw in training camp and the preseason carried over into the game against the Texans.  This was not a hard evaluation call to make regarding Campbell, it's been out there for everyone to see from the beginning of training camp.  The question is why haven't the Bears seen what we've seen?    
Original Story:
http://www.midwayillustrated.com/2012...
THE BACKYARD
BEST OF MAXIM
RELATED ARTICLES
It's déjà vu all over again for Chicago Bears fans in 2012.  The Chicago Bears went on a long winning streak which had people talking about them as a top team in the NFL, just like last season.  Now Jay Cutler is hurt, just like last season.  The question now is whether or not Cutler will miss extended time, and how Jason Campbell will perform in his absence. It could be seen...
Jay Cutler left the game against Houston at halftime having also been diagnosed with a concussion, but, for me the issue poses a bigger question than whether or not Jason Campbell can do enough to lead the Bears to victory (I'd suggest it just got quite a bit harder for them). The question is why wasn't a concussion test administered on Cutler before he went to the locker...
Join the guys for their observations and insights on Sunday night's loss to Houston on the next edition of "Bears Claws".  They'll discuss Jay Cutler's injury, the Bears offensive struggles, and whether they can rebound  next Monday night on the road in San Francisco. It will be a lively 30 minutes of blocking, tackling, and tongue-in-cheek humor, so make sure [...]
SEEING STARS
The constant rain has turned this Sunday Night Football game between the Houston Texans and Chicago Bears into an utter slop fest.  But even then it's not without its big plays.Tim Dobbins made a play to get after Jay Cutler and unfortunately for Cutler, despite absorbing a massive hit, it was all for nothing.  Cutler had barely crossed the line of scrimmage, making the pass...
Jay Cutler suffered a brain injury and stayed in the game, getting hit in the head again on the very next play. Tim Dobbins was ruled by officials to have cheap-shotted Cutler with a helmet-to-helmet blow, and stayed in the game. Can we try to stay focused on what matters here? It won't be easy, because Roger Goodell and the NFL are working a little magic trick, using smoke...
Bears quarterback Jay Cutler has left Chicago's game against the Houston Texans because of a concussion. A scrambling Cutler took a helmet-to-helmet hit from Tim Dobbins after unleashing a pass on third down at midfield late in the first half Sunday night. There were offsetting penalties on the play. Cutler got called for an illegal forward pass because he was beyond the line...
Houston Texans linebacker Tim Dobbins has been fined $30,000 for a helmet-to-helmet hit that gave Chicago's Jay Cutler a concussion. The hit came in the second quarter of Houston's 13-6 win on Sunday night when Dobbins hit a scrambling Cutler after he threw a pass. Cutler was past the line of scrimmage and called for an illegal forward pass on the play, and Dobbins was...
The Chicago Bears are expected to sign quarterback Josh McCown with Jay Cutler's status in doubt because of a concussion, ESPN Chicago reported Monday. Cutler sustained a concussion after taking a hard hit during the Bears' 13-6 loss to the Houston Texans on Sunday night. Jason Campbell replaced Cutler for the second half of the game. The Bears will need another backup...
It is looking doubtful that the Chicago Bears will have Jay Culter for Monday nights game against the San Francisco 49ers. With Culter out the first-team reps will be taken by backup Jason Campbell. Culter left Sunday's game against Houston with a concussion after a helmet to helmet hit by Texans linebacker Tim Dobbins. RELATED: Tim Dobbins fined $30,000 for hit on Culter. Cutler...
Chicago Bears linebacker Brian Urlacher still says he would lie to cover up a concussion. With quarterback Jay Cutler recovering from a concussion, the Bears' defensive star wasn't backing off comments he made to HBO earlier this year. He responded ''yeah'' when asked if he would try to cover up such an injury. He said he's not sure ''how you...
Chicago Bears linebacker Brian Urlacher still says he would lie to cover up a concussion. With quarterback Jay Cutler recovering from a concussion, the Bears' defensive star wasn't backing off comments he made to HBO earlier this year. He responded ''yeah'' when asked if he would try to cover up such an injury. He said he's not sure ''how you...
I know why you're here. Week 10 has created so many question marks for teams heading in to Week 11. The biggest of all being at the quarterback position with injuries to the dominant Jay Cutler, Alex Smith, Ben Roethlisberger, and Michael Vick. Let's get to it! Fantasy Football Week 11 Waiver Wire Pickups Nick Foles, QB, PHI (Yahoo! 5%, FOX 1.2%) The big question for a lot of...
NFL News

Delivered to your inbox

You'll also receive Yardbarker's daily Top 10, featuring the best sports stories from around the web. Customize your newsletter to get articles on your favorite sports and teams. And the best part? It's free!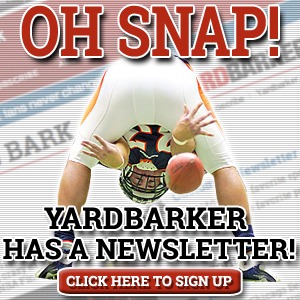 Latest Rumors
Best of Yardbarker

Today's Best Stuff

For Bloggers

Join the Yardbarker Network for more promotion, traffic, and money.

Company Info

Help

What is Yardbarker?

Yardbarker is the largest network of sports blogs and pro athlete blogs on the web. This site is the hub of the Yardbarker Network, where our editors and algorithms curate the best sports content from our network and beyond.