Found March 07, 2012 on NorthWest Sports Beat:
12th Man Pros & Cons
If you have read my bio you know that I originally got my Seattle Seahawks season tickets when I moved to Seattle in 2006. Since then I have witnessed some of the greatest moments in the new stadium.
I do wish I had been able to attend the NFC Championship game but instead I watched it with my family at my parents house and we made our own memories that we will cherish as we age.
Love 'em
I love driving to the stadium at 8:30 AM (for Sunday afternoon games)
As I drive over the West Seattle bridge I can see CenturyLink Field sitting there in the morning light thinking to myself,  "She's quiet now, but in a few hours she will erupt with the cheers from the 12th man".  I take the first avenue exit and drive down 1st avenue towards the stadiums. As I get closer I can see fans walking around and people waving flags trying to get you to park in their lots.
By this time Bittersweet Symphony is playing in my car and I am getting pumped up. I pull into the lot where I tailgate and meet up with my friends, most of whom have been there since 7:00 AM or earlier. I may try a new beer they have brewed or just drink some water but either way it is a great time.
I love the game day experience (in the future I will fully explore this topic)
Before the game you can tailgate in private lots around the stadium, remember to put your adult beverages in a plastic cup for police sake.
They wont hassle you for drinking in public as long as it's not in the bottle or can.
If tailgating is not you thing than you can go into the CenturyLink Event Center before the game. They have different booths set up where you can play games for prizes, 710 AM hosts a radio show and both the Sea Gals and Blue Thunder (Seahawks Marching Band) make an appearance.
I love the game
Since you are reading this it is pretty safe to assume you do as well. If you have ever been to a game and felt the electricity in the stadium from the moment the 12th Man flag is raised until the final snap then you know exactly what I am referring to. The best way that I can describe it is as the most fun a person can legally have with their clothes on. 
Hate 'em
I hate having to pay for preseason games as part of the season tickets package
Seahawks season tickets: Love em & Hate em
If they are going to make me pay for tickets that I can't even give away it should at least be half the price. I started attending the preseason games when I started writing I because I want to see as much as I can in person but before then the tickets went to waste. Not only does a ticket holder have to pay full price for the tickets it still costs up to another $40 to park, if you want a beer and a hot dog thats another $20.
Of course I will also need a couple waters and a half time lemonade to repair my throat from all the yelling. So by the end of the day you can drop close to a hundred dollars after the price of a ticket without getting any souvenirs.
I have never gone down to Peoria to watch the Mariners during Spring Training but I'm guessing it's much cheaper than the regular season games and I doubt season ticket holders are forced to buy those tickets.
Sure I am comparing apples to oranges but it is still ridiculous to me to charge full price for a preseason game.
I hate the fact that if you get a seat by a bone headed fan your are stuck next to them all season
A few years ago there was a fan five or six rows down from me who always wore a Steelers Championship jacket with the Super Bowl XL (the year they were handed the trophy by the officials) patch glaring at me. Generally I'm not a violent person but it took everything I had not to punch the guy in the face and tell him to get the f#$% out of our stadium.
I hate the fact that the magical feeling of attending the game has worn away
It used to be exhilarating just to walk into the stadium for me. The hair on my arm would literally stand up and chills would run down my spine. I'm not sure at what point that went away but the feeling is gone.
I still enjoy going but it is a little bit like when you find out Santa Clause doesn't exist. Sure Christmas is still great but it's not quite the same.
All thing taken into consideration I would have to say if you are a Seahawks fan within driving distance and have enough money in your budget for entertainment I strongly suggest looking into getting them, there isn't a bad seat in the house and each section has its own advantage. 
CLICK HERE CHECK OUT THE SEAHAWKS BLOG IN OUR CLUBHOUSE AT NWSB!
© Brett Bivens for North West Sports Beat, 2012. | Permalink | No comment |
Follow NWSB on Twitter or join US on Facebook for real-time updates OR... | Share This on Twitter | Share NWSportsBeat.com on Facebook
Post tags:
!2th Man
,
Blue Thunder
,
CenturyLink Event Center
,
CenturyLink Field
,
Love Em Hate Em
,
Sea Gals
,
Seahawks
,
Seahawks Blog
,
Seahawks Blogs
,
Seahawks season tickets
,
Seattle Seahawks
,
Seattle Seahawks Blog
,
Seattle Seahawks Blogs
Original Story:
http://www.nwsportsbeat.com/seahawks/...
THE BACKYARD
BEST OF MAXIM
RELATED ARTICLES
DIAMONDS IN MY TEETH
Seattle Seahawks running back Marshawn Lynch had to find someway to blow part of his new four-year, $31 million contract. And if the four year deal wasn't a sign of a commitment to the Seahawks, his new purchase definitely is. The Pro Bowl running back had some jewelry made for his mouth - a custom-made Seahawks grill. The Seahawks grill will be Lynch's "go-to grill...
First reported by Danny O'Neil on the Seattle Times Seattle Seahawks blog. Cornerback / Defensive back Marcus Trufant is being released by the Seahawks Wednesday. Trufant, 31, or "TRU" as he's called by fans and teammates was chosen by Seattle in the first round of the 2003 draft out of Washington State. He is the longest-tenured member of the team having...
The Seattle Seahawks have committed to Marshawn Lynch and he has the smile to prove it. Lynch and Seattle agreed the other day on a 4-year contract worth around $31 million. The first big purchase by the running back is a grill.  Not a Weber Grill.  Fake teeth that say "Seahawks".  He also sports a set that says "Beast Mode".
Seahawks News | Links Hey there folks and Happy Wednesday to you! Surfing around for your Seahawks coverage for today? Looking for Seattle Seahawks, News, Links, Gossip, links, Analysis and observations? CLICK HERE TO CHECK OUT THE SEAHAWKS BLOG PAGE IN OUR CLUBHOUSE SECTION AT NWSB! We all love the Seahawks right? But we all don't have the time to go thru the web to try to find...
Number 23 will be missed A Washington native, and alumni of Washington State University, Marcus Trufant was drafted by his hometown team Seattle Seahawks in the 1st round of the 2003 draft. There's nothing more fulfilling as a sports fan than seeing one of the local products getting drafted and making an impact on the local pro sports team. And Marcus Trufant definitely made an...
The Seattle Seahawks released veteran cornerback Marcus Trufant on Wednesday. A back injury limited Trufant to only four games in 2011 - his ninth season with the Seahawks. The longest-tenured member of the team, Trufant was scheduled to make more than $7 million. The 31-year-old Trufant was the No. 11 overall pick of Seattle in the 2003 draft. He has 21 career interceptions,...
Two days ago, Seattle Seahawks running back Marshawn Lynch signed a four-year deal to stay in Seattle and decided to use some of that cash to buy a grill. Now, we're not talking about a barbecue but the jewelry teeth worn by many famous rappers such as Paul Wall and Lil Jon. Below the folks over at the NOC followed Lynch in his attempt to purchase a Seahawks version...
The Seattle Seahawks have released cornerback Marcus Trufant, who missed most of last season with a back injury. Seahawks general manager John Schneider says the team decided to release Trufant on Wednesday to give him an opportunity to ''explore the full window of unrestricted free agency.'' Drafted by Seattle with the 11th overall pick in 2003, Trufant started...
I once dressed as Paul Wall for Halloween by carefully attaching two Double Mint gum wrappers to the upper and lower fronts of my teeth as to give the appearance of his famous "grill". Obviously that was before Seattle Seahawks star running back shot this video for NOC where he gives you the step by step process for getting a real blinged out grill.
Hot News for CB Marcus Trufant
Manning In Blue & Green? Should the Seattle Seahawks sign Peyton Manning As I am sure you are well aware of the Indianapolis Colts have decided to release superstar quarterback Peyton Manning.  Few weeks, even months Seahawks fans around the globe have been discussing the possibility of Peyton Manning becoming a Seattle Seahawks starting quarterback. Let me start by saying...
According to Albert Breer of the NFL Network, the Seattle Seahawks plan on reaching out to free agent quarterback Peyton Manning as soon as he hits the waiver wire today. Just like every other team that lacks an elite starting quarterback, the Seahawks will at least gauge whether or not Manning would be interested in playing in Seattle. Stay tuned for more coverage of Peyton Mania.
NFL News

Delivered to your inbox

You'll also receive Yardbarker's daily Top 10, featuring the best sports stories from around the web. Customize your newsletter to get articles on your favorite sports and teams. And the best part? It's free!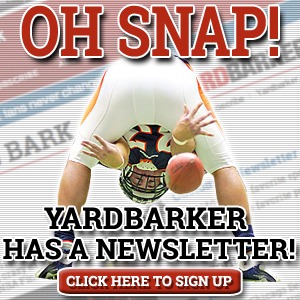 Latest Rumors
The Backyard

Today's Best Stuff

For Bloggers

Join the Yardbarker Network for more promotion, traffic, and money.

Company Info

Help

What is Yardbarker?

Yardbarker is the largest network of sports blogs and pro athlete blogs on the web. This site is the hub of the Yardbarker Network, where our editors and algorithms curate the best sports content from our network and beyond.