Found March 01, 2013 on BlackSportsOnline:
  Pittsburgh Steelers quarterback Ben Roethlisberger signed a restructured contract earlier this week. A team move, that will ultimately give the Steelers more cap space to work with to help the team in other areas. Big Ben also decided to put the bed the rumors of a torn locker room. "For anybody to say there are locker room issues or leadership issues are completely off base, said Roethlisberger to the Pittsburgh Post-Gazette.  "I believe that's the frustration. I believe that it's frustration of last year, I honestly do." Ben feeling the need to say this stems from anonymous comments from a teammate, who criticized Lamar Woodley's conditioning. "Obviously, last year was frustrating for all of us, and when you're frustrated and the season doesn't go the way you want it to and things don't go the way you want them to, things are said. I know all too well, after the Dallas game I was frustrated and said some things. "The important thing to know is, there are no issues in our locker room. There are no issues with LaMarr. There are no issues on our team." One of the things about locker room issues, no matter what you say in the media the truth will eventually come to light. I'm not saying Ben isn't being honest. But I cant imagine him announcing that there are issues either. It was just smart to make it known that there are no issues. Regardless of whether or not there actually are.
Original Story:
http://blacksportsonline.com/home/201...
THE BACKYARD
BEST OF MAXIM
RELATED ARTICLES
Pittsburgh Steelers quarterback Ben Roethlisberger spent the first 80-percent of his NFL career as a magnet for controversy.   Now he is trying to keep the offseason peace as his group bounces back from a disappointing season.   Please click here to read this story. The post Ben Roethlisberger defends Pittsburgh Steelers chemistry appeared first on Players View.
As expected, the Pittsburgh Steelers restructured the contract of quarterback Ben Roethlisberger on Thursday and the result of that now puts them under the estimated $123 million cap number. Roethlisberger is believed to have had $9 million of his $11.6 million base salary turned into a signing bonus via the restructure which would clear $6 million in cap space for 2013. Roethlisberger...
I'm going to be blunt here. I don't agree with Ben Roethlisberger's statements yesterday made to the Pittsburgh Post-Gazette's Ed Bouchette. Roethlisberger claims the locker room is fine and that recent comments made by a number of current players and a former one are out of "frustration" over an 8-8 season. Frustration is often the result of  much more though and that's...
The Pittsburgh Steelers have finished up restructuring quarterback Ben Roethlisberger's contract, which has freed up another $6 million under the cap. After redoing the contracts of  Roethlisberger, Lawrence Timmons, and Antonio Brown, the Steelers have cleared up a total of $14 million under the salary cap. From what we can tell, the Steelers are very close to being under the...
Pittsburgh Steelers quarterback Ben Roethlisberger told the Pittsburgh Post-Gazette that any claims of issues in their locker room, are false. "For anybody to say there are locker room issues or leadership issues are completely off base," Roethlisberger said Thursday, shortly after he signed a restructured contract to create $6 million of salary cap room for the Steelers in 2013...
Ed Bouchette of the Pittsburgh Post Gazette reports that the Steelers have restructured QB Ben Roethlisberger's contract on Thursday. Bouchette adds that this will free up an extra $6 million in cap space for the 2013 season. Roethlisberger had a staggering cap figure of $19.595 million, so it makes sense that they would try to get that down to a more manageable number. So far...
The Pittsburgh Steelers struggled through a disappointing 8-8 season last year, which is quite uncharacteristic for one of the NFL's most successful franchises. As if the team did not already have enough issues to work through in order to get back to the playoffs next season, the coaches and players have also had to deal with anonymous teammates ripping one another. Last week,...
Season 3, Episode 80 of The Terrible Podcast is up and co-host David Todd and I talk about the three contract restructures done so far on Ben Roethlisberger, Antonio Brown and Lawrence Timmons. We let you know where this puts the team salary cap wise with less than two weeks to go until they need to cap compliant. We also give you glimpse ahead to the 2014 salary cap situation in...
Similar to what Tom Brady did for the Patriots earlier this week, Ben Roethlisberger freed up cap room for the Steelers by agreeing to restructure his contract.Fantasy Spin:Pittsburgh can use the extra money to re-sign free agent wideout Mike Wallace later this offseason. Roethlisberger racked up 26 touchdowns and 3,265 passing yards in 13 games in 2012.
The Pittsburgh Steelers are not even through with their restructures this offseason and already there is concern about the damage that they are doing to 2014 and beyond by pushing forward more money. Fans go through this concern every year because most just don't understand the real numbers and what lies ahead. Thank God Omar Khan does. Here is the 2014 big picture for you....
IT'S ALL HUNKY DORY
After signing a restructured contract, Steelers quarterback Ben Roethlisberger attempted to put the kibosh on rumors that the locker room is in disarray.
Following in the foot-steps of Antonio Brown, Ben Roethlisberger and Lawrence Timmons, Pittsburgh Steelers linebacker LaMarr Woodley will reportedly also re-structure his contract this week or next. For those of you keeping score at home, the re-structuring of a players' contract is not a pay cut. It's actually a way to convert salary money into signing bonus money. This reduces...
Steelers News

Delivered to your inbox

You'll also receive Yardbarker's daily Top 10, featuring the best sports stories from around the web. Customize your newsletter to get articles on your favorite sports and teams. And the best part? It's free!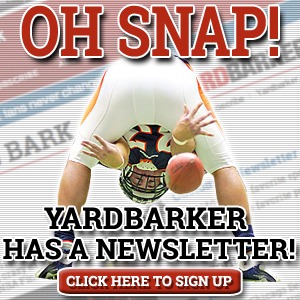 Latest Rumors
Best of Yardbarker

Today's Best Stuff

For Bloggers

Join the Yardbarker Network for more promotion, traffic, and money.

Company Info

Help

What is Yardbarker?

Yardbarker is the largest network of sports blogs and pro athlete blogs on the web. This site is the hub of the Yardbarker Network, where our editors and algorithms curate the best sports content from our network and beyond.