Found May 10, 2012 on Pro Football Zone:
Pittsburgh Steelers quarterback Ben Roethlisberger was a guest on the Dan Patrick Show and was asked when the last time was that he thought a team was targeting him. He mentioned last year's game against the San Francisc0 49ers, when he played with a sprained ankle. "I think when we played San Fran, I felt like there were some things going on, some extra," Roethlisberger said. "I did have the ankle and I was playing, so maybe there was kind of a bullseye on there anyway." Even though Roethlisberger feels like the 49ers may have been targeting him, it doesn't look like they were. Mike Sando of ESPN.com went back and watched every Steelers offensive play from that game against the 49ers and didn't see any evidence of opposing defenders going after his ankle. In the end, only the 49ers defensive players know whether or not they were targeting his injured ankle. But if there isn't any evidence on film, I don't believe anything was going on. Thanks to ProFootballTalk.com for the quotes.
Original Story:
http://profootballzone.com/nfl/ben-ro...
THE BACKYARD
BEST OF MAXIM
RELATED ARTICLES
Pittsburgh Steelers quarterback Ben Roethlisberger hinted on Wednesday in his interview with Rich Eisen that he expects to use more no-huddle now that Todd Haley has taken over as offensive coordinator. I have had quite a few request to pull the stats of Roethlisberger over the course of his career when running the no-huddle offense and I have finally compiled the raw stats from...
Pittsburgh Steelers quarterback Ben Roethlisberger graduated from Miami (Ohio) University this past week and now he and the rest of the Steelers offense will go to summer school in attempt to graduate from Todd Haley University. Roethlisberger has not been shy about telling the media types in recent interviews that the offense that new offensive coordinator Todd Haley is installing...
Pittsburgh Steelers quarterback Ben Roethlisberger joined Rich Eisen on his podcast Tuesday for a lengthy interview and told Eisen that he came away from his early meetings with new offensive coordinator Todd Haley with the notion that the offense might be able to run more no-huddle than it has in previous years under former offensive coordinator Bruce Arians. Roethlisberger also...
While many people have tried to create the thought that there is an issue between Steelers quarterback Ben Roethlisberger and new Offensive Coordinator Todd Haley, Big Ben has adamantly implored that is not the case. He is simply "confused" about what's going to happen with his offense as Haley implements his new system. The general consensus coming into this season was that...
Now that the issue of bounties has come to light in the NFL, stuff that has been going on across the league for years is being seen much differently. Take Ben Roethlisberger's ankle injury for example. With the Steelers fighting for their playoff lives toward the end of last season, Roethlisberger was forced to play through a significant high ankle sprain. During an appearance...
PITTSBURGH—Much has been said about how arriving Pittsburgh OC Todd Haley will get along with QB Ben Roethlisberger. To read this article and watch a video of Ben Roethlisberger, please click the link below.
Steelers QB Ben Roethlisberger was on the Dan Patrick show, talking about several topics going on this offseason with him and the team. Here are some highlights and you can listen to the full 9 minute interview here if you like. On the topic of his degree: It was very important. He made promise to himself and parents to get it done and is very proud of it. His degree will be coming...
Pittsburgh Steelers Ben Rothlisberger stopped far short of accusing the San Francisco 49ers of wrongdoing, as he suspected his bum ankle was being targeted during a game last season at Candlestick Park.During his appearance on the Dan Patrick Show, as the topic turned to the New Orleans Saints bounty scandal, Rothlisberger made a passing reference to the 49ers 20-3 victory...
If you were at all shocked to hear Ben Roethlisberger's comments regarding the potential for "lots of no-huddle" offense in 2012 my question would be… Why? In an interview with the NFL Network's Rich Eisen which will air Thursday, Roethlisberger was quoted as saying, "In these meetings I've had with Coach Haley, he's all about the no-huddle and using our wide-receiver...
Ben Roethlisberger is the starting quarterback of a team that is known for stellar, top notch defense. With names such as Jack Lambert, Joe Greene, Franco Harris, James Harrison, Troy Polamalu the Steelers legacy has always been on the defensive side of the ball. Big Ben has changed this thinking because no one in the NFL, not named Peyton, is as crucial to his team's success...
In the wake of the Saints bounty scandal, there has been plenty of talk about how the NFL actually functions. Many learned that bounties in some form have existed for years, the Chris Carter/Bill Romonowski nonsense has come up & now Ben Roethlisberger chimes in. Big Ben told Dan Patrick that he thought the 49ers [...]
Todd Haley has handed out the Steelers new playbook.  From the reaction of the players it is nothing like the playbook Bruce Arians has put out in the past.  Ben Roethlisberger compared it to learning "Rosetta Stone".  That is expected when a new coordinator comes in.  You get his playbook rather than the one you were using. There were two comments though that stood out to...
NFL News

Delivered to your inbox

You'll also receive Yardbarker's daily Top 10, featuring the best sports stories from around the web. Customize your newsletter to get articles on your favorite sports and teams. And the best part? It's free!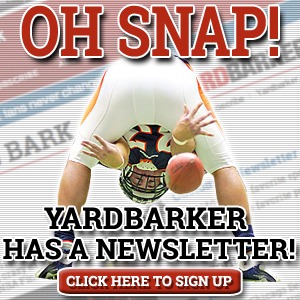 Latest Rumors
Best of Yardbarker

Today's Best Stuff

For Bloggers

Join the Yardbarker Network for more promotion, traffic, and money.

Company Info

Help

What is Yardbarker?

Yardbarker is the largest network of sports blogs and pro athlete blogs on the web. This site is the hub of the Yardbarker Network, where our editors and algorithms curate the best sports content from our network and beyond.