Found December 30, 2011 on Fox Sports Ohio:
PLAYERS:
Joe Flacco
,
Chris Crocker
,
Torrey Smith
,
Nate Clements
,
Reggie Nelson
,
Marvin Lewis
,
Carson Palmer
,
Andrew Whitworth
,
John Harbaugh
,
Andy Dalton
,
Jermaine Gresham
,
Cedric Benson
,
A.J. Green
,
Geno Atkins
,
Mike Nugent
,
Andre Caldwell
,
Carlos Dunlap
,
Taylor Mays
,
Dontay Moch
,
Jerome Simpson
,
Ray Rice
,
Terrell Suggs
TEAMS:
Baltimore Ravens
,
Cincinnati Bengals
,
Oakland Raiders
For a four-game stretch in 2009 and '10, the Bengals defense had dominated Ravens quarterback Joe Flacco. But in the first meeting Baltimore had the upper hand. Flacco has 12 passes of 35 yards or more with three of those in the Week 11 game in Baltimore. If the Bengals are to wrap up a wild-card spot with a win over the Ravens on Sunday, they are going to need to get to Flacco and not allow anything deep. "That was the key to the ball game and why we didn't win. We gave up too many explosive plays," safety Chris Crocker said. "We're so focused and aware of what deep plays they are going to do. We're going to try and check them down." In the four games in 2009 and '10, which the Bengals won three out of four, Flacco was intercepted nine times and had only two touchdowns. He was also sacked 11 times. In the first meeting, Flacco was 17 of 27 for 270 yards, which was his second-best game of the seven times he has faced the Bengals. If the Bengals are going to shut down anything deep, they will have to stop Torrey Smith. The rookie had a season best six catches for 166 yards against the Bengals, including a 49-yard catch in single coverage against Nate Clements and a 38-yard touchdown where he split safeties Crocker and Reggie Nelson. Said Crocker of Smith: "He is very explosive and can stretch the field. We'll be ready this week. This game has the biggest implications of my career, knowing if we win we can make the playoffs." The 9-6 Bengals need a win over Baltimore for their second playoff spot in three seasons and a trip to Houston next weekend for a wild-card round game. If they lose, they need losses by the Jets and the Raiders or Broncos. --Marvin Lewis has always had confidence in his young team. On Sunday, the Bengals can reward their head coach with his third playoff berth with a win over Baltimore. Both the Bengals and Lewis are in a perfect situation going into the regular-season finale against the Ravens -- they are 9-6, which is about three times the wins that some predicted, and have plenty of youth. It almost could remind you of Lewis' first season in 2003 when the Bengals were 8-8 and bright skies were ahead. Then came the next eight years. Yes, the Bengals won AFC North titles in 2005 and '09, but the following seasons were disappointments, including last year when they were 4-12 and Carson Palmer said he wanted out. After beating Arizona last week, Lewis said this could be a perennial playoff team. Whether that happens remains to be seen. Most are skeptical though. Lewis isn't. When asked if his young team has exceeded expectations, Lewis said: "Young is an excuse. Now it's time to win. Whether or not it is, we'll see. We've got to do a good job. That's what my job is, make sure we can keep putting them in the position to win games. It's what the guys have worked extremely hard for. It's important." With only three winning seasons in the past 20, the team needed a buy- one, get-one free promotion to sell out Sunday's game. It is only their second sellout of the year and third in the past 12 games. "I don't think those teams necessarily responded bad but I just think this team will respond differently," offensive tackle Andrew Whitworth said. "I think that this team in general has adopted the 'Nobody knows us' personality and just said that the only way we're going to be known, the only way that we're going to be important is to win and go out and prove who we are. I don't think we're so much carrying a chip on our shoulder as we're just comfortable with that." The other factor is that this is a loose group going into the biggest game of the season. Lewis was cracking jokes on Monday and Wednesday. By comparison, Baltimore head coach John Harbaugh was uptight during his teleconference. In their 31-24 loss at Baltimore in Week 11, the Bengals played a close game against the Ravens but Andy Dalton threw three interceptions and a Jermaine Gresham touchdown was overturned. With the Ravens needing a win to clinch the division, the pressure is more on them. The game will be the first regular-season home contest in January in team history. The previous eight January regular-season games have been played on the road and the team has a 3-5 record. If the Bengals lose, 11-4 Baltimore would wrap up the AFC North and Cincinnati would need losses by the Jets and either the Raiders or Broncos to clinch the last playoff spot. SERIES HISTORY: 33rd regular-season meeting. Ravens lead series, 17-15. Baltimore won the Week 11 game at M&T Bank Stadium 31-24 and is trying for its first sweep of the Bengals since 2008. NOTES, QUOTES --While Baltimore has won two straight, the Bengals have won six of the last 10 meetings and Marvin Lewis is 6-2 against the Ravens in games played in Cincinnati. --Unlike, the recent past games in this series, the first meeting in Baltimore was a shootout. Strong defense has marked the rivalry in recent years. In the last seven meetings before this season, the losing teams have averaged only 7.3 points per game. --With 13 sacks in the last three games, including five last week against Arizona, the Bengals have risen to third in the league with 44, an increase of eight spots. The Bengals have never finished a non-strike season ranked as high as third. Their best finish was fourth in 1973 when they had 43 sacks. The Bengals are four sacks shy of the club record of 48, which was set in 2001. The current total would rank fourth, behind 46 in 1976 and 45 in 1992. They have already posted the most sacks for a season in Marvin Lewis' nine-season tenure. The previous high was 37 in 2004. They do lead the league in differential between sacks by the defense and sacks allowed on offense. With 44 on defense and 24 allowed by the offense, the figure is plus-20. Philadelphia is second at plus-19 (49-30) and Baltimore is fourth at plus-15 (47-32). Plus-20 would tie the Bengals' full-season record for sacks differential. The 2001 team was plus-20 at 48-28 and the 1973 team was plus-19 (43-24). --In two weeks, Cedric Benson has gone from no fumbles to being tied for the league lead in fumbles among running backs with San Diego's Ryan Matthews. Benson has five fumbles in the last two games with two lost. Most of them have been because he has had the ball too far out and offensive coordinator Jay Gruden has said that Benson will be on a short leash. --With A.J. Green being the first Bengal to be voted into the Pro Bowl since 2007, respect among players and coaches is starting to be earned, Last year, Andrew Whitworth received the most fan votes at offensive tackle but wasn't even an alternate when the final results were released. This year the Bengals have three first alternates -- DT Geno Atkins, K Mike Nugent and QB Andy Dalton -- and Whitworth is a second alternate. BY THE NUMBERS: 6 -- Seasons of .500 or better that the Bengals have accomplished in Marvin Lewis' nine seasons as head coach. QUOTE TO NOTE: "We've just got to stay poised and focus on what our job at hand is. All that stuff is on the peripheral. It comes down to our 11 and their 11, each and every play. We've got to do a good job of that." -- Head coach Marvin Lewis on Sunday's game. STRATEGY AND PERSONNEL Wide receiver A.J. Green did not play the first time these teams met in Week 11, but he will be on the field Sunday. Green had only two receptions last week against Arizona as he was still trying to come back from a shoulder sprain. The most experienced receiver of the group though -- Andre Caldwell -- was placed on injured reserve due to a sports hernia. Defensively the Bengals get a huge lift with DE Carlos Dunlap, who has returned to being healthy the past couple of weeks and got his first sack in two months last week. PLAYER NOTES --DE Carlos Dunlap (hamstring) did not practice after being limited on Wednesday. He is questionable for Sunday's game. --S Taylor Mays (hamstring) did not practice for a second straight day and is likely to be doubtful. --LB Dontay Moch (illness) missed his second straight day of practice. He has not been active for a game this season. --WR A.J. Green (shoulder) was limited for a second straight day but has done all the drills and will start. --OT Andrew Whitworth (knee) was limited for a second straight day but will start. With Miami's Jake Long moving to IR, Whitworth will be the first alternate for the Pro Bowl. GAME PLAN: Balance, and not turning the ball over, are going to be big keys for the Bengals this week. Andy Dalton threw three interceptions in the first meeting as the Bengals fell behind by 17 early in the fourth quarter and did not have enough to rally. With Green playing in this game, the Bengals should be able to take advantage of things downfield. Jerome Simpson has had good games against the Ravens the last two times. Defensively, Mike Zimmer has always had good schemes to take away anything downfield from Joe Flacco, but in the first meeting the Ravens found plenty of openings deep with a depleted secondary. The key will be in stopping Ray Rice from getting any big runs. MATCHUPS TO WATCH: Bengals LT Andrew Whitworth vs. Ravens LB Terrell Suggs -- Whitworth has allowed four sacks in 17 AFC North games since moving into the left tackle spot. Suggs has 6.5 sacks against the Bengals but only 1.5 since 2005. Bengals CB Adam Jones vs. Ravens WR Torrey Smith -- Jones has had a rollercoaster season. He played well against the Cardinals but had a costly pass interference call against the Texans. Smith had 165 yards and routinely got a couple steps ahead of the secondary.
Original Story:
http://www.foxsportsohio.com/12/30/11...
THE BACKYARD
BEST OF MAXIM
RELATED ARTICLES
It's said that the toughest position in football is the quarterback's mother.  Sympathies to Mrs. Flacco.  Baltimore Ravens quarterback Joe Flacco is the subject of seemingly unending criticism .  He's inconsistent, the defense is responsible for his winning record, he'll never get the Ravens to a Super Bowl.  National and local media and fans have questioned...
Opening up the passing game won't necessarily lead to better resultsRavens quarterback Joe Flacco tried to get the media to lobby for the coaching staff to open up the offense. Flacco thought the Ravens became too conservative in the second half against Cleveland on Saturday.
Baltimore Ravens offensive coordinator Cam Cameron responded to Joe Flacco's criticism that the media should get on the coaching staff for being too conservative in last Saturday's 20-14 victory over the Cleveland Browns, adding some humor of his own. "Number one, I'm not going to listen to anything you guys say," Cameron said in his [...]
The Ravens sat on an early lead against the Browns last Saturday, which led Joe Flacco to lobbing a request through the media to his offensive coordinator. "There [have] been games this year where we've come out throwing the ball because we've been down a lot, and you guys have all complained about it," Flacco…
Joe Flacco's playful tug of war with Baltimore's offensive coaching staff wages on, with the Ravens quarterback lobbying reporters this week to urge coordinator Cam Cameron to spice up the attack.
The other day, Baltimore Ravens QB Joe Flacco jokingly complained to the local media that his coaches were being too conservative with their play calling and that he could use some help in criticizing his coaches so they would open it up some more. Then everyone laughed and someone in the back of the room yelled, "Dude, you are the worst fantasy football QB ever!" It might have...
I've gone back and forth on the Ravens' upcoming showdown with the Cincinnati Bengals. I've come to the conclusion the Ravens should pull this one out.In the first meeting between these two teams, way back in November, it was the Ravens' first game without inside linebacker Ray Lewis. Although Lewis hasn't been as stellar as expected, he still makes a difference in the...
The Ravens have won five of their last six games heading into this big contest this Sunday.  The Ravens need a win over the Bengals or a Steelers' loss to the Browns in Cleveland to lock up the AFC North and a first round bye in the playoffs.  The Bengals have won two games in a row.  They can get into the playoffs as a wildcard with a win over the Ravens tomorrow in Cincy. ...
Ravens' Wednesday interview transcripts featuring the following: Head Coach John Harbaugh QB Joe Flacco LB Ray Lewis RB Ray Rice OLB Terrell Suggs
NFL News

Delivered to your inbox

You'll also receive Yardbarker's daily Top 10, featuring the best sports stories from around the web. Customize your newsletter to get articles on your favorite sports and teams. And the best part? It's free!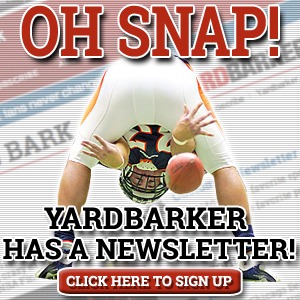 Latest Rumors
The Backyard

Today's Best Stuff

For Bloggers

Join the Yardbarker Network for more promotion, traffic, and money.

Company Info

Help

What is Yardbarker?

Yardbarker is the largest network of sports blogs and pro athlete blogs on the web. This site is the hub of the Yardbarker Network, where our editors and algorithms curate the best sports content from our network and beyond.