Found February 04, 2013 on Fox Sports:
The Baltimore Ravens were the big winners Sunday night. But they weren't the only ones. These 10 commercials were all winners in our book. Best Buy: "Ask Amy" We'd have thought this one was amusing even if it was just Amy Poehler repeatedly saying the word "dongle." But that was only one of several good lines the "Parks and Recreation" funny woman got off as she peppered the most attentive Best Buy employee ever with a series of questions. Tide: "Miracle Stain" A San Francisco fan spills nachos on his jersey only to find the resulting stain resembles 49ers legend Joe Montana. As pilgrims - aka Niners fans - flock to Montanaland to pay homage, his wife (a Ravens supporter) gets the last laugh when the offending stain is removed thanks to Tide. Kia: "Babylandia" Dad attempts to explain to his young son where babies come from (it involves - among other things -- a planet named Babylandia and baby-dispensing rocket ships). When the kid chimes in with an alternate (not to mention, more accurate) explanation, Dad quickly brings the awkward conversation to a close with a well-time voice command to the Kia's stereo. Samsung: "Next Big Thing" Paul Rudd and Seth Rogan both think they're in the running to be Samsung's "next big thing," leading to a rapid-fire exchange of insults that was a fitting homage to their performance in "The 40-Year-Old Virgin". The winner in my book? Rogan's acknowledgement that Rudd may have been the next big thing ... "maybe in 1998." Mercedes: "Sell Your Soul" Willem Dafoe, in the role he was born to play, attempts to convince a young man to sell him his soul in return for a Mercedes Benz and everything that goes with. But just when the man is about to give the devil his due, he spies a billboard touting the Benz's low price and turns down the deal. M&M's: "But I Won't Do That" While most ads featuring recurring characters have long since outworn their welcome (see eTrade baby), this one featuring the red M&M singing "I Would Do Anything for Love" actually scored. Especially when the "but I won't do that" portion of the song featured the aforementioned candy being devoured by a bevy of beauties. Doritos: "Goat 4 Sale" Guy buys goat. Goat eats 42 bags of Doritos. Doritos run out. Goat goes as insane as a nacho-cheese-loving domesticated ungulate can get. Not sure exactly why it's supposed to make me want to buy Doritos, but it did make me smile. Budweiser: "Landslide" While Stevie Nicks croons in the background, we see one of Budweiser's trademark Clydesdales grow from foal to adult horse, then eventually reunite with the farmer who raised him. Not exactly sure how Bud gets us to feel all sentimental about a horse, but they do it almost every year. Hyundai: "What Are We Doing Today?" One of the best ads of the Super Bowl actually came BEFORE kickoff, as a family has one very good day courtesy of their Hyundai and the Flaming Lips ... then settled in to watch the big game. Oreo: "You Can Still Dunk in the Dark" While I wasn't a big fan of Oreo's planned Super Bowl commercial, their in-game audible during the 34-minute power outage was marketing genius. The company tweeted, "No power? No problem" then showed a picture of an Oreo with the tagline, "You can still dunk in the dark."
Original Story:
http://msn.foxsports.com/nfl/story/be...
THE BACKYARD
BEST OF MAXIM
RELATED ARTICLES
SWEET RIDE
Sick whip!
Ballertainment Members of Baltimore Ravens saluted by their fraternity, Omega Psi Phi Several member of this season's Baltimore Ravens team are members of Omega Psi Phi Fraternity, Incorporated, founded at Howard University, November 17, 1911. Sunday, the Ravens won Super Bowl XLVII, and 'Que Psi Phi" chose to honor its championship-winning members with a message from Grand...
  Joe Flacco finished this postseason with 11 Touchdowns, 0 interceptions, a Super Bowl ring, and a Super Bowl MVP award. Sounds elite to me. So now that the season is over, attention turns to Flacco and the Ravens as they now have to attempt to get a deal done because of Flacco's looming free [...]
Last year during the offseason, Baltimore Ravens' quarterback Joe Flacco was making wild statements about how he was an "elite" quarterback and the best in the business.He really sounded like he belonged in a nut house than on the football field.Flacco has been one of those quarterbacks that has seen more downs than ups over his career even though he manages to get the Ravens...
Mike Florio of Pro Football Talk writes that not only are the Ravens likely to franchise QB Joe Flacco in the next few weeks, but they may have to use the exclusive franchise tag to ensure that he will be back for at least another season. If Baltimore were to apply the general franchise tag they would have to pay Flacco $14.6 million, but they would run the risk that a team could...
Here are XLVII stats, facts and stories you need for Super Bowl XLVII between the Baltimore Ravens and San Francisco 49ers: the good, the bad, the tasty, the drunk and the debaucherous straight from New Orleans, Louisiana.
The Baltimore Ravens are Super Bowl champions, and Joe Flacco is the Super Bowl MVP. Most of us would not have predicted six months ago that this would happen, but that is the beauty of the NFL. While many have criticized Flacco for lacking personality and his own father even said he is a dull person, that isn't stopping the 28-year-old from doing what Super Bowl-winning quarterbacks...
Joe Flacco and the Baltimore Ravens withstood a furious comeback attempt from the 49ers, a 34-minute blackout and the Destiny's Child reunion to win the Super Bowl.
It ended another lifetime after it began, with the Baltimore Ravens gladly surrendering two points that meant nothing except to some lucky bettors in Vegas. One brother patted the other on the cheek and, just like that, the strangest Super Bowl you will ever see was finally over – with the 49ers lamenting what was and what could have been.
We could not help but share the finalist from Doritos Crash the Super Bowl – a contest that Doritos holds each year when the public submit videos and then they get voted on. Below are the five finalist. Winner will be announced during the Super Bowl between the San Francisco 49ers and Baltimore Ravens. RELATED: Looking for all the other Super Bowl 47 commercials? Click here! ...
NEW ORLEANS -- The Baltimore Ravens blew almost all of a 22-point, second-half lead Sunday night, but they stopped a last-ditch San Francisco drive at the 5-yard line and defeated the 49ers 34-31 to win the Super Bowl behind three touchdown passes from quarterback Joe Flacco. The victory in the matchup of coaching brothers -- Baltimore's John Harbaugh and San Francisco'...
Everything has been said by the MSM about Super Bowl XLVII. Some of it was relevant and interesting. Other stuff was not. And here's some stuff they missed. So click away to get to know your Baltimore Ravens, San Francisco 49ers and commercials. 5 most overkilled SB storylines Niners Patrick Willis interviews Ravens Michael Oher 7 worst SB storyline pitches   Ravens cheerleaders...
Ravens News

Delivered to your inbox

You'll also receive Yardbarker's daily Top 10, featuring the best sports stories from around the web. Customize your newsletter to get articles on your favorite sports and teams. And the best part? It's free!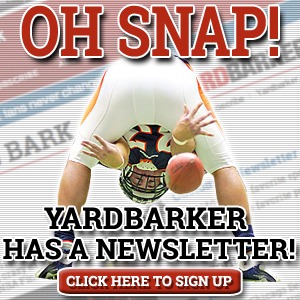 Latest Rumors
The Backyard

Today's Best Stuff

For Bloggers

Join the Yardbarker Network for more promotion, traffic, and money.

Company Info

Help

What is Yardbarker?

Yardbarker is the largest network of sports blogs and pro athlete blogs on the web. This site is the hub of the Yardbarker Network, where our editors and algorithms curate the best sports content from our network and beyond.