Found December 30, 2012 on The Other Paper:
New York football fans are faced with a big choice Sunday afternoon: Who'd you rather — the Jets or the Giants? To many it's like picking your poison but this is what the season for fans of both teams has come down to — hoping to get one last chance at seeing Tim Tebow play with Gang Green or praying that the Giants make the playoffs with the help of a miracle. The Jets and the Giants won't be meeting on the field in their regular season finales, but they will go head-to-head on the television screen for TV ratings today. The NFL announced its Week 17 start times last week, with the Giants-Eagles match up at MetLife Stadium (Fox) and Jets -Bills in Buffalo (CBS) both being played at 1 p.m. EST. Both teams share a stadium, share a metro fan base and now share a long and disappointing 2012 season. It might frustrate a lot of New York fans who are accustomed to getting a six-hour double dose of bad local football every Sunday this season.  But three-hours of clicking the remote might be like tearing off a Band-Aid.  Get it over with instead of doubling your torture or doubling your pain. The odds of seeing backup Tebow take a few snaps — even if he has been passed over twice for the starting quarterback in three weeks — seem far better than the defending champion Giants backing into the playoffs. All that's holding Tebow back from entering the game is probably another buttfumble from starter Mark Sanchez or a sympathy play-call from head coach Rex Ryan. FOUR things must happen on Sunday for the Giants to qualify for the playoffs: Winning the Eagles game AND the Redskins beating the Cowboys, the Lions beating the Bears and the Packers beating the  Vikings — all bitter division rival games. There's a good chance we will know by 4 p.m. today if New York has no NFL team in the playoffs for the first time since 2003.  But then, the oddsmakers can get a head start laying numbers on who will still be with the teams next season.
Original Story:
http://ihatelupica.blogspot.com/2012/...
THE BACKYARD
BEST OF MAXIM
RELATED ARTICLES
The Jets are going back to Sanchez instead of giving Tebow a chance. Entering the last week of the season I'm sitting at 153-87.  That's ok but not great.  I'd like to be over 170 for the season, but it is what it is at this point.  Let's finish strong. With teams resting players and teams out, I'll also take a look at the postseason and offseason...
Mercifully, the Jets' nightmarish season came to a close against the Bills Sunday, fittingly ending in the hands of Mark Sanchez. The much-maligned quarterback, who regained his job in the bizarrist of circumstances, fumbled twice and tossed an interception, which was returned for a touchdown in the 28-9 loss. Meanwhile, disgruntled backup Tim Tebow, still waiting for his shot...
There seem to be conflicting reports swirling in the air around Jacksonville, Florida the home of the Jacksonville Jaguars.On the one hand there are reports that Jacksonville wants to make substantial changes this offseason in order to be able to win games, but on the other hand there are reports that are saying it is "virtually certain" that Tim Tebow will be a member...
Now that the New York Jets' season is over, quarterback Tim Tebow has made it clear that he wants to be a starter next season after not getting a oppurtunity this season to play quarterback on a full-time basis. Despite reports that Tebow is likely to leave the Jets this offseason, the quarterback would not speak definitively. "I'm not sure," he said after the game. Tebow...
Even with a recent report that Jets quarterback Tim Tebow could end up with the Jacksonville Jaguars next season,  Arthur Arkush of ProFootballWeekly.com says it's probably a stretch to believe that he'll be a Jaguar in 2013. After doing a little digging, we hear that categorizing his arrival in Jacksonville after the season as imminent is a major stretch. Khan's prior interest...
With the 2012 NFL regular season officially in the books, many teams are beginning to look toward 2013.With all of the story lines that surround the upcoming offseason, one of the most notable will no doubt be the future of current New York Jets quarterback Tim Tebow.A recent report stated that a potential move to the Jacksonville Jaguars was essentially a done deal.However, as we...
Who will replaced AR? Image via voxxi.com. With Andy Reid out as Philadelphia Eagles head coach, the major question facing the franchise now is who will replace him.The speculation has swirled for months, as Reid's fate was sealed further by each successive loss. Here's a look at some of the possibilities. Chip Kelly The name that has been tossed around most in relation to the...
The biggest lie circulating about Tim Tebow is not that he is selfish. It is that he cannot play. Says who? Jets coach Rex Ryan? ESPN talker Merril Hoge? One is at the helm of the biggest hot mess going in the NFL at the moment, and the other has a thing for Tebow that feels almost uncomfortable. Hoge uses whatever Tebow does, from jogging shirtless to eating a hamburger from a...
The New York Jets ended a disappointing season with a 28-9 loss to the Buffalo Bills on Sunday. While Rex Ryan is undoubtedly upset with the way his team performed this year, he has to be relieved that he no longer has to deal with arguably the ugliest quarterback situation in the NFL. When the Jets acquired Tim Tebow, Ryan warned opponents that they had better be prepared to face...
Following Sunday's 28-9 loss to the Buffalo Bills — and an embarrassing 6-10 season — NY Jets head coach Rex Ryan was asked why he never started Tim Tebow as quarterback despite Mark Sanchez's poor performance on the field. His answer was telling: "I'm trying to win the game, and that's it," Ryan said. "If I thought Tebow would have helped us win the game...
General manager Mike Tannenbaum's tenure in New York is over, and it's all Tim Tebow's fault. Well, that's not necessarily true, but Tebow's arrival did play a big part in Tannenbaum's early exit in New York. Tannenbaum was with the Jets for almost 15 years in various capacities, including as general manager since 2006. He brought the team back to the brink of an AFC...
Remember when Tim Tebow's presence was supposed to light a fire under Mark Sanchez and thus make him a better quarterback? Me neither. In a season in which everything went wrong for the Jets, Sanchez was particularly brutal, tossing 18 interceptions and just 13 touchdown passes while completing only 54.3 percent of his passes. In other words, not only did the fourth-year quarterback...
Jets News

Delivered to your inbox

You'll also receive Yardbarker's daily Top 10, featuring the best sports stories from around the web. Customize your newsletter to get articles on your favorite sports and teams. And the best part? It's free!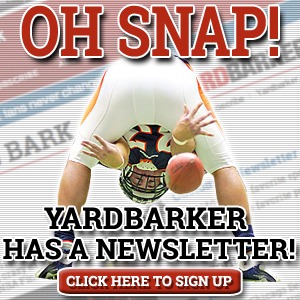 Latest Rumors
Best of Yardbarker

Today's Best Stuff

For Bloggers

Join the Yardbarker Network for more promotion, traffic, and money.

Company Info

Help

What is Yardbarker?

Yardbarker is the largest network of sports blogs and pro athlete blogs on the web. This site is the hub of the Yardbarker Network, where our editors and algorithms curate the best sports content from our network and beyond.