Found September 12, 2012 on 60 Max Power O:
Week 1 is in the books, and with it came the unpredictable, crazy, and unexpected turnover of the NFL which leads to wild speculation. THE REDSKINS ARE GOOD! MARK SANCHEZ FOR MVP! THE 49ERS ARE A DYNASTY…AFTER WEEK1! And so on and so forth. More importantly, however, the NFL gave us our weekly dose of delicious meltdowns. There are some surpirses (no Romo?) and some unsurprises (Jags and Browns still terrible!), but it's still just as tasty. Come for the failure, stay for the pictures of rich people playing a game looking silly.
Happy Blaine Gabbert is extremely satisfied about this effort
5. The Jaguars might win their opening game? Oh, no, just kidding
Jacksonville is a pretty terrible team who didn't get their best offensive player onto the roster until about a week before the season started. But despite all of that, Blaine Gabbert came out and looked very un-Gabberty, throwing for 260 yards and two touchdowns and put the Jags ahead by 3 with a touchdown pass and two-point conversion with just 20 seconds to go in the game! Surely, the Jags could hold up for 20 whole seconds, right? Eh, not so much. The Vikings went 32 yards in those 20 seconds and kicked a field goal as time expired to force overtime.
Then Jacksonville got a chance to kick the tires on the new overtime rules, getting the ball in overtime after Minnesota had kicked another field goal to go up 26-23. However, Gabbert returned to Gabbert-form and the Jags failed to get a first down as their quarterback launched a deep pass out of bounds on fourth-and-two. He did give you four quarters of pretty-okayness, though Jags fans, so this one isn't all on Blaine.
This guy scored 48 points? This guy??
4. The Bills are going to make us hear about how good the Jets are
And for that, we may never forgive them. Yes, the Buffalo Bills gave up 48 points, the most in Jets' history for an opening week game and the most in the NFL in Week 1, to a team that failed to score an offensive touchdown with their first or second team offense in the entirety of the preseason. They even teases our need to see some epic Jets-fail by picking off Sanchez on the first drive after a terrible decision (but not atypical of the Jets' signal caller) to throw back across his body into traffic at an unsuspecting receiver. Instead, that same Sanchez (pictured above how we expect to see him) finished with 266 yards and three touchdowns. AND THERE WASN'T EVEN A SINGLE TEBOW CHANT!! Boo on you Bills. Boo. On. You.
"I WIN DA FOOBAW"
3. The Rams are big fans of Matt Stafford's late-game heroics
Matt Stafford has made a name for himself in his young career for engineering some late-game heroics. The Rams have enjoyed watching it over the years and decided it was time they got written into the history themselves. So, after picking Stafford off three times in the game, they forgot how to play defense and let the Lions drive down the field through the air, and Stafford got to throw the game-winning touchdown pass with 10 seconds left. Stafford got to celebrate like he was Joe Montana after "The Catch" and the Rams get to keep being the Rams, Jeff Fisher be damned. There's something to be said for the status quo.
"Stupid Victor and his stupid dancing. Darnit to heck!"
2. 'The thing about the salsa, you see, is you don't have to use your hands' -Victor Cruz
The season kicked off on Wednesday with the Cowboys and Giants playing for what felt like the 100th consecutive time on primetime. The defending champs were looking to continue the streak of success of Super Bowl champs playing the opening game, but instead became the first team since the 1999 Denver Broncos to follow up a Lombardi Trophy with a week 1 loss. Helping them along to their disappointing start of a title defense was the offense's inability to catch or hold on to a football. The worst offender? Last season's breakout star Victor Cruz who took his salsa dancing TD celebration on tour this offseason. But after dropping four passes on Wednesday, maybe he should have worked in a little hand-work from time to time. YOU WON'T GET TO TALK TO KELLY RIPA IF YOU DROP PASSES, VICTOR.
I think he just Browned himself
1. Cleveland finds the only way to lose a game where you get four interceptions
The Cleveland-Philadelphia game looked like one of the snoozers on the Week 1. Obviously the Eagles would get their stuff together and start off 2012 much better than the disappointment of 2011, right? Well, not so fast. Mike Vick threw FOUR INTERCEPTIONS on the day while throwing the ball 56 times. Whoever came up with that gameplan is likely being reassigned this week. But the Browns still couldn't win, even with the game handed to them, because their aged rookie quarterback Brandon Weeden threw four interceptions of his own.
And unlike Vick, who redeemed himself a bit with 317 yards and a pair of touchdowns, including the game winner with just over a minute to go, Weeden gave his team NOTHING. Well, as close to nothing as possible. Just 118 yards, no touchdowns, a pair of sacks and a quarterback rating of 5.1. So, congratulations Brandon Weeden, you're our number one meltdown to start the season! Savor it, because it might be one of the few Sundays you get to play in your career.
(All pics via)
Be sure to check out other great articles at Mild Manner Sports Enthusiast Blog.
Original Story:
http://www.60maxpowero.com/patriots/c...
THE BACKYARD
BEST OF MAXIM
RELATED ARTICLES
Perhaps this was a sign we should've taken heed to before the ball was even kicked off. Brandon Weeden got caught under flag during the pregame ceremonies. Now this is the starting quaterback of an NFL team, he should be able to out run 80% of the population, but the fact that he couldn't out run the flag holders might be a slight cause of concern. While this is quite funny...
Throughout the day I will have short chat conversations with other MSF writers about various topics. Some of these conversations make me laugh. I've decided it's time to start posting them. The following conversation took place moments ago between me and MSF fantasy author (and creepy library stalker) Nicholas Gerlach. The topic? Cleveland Browns rookie QB Brandon Weeden, whose...
Terrible Tuesdays: Because the careening dumpster fire that is the Holmgren/Shurmur regime and the 2012 Cleveland Browns is too much to clean up after in just one day. So first from The Anointed One, Brandon Weeden, after turning in a performance as bad as only 0.05% of the quarterbacks in NFL history have ever managed, when asked if his NFL debut "felt different" from his college...
Dick's Sporting Goods does the Jersey Report all season long indicating what jerseys are selling best nationwide. While Andrew Luck and Peyton Manning lead the overall list, the Browns are well-represented in the rookie list right now. Trent Richardson comes in at #3 maintaining the actual draft order of Andrew Luck, RG3 and himself. Luke Kuechly from the Carolina Panthers and...
I apologize for not getting this done earlier in the week. Remember this year, instead of doing "The Browns Will Win If…" we are boiling it down to a reader's survey. 200-ish of you filled it out last week prior to the Bengals game with your expectations. Here's how you/we did. The final score for the game was Eagles 17 – Browns 16. Browns fans predicted the Browns would...
The Bengals play host to the inner-state rival Cleveland Browns this Sunday, and the stakes are very high for Cincinnati already. After being obliterated on Monday Night Football by division foe Baltimore, the Bengals cannot afford to lose two division games right out of the gates.The Cleveland Browns put up an even less impressive performance Sunday at home against the Eagles.The...
Rick and Craig are back at it again and no we still don't have an opener. Sorry, I was too busy bringing a new child into the world. Excuse me. Get off my back, ok? Anyway, Rick and I talked about the Browns and Buckeyes mostly. As soon as I get TD or Jon on we'll get some Tribe in the action. Scott will make an appearance soon too, I'm thinking. Joe Haden's suspension Pat...
It was hot debate all day long and there were hypotheticals going all over the place. Ultimately most fans seemed to decide that even if it was the wrong decision, there were many other much larger issues in need of discussion. Brandon Weeden's overall performance and appearance of lack of preparation come to mind. Bill Barnwell at Grantland ups the stakes a bit with his statistical...
If Rey Maualuga didn't provide enough motivation, maybe someone can point Trent Richardson to Grantland to see what they think of his prospects as a fantasy player. He and Weeden get skewered in talking up this week's matchup with the Bengals. I warned you last week about T-Rich, and I will tell you again: TRADE HIM NOW! Don't read too much into Baltimore's manhandling of...
Browns News

Delivered to your inbox

You'll also receive Yardbarker's daily Top 10, featuring the best sports stories from around the web. Customize your newsletter to get articles on your favorite sports and teams. And the best part? It's free!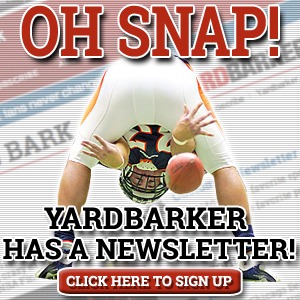 Latest Rumors
Best of Yardbarker

Today's Best Stuff

For Bloggers

Join the Yardbarker Network for more promotion, traffic, and money.

Company Info

Help

What is Yardbarker?

Yardbarker is the largest network of sports blogs and pro athlete blogs on the web. This site is the hub of the Yardbarker Network, where our editors and algorithms curate the best sports content from our network and beyond.