Found January 24, 2012 on NESN.com:
Head coach Bill Belichick said the Patriots are "full steam ahead" in their preparation for the Giants. As is the case with any trip to the Super Bowl -- and Belichick is a seasoned veteran when it comes to those -- the first day or two can be consumed by planning the actual trip. But after that, the football aspect has to run its course. "It's certainly a great honor to be representing the AFC in this game," Belichick said Tuesday. "We're looking forward to that opportunity versus the Giants, who are a great team. They've had a great year,...
Original Story:
http://www.nesn.com/2012/01/bill-beli...
THE BACKYARD
BEST OF MAXIM
RELATED ARTICLES
Bill Belichick's consistent approach to preparation is the cornerstone of the coaching that has brought the New England Patriots to their fifth Super Bowl in 11 years.
By Brian MacPhersonFor Bill Belichick, the Super Bowl is just like any other game. "I think every game is a big game," he said on a conference call Tuesday when asked about coaching in big games. "I don't know what you mean about which ones are and which ones aren't. They all are." For Belichick, then, the Super Bowl is just like any other road trip...
FOXBORO, Mass. -- Patriots head coach Bill Belichick said tight end Rob Gronkowski will not practice Thursday due to his injured left ankle. It will be the team's first practice in anticipation of the Super Bowl. The Patriots didn't practice Wednesday, but they were required to release an injury report, which listed Gronkowski as the team's only non-participant. That...
Rob Gronkowski's status still uncertain
Before we begin, I must offer full disclosure: I hate the Patriots and I hope Bill Belichick loses to the Giants and then gets embroiled in some kind of awful scandal. Now, despite all that venom, I have the utmost respect for that coldhearted scumbag, and any reasonable fan ought to as well. This will be Belichick's fifth Super Bowl appearance as a head coach, which would leave...
Bill Belichick won't forecast how ready Gronkowski would be for Super Bowl
I'd like to say Bill Belichick's ego did, but obviously it was Tom Brady's winning spirit that lead this bulldozer driver to continue his pursuit to finish the job he was planned to do. Billy Cundiff tried to take that pole down just before, but he missed. "Look out! Look out!" Super Bowl Bound: Foxboro : MyFoxBOSTON.com
We're still 10 days away from the last game of the 2011 NFL season. The Patriots and Giants won't leave for Indianapolis until Sunday at the earliest, and many of this week's story lines have revolved around Super Bowl XLII, when the Giants upset the then undefeated Patriots, and the teams' matchup earlier this year, also a New York victory. Unlike that matchup...
While Lucas Oil Field is getting geeked for the Super Bowl out in Indianapolis, the Patriots are gearing up in Foxboro. They held their workout inside the Dana-Farber Fieldhouse, perhaps to get acclimated to playing inside. We already knew that TE Rob Gronkowski wouldn't practice, as coach Bill Belichick disclosed that today. He's resting that gimpy ankle, which doesn't mean...
At least that's one less thing to worry/complain about. Today's Chicago Tribune reports that current Bears director of player personnel Tim Ruskell has been eliminated from consideration to be the next GM. According to the article, the finalists are Jason Licht from the Patriots (the guy it is reported has absolutely no control under Bill Belichick) and Phil Emery of the Chiefs...
Come on, seriously? Didn't we go through this with the Vince Wilfork cover last year? Does Sports Illustrated hate us or something? I thought Peter King praises Bill Belichick like he is a god or something. How would he let the magazine do this to us? This is BS. I'm curling up in a ball and rocking back and forth until Super Bowl Sunday. We are only three days into all the...
Patriots News

Delivered to your inbox

You'll also receive Yardbarker's daily Top 10, featuring the best sports stories from around the web. Customize your newsletter to get articles on your favorite sports and teams. And the best part? It's free!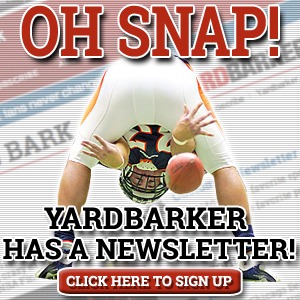 Latest Rumors
Best of Yardbarker

Today's Best Stuff

For Bloggers

Join the Yardbarker Network for more promotion, traffic, and money.

Company Info

Help

What is Yardbarker?

Yardbarker is the largest network of sports blogs and pro athlete blogs on the web. This site is the hub of the Yardbarker Network, where our editors and algorithms curate the best sports content from our network and beyond.