Found October 02, 2012 on Fox Sports North:
EDEN PRAIRIE, Minn. Minnesota Vikings punter Chris Kluwe has found some opposition from another NFL player in his continuing support of gay marriage rights. Former Vikings center Matt Birk, Kluwe's teammate for four years in Minnesota, took an opposing stance Sunday in an opinion piece in the Minnneapolis Star Tribune, in response to Kluwe's pro-gay marriage viewpoint that has become a public topic since the punter's scathing response to a Maryland politician. Kluwe has written multiple commentaries touching on varied topics for the St. Paul Pioneer Press and the website Deadspin. Birk, taking a stance against gay marriage rights, wrote, "Same-sex unions may not affect my marriage specifically, but it will affect my children -- the next generation." Birk's response was in direct correlation to Kluwe's much-publicized stance. Birk is a Harvard graduate, and Kluwe is well known for his intelligent (and sometimes profane) commentary on a number of issues. "The conversation during the last few weeks on the subject of same-sex marriage has told a different story -- one that appears to be drawing a false connection between supporting true American values like free speech and the institution of marriage, our most fundamental and important social institution," Birk wrote. "I think it is important to set the record straight about what the marriage debate is and is not about and to clarify that not all NFL players think redefining marriage is a good thing." Birk said he wasn't offending any person or group with his defense of traditional marriage and was focused on kids. "With good reason, government recognizes marriages and gives them certain legal benefits so they can provide a stable, nurturing environment for the next generation of citizens: our kids," Birk wrote. "Children have a right to a mom and a dad, and I realize that this doesn't always happen. Through the work my wife and I do at pregnancy resource centers and underprivileged schools, we have witnessed firsthand the many heroic efforts of single mothers and fathers -- many of whom work very hard to provide what's best for their kids." Birk said the issue was too important to remain silent. "Same-sex unions may not affect my marriage specifically, but it will affect my children -- the next generation," Birk wrote. "Ideas have consequences, and laws shape culture. Marriage redefinition will affect the broader well-being of children and the welfare of society. As a Christian and a citizen, I am compelled to care about both." Of course, Kluwe saw Birk's comments and wrote another piece Monday for the Pioneer Press, the crosstown newspaper from the one Birk's opinions appeared in. Kluwe couldn't resist the chance to offer a rebuttal. The punter said he respects Birk, calling him a "smart, funny person" and noted the center's work with "the concussion issue facing disabled players." But Kluwe said he thinks Birk is wrong on the issue of gay marriage rights. "Problem the first -- Your argument lacks facts, sources, or statistics," Kluwe wrote. "You can't just say "Same-sex marriage is bad for kids because I think it's bad for kids, and I think it's bad for kids because it's bad for kids. That's called circular reasoning and it's a logical fallacy. If you want us to understand why same-sex marriage is bad for kids, you need to provide some sort of substantial evidence." Kluwe offered six reasons why he believed Birk's rebuttal missed the point, including the fact that gay marriage would affect Birk's kids. "The only impact same-sex marriage will have on your children is if one of them turns out to be gay and cannot get married," Kluwe wrote. "What will you do (and I ask this honestly) if one or more of your kids ends up being gay? Will you love them any less? What will your actions speak to them, 15 years from now, when they ask you why they can't enjoy the same relationship that you and your wife have now? And if your response is 'We'll cross that bridge when we come to it,' well, for a lot of people that bridge is here right now. They're trying to cross it, but the way is barred, and I will do my best to tear those barricades down any way I can because I believe that we are infringing on the free will of other human beings by denying them their basic right to live free of oppression." Kluwe didn't want the two opposing letters to stop the discussion. "I remain unconvinced by any logical reasoning you have so far brought to bear on the subject," Kluwe wrote. "I encourage you to keep speaking out, as we should never be afraid to espouse our views, but from a rational standpoint I simply cannot agree with discrimination against a subset of our citizenry." And then he finished with a thought for his former teammate, "(Miss you at the crossword puzzles)," Kluwe wrote. Follow Brian Hall on Twitter.
Original Story:
http://www.foxsportsnorth.com/10/02/1...
THE BACKYARD
BEST OF MAXIM
RELATED ARTICLES
Long have the Minnesota Vikings needed state funding for a new place to call home, now they have the architect and concept images of what future NFL stadiums could represent.According to TwinCities.com, Dallas-based HKS Inc., which designed the new Dallas Cowboys stadium as well as Lucas Oil in Indianapolis, was hired to build the $975 million facility for the Vikings in downtown...
The Minnesota Vikings are currently ranked 13th overall in the NFL Power Rankings according to the CBS Power Rankings going into week five.  The current leaders in the power rankings go as follows:  Houston Texans, Atlanta Falcons, Arizona Cardinals, San Francisco 49ers, and the Baltimore Ravens. Worth noting, the Green Bay Packers are ranked 14th. What has been the reason for...
The Minnesota Vikings got a kickoff return and punt return for touchdowns as the team snapped a long winless skid in NFC North play with a 20-13 win over Detroit at Ford Field. Percy Harvin scored on the opening kickoff and Marcus Sherels returned the first punt of the second half for a touchdown as the Vikings (3-1) snapped an 11-game losing streak in the division. The last win...
The Minnesota Vikings got lucky this week.A pair of returns made up for their lack of offense, and they escaped Ford Field with a tough win thanks to their defense, matching a surprising trend:So far this year, the Vikings have looked more like a playoff contender than a team that is rebuilding.It's still too early to hand them the division crown, but at this point, I would have...
Don't look now, but all of a sudden, the Detroit Lions are in big trouble early in 2012. After dropping two tough contests on the road, the Lions came home looking to generate some positive momentum against an NFC North opponent heading into their bye week. Instead of having a successful hunt and getting things back on the right track, Detroit laid the biggest possible egg against...
EDEN PRAIRIE, Minn. The Minnesota Vikings had done their due diligence prior to the 2011 NFL draft, fully researching several quarterbacks in the hope of landing the one true franchise quarterback that could lead the team for the next several years.Minnesota met with Cam Newton, who went No. 1 overall and won the rookie of the year award last year. The Vikings also met with Jake...
EDEN PRAIRIE, Minn. As the Minnesota Vikings season nosedived last year, a lot of the blame was placed on a historically bad secondary, which allowed a 107.6 quarterback rating, the second highest mark in NFL history. Injuries and an overall lack of competency were common themes as Minnesota led the league with 34 passing touchdowns allowed, while tying a league-low with eight...
The Minnesota Vikings snapped their 11-game NFC North losing streak Sunday by going on the road and beating the Detroit Lions 20-13, in the process staying on top in the division and building on the momentum created from last week's win against San Francisco. Percy Harvin's 105-yard touchdown return on the opening kickoff started a second-straight impressive win for Minnesota...
Baltimore Ravens center Matt Birk has voiced his opposition to same-sex marriage, a view that opposes that of teammate Brandon Ayanbadejo. In an article printed Sunday in the Minneapolis Star-Tribune, Birk wrote, ''Ideas have consequences, and laws shape culture. Marriage redefinition will affect the broader well-being of children and the welfare of society. As a Christian...
Vikings coach Leslie Frazier had a message for his team: The first quarter of the season was nice, but NFL teams don't celebrate championships in September.
Jared Allen only has two sacks and Brian Robison hasn't gotten on the board yet. Still, the Vikings are pressuring the quarterback and others are getting sacks. How is it all coming together? The players and Leslie Frazier discuss.
NFL News

Delivered to your inbox

You'll also receive Yardbarker's daily Top 10, featuring the best sports stories from around the web. Customize your newsletter to get articles on your favorite sports and teams. And the best part? It's free!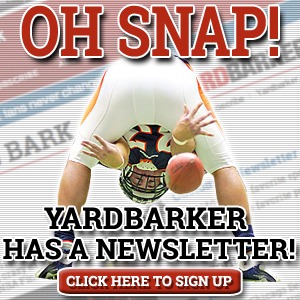 Latest Rumors
The Backyard

Today's Best Stuff

For Bloggers

Join the Yardbarker Network for more promotion, traffic, and money.

Company Info

Help

What is Yardbarker?

Yardbarker is the largest network of sports blogs and pro athlete blogs on the web. This site is the hub of the Yardbarker Network, where our editors and algorithms curate the best sports content from our network and beyond.