Found June 24, 2013 on Fox Sports Wisconsin:
GREEN BAY, Wis. -- Four years into his NFL career, Green Bay Packers nose tackle B.J. Raji believes he's on the verge of his best season yet. Raji needs his optimistic view to play out this way. Entering the last year of his contract with the Packers with no extension offer on the table, Raji is looking for -- and perhaps creating -- ways to give himself added motivation. While that may also bring added pressure, Raji is confident that 2013 will be his season. "I don't think I've played my best football, and that's the beauty of it," Raji said. "That's why I'm so excited about the future. I played some good ball in the past and I had some success, but I feel like my best ball is ahead of me. "Everything in life, just like in football, it's a learning experience. I think that the more experience I get, the better I'll be going forward." If Green Bay's front office agreed with Raji's assessment that he still has a lot of room to improve, more progress toward a new contract would likely have been made by now. The Packers certainly haven't been shy about handing out big money. This offseason, quarterback Aaron Rodgers was given the richest deal in NFL history and Clay Matthews became the highest-paid outside linebacker. Though Raji wouldn't elaborate on his contract demands or salary expectations, he didn't seem overly worried that his long-term future would be anywhere other than in Green Bay. "I feel they'll do right by me," Raji said on May 28. Raji, 26, is coming off a season in which he failed to record a sack for the first time in his career. During Green Bay's Super Bowl-winning season in 2010, Raji had 6.5 sacks and was truly a force as a pass rusher. However, that sack total is more than he's accumulated in his other three seasons combined. "Get consistent pressure on the quarterback," Raji said when discussing his approach for this upcoming season. "It may not necessarily end up in a sack, but as long as I can help play out in the end where the quarterback can't step up in the pocket, where he has to roll out; help those guys on the edges." Having Raji be disruptive along the defensive line on passing downs would be welcomed by Matthews. It was during Raji's 6.5-sack season in 2010 that Matthews had what is still his career-best with 13.5 sacks. Raji is hoping to get back to that level of production with the assistance of a skill that he's trying to perfect. "Right now, I'm just more focused on shedding blockers," Raji said. "Particularly in this defense, you have to be able to generate a lot of inertia from not necessarily having a running start off the ball. My goal for this year is to constantly work on separating and getting off blocks, and being able, even if a guy has me hugged up, being able to extend my arms and get off blocks. "I think if I'm able to do that, with the way we're training and what we do with our training staff and what we're doing with how our practice structure is changing slightly, I think that alone will help me to get back to the level that I need to be." Getting better in that area of the game has meant giving more attention to the specific details of how the NFL's best defensive linemen successfully shed blockers. "(Position coach) Mike Trgovac said it the best: he feels like that's one of the most under-coached things in the league, is being able to get off blocks," Raji said. "You kind of tend to believe that if a guy makes it to this level that he's just able to naturally do it. And (Trgovac) made a concerted effort to help us as far as that's concerned. I'm just trying to follow suit and do the best I can." When defensive coordinator Dom Capers sees Raji shed a blocker this upcoming season, he won't be surprised. Capers has seen the 337-pound lineman do it before. "You'll see some plays where, when he takes a block and sheds a guy, you can see his quickness, his size, his strength, all those things," Capers said. Raji doesn't just want his on-field performance to be the only aspect that improves. After the offseason departure of veterans like Charles Woodson, Desmond Bishop, Donald Driver and Greg Jennings, Raji wants to step up his presence in the locker room, too. "Number one, I want my leadership, I'm going to take a bigger leadership role," Raji said. "Taking on the defensive line and on the defense and then trickle up to the team." Increased leadership, shedding blockers more frequently and getting back to when he was a factor on passing downs would all raise Raji's overall value to the Packers. And Capers sees all of those things happening. "My anticipation of B.J. is just hopefully he's getting ready to have his best year," Capers said. "I think he can." If all those things do come to be in 2013, general manager Ted Thompson will likely be hammering out details on a new contract for Raji sooner than later. Follow Paul Imig on Twitter
Original Story:
http://www.foxsportswisconsin.com/nfl...
THE BACKYARD
BEST OF MAXIM
RELATED ARTICLES
Day 2 of this 2-part NFC Playoff Prediction series, I will tell you why the Detroit Lions will be making the playoffs in just the second time in the last 14 years. In day one of this 2-part NFC Playoff Prediction series, I told you that the San Francisco 49ers, Atlanta Falcons, and the Washington Redskins will repeat as division champions and make it to the playoffs this upcoming...
The Green Bay Packers are in a wonderful place in the cycle of sports: they get to be in "win now" mode for the foreseeable future, and can expect to be reaching for the brass ring every year as long as they have Aaron Rodgers and Mike McCarthy at the helm.That doesn't mean they don't have questions to answer in training camp, though. These are the things the Packers will...
@RavensInsider: Former Green Bay Packers linebacker Desmond Bishop has joined the Minnesota Vikings, according to his agent, Blake Baratz This is a huge signing for the Vikes. i am sure their fans are happy.
Jordy Nelson & James Jones (Photo Credit: AP) Since the 2006 NFL Draft, wide receiver Greg Jennings has been a prolific part of the Green Bay Packers offense.  He was one of Brett Favre's and Aaron Rodgers' favorite targets, including catching Favre's record breaking career touchdown pass.  Now, Jennings has left the Packers for the team he caught that record touchdown...
EDEN PRAIRIE, Minn. Rick Spielman's admiration of Ted Thompson is well-known, with the Minnesota Vikings front office boss appreciating the way Thompson has built the Green Bay Packers over the years. Coincidentally, it's often led to Minnesota -- and Spielman since he's taken control as the team's general manager -- signing former Packers. The list continues with...
Starting with former first-round pick Derek Sherrod and Day 2 choices Randall Cobb and Alex Green, and continuing with the undrafted free agents, the Class of 2011 will have plenty to say about the Packers' fortunes in 2013.
GREEN BAY, Wis. -- Another former Green Bay Packer will be wearing the purple and gold next season, as linebacker Desmond Bishop has agreed to terms with the Minnesota Vikings. Bishops agent, Blake Baratz, posted a tweet Monday afternoon announcing the news. Released by the Packers last week, Bishops first free-agent visit was with the Vikings. Though Bishop had interest from other...
Unfortunately for Green Bay Packers' fans, the news is in and even though it's not unexpected, it has to hurt a little bit as former Packers standout Desmond Bishop has agreed to a one-year deal with the hated Minnesota Vikings according to a report by Pro Football Talk. Demond Bishop agrees to one-year deal with vikings, per source with knowledge of situation. — ProFootballTalk...
With no OTA's, or free agents, or NFL draft, or training camp, Packers junkies are suffering heavy withdrawal this week. Join Kelly, Colleen and Richard as they discuss cake tasting, Desmond Bishop, Kevin Greene as a defensive coordinator, the Packers Sweep, horse-face John Elway, Finley's baby mama drama < dumping a dead corpse, which Packer receiver will get 1,000 yards...
Former Green Bay Packers-turned-Minnesota Vikings linebacker Desmond Bishop is excited to be facing Aaron Rodgers twice a year.
NFL News

Delivered to your inbox

You'll also receive Yardbarker's daily Top 10, featuring the best sports stories from around the web. Customize your newsletter to get articles on your favorite sports and teams. And the best part? It's free!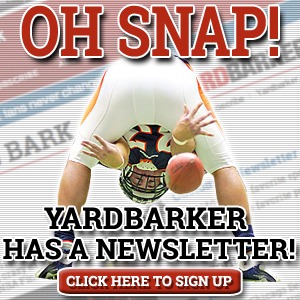 Latest Rumors
The Backyard

Today's Best Stuff

For Bloggers

Join the Yardbarker Network for more promotion, traffic, and money.

Company Info

Help

What is Yardbarker?

Yardbarker is the largest network of sports blogs and pro athlete blogs on the web. This site is the hub of the Yardbarker Network, where our editors and algorithms curate the best sports content from our network and beyond.