Found July 21, 2013 on Denver Sports Chat:
Alright people. Please stop saying that Tom Brady's 2007 passing season is the best ever by a QB. The record books simply don't support this annoying assertion. Drew Brees and Dan Marino need to be in the arguement. First, let me start with why I am motivated to write this post. I just got done reading an article by Bill Barnwell on Grantland. It's a well written piece that talks about a hypothetical NFL Quarterback Championship Belt. He goes through the different eras and basically surmises what QB is the reigning champion of that time period. For the most part I agree with what he has to say. Although, I might argue that he is discounting Drew Brees in 2011 and Brady in 2010 (weird?). But that's a minor point. Where I take notice is his assertion that Tom Brady had the best season by a quarterback in NFL history, bar none. Uhh… not even close. The notion that Brady's season is the best ever just because he threw 50 touchdowns is absurd. Yes, he only threw 8 interceptions. And yes, he did have a 117.2 passer rating. But Brady only threw 1 more TD than Peyton Manning did in 2004. And Brady had to throw the ball 81 more times that season (578 attempts by Brady in 2007 vs 497 attempts by Manning in 2004) to get 50. Furthermore, Aaron Rogers and Manning have both had seasons with higher passer ratings. With that said, one could fully analyze Brady, Manning, and Rogers best passing years and come to no clear cut winner as to who's year was the best. They all have strengths and weakness. And when you look closely, they really are very similar. What is left is personal basis. Nothing else! The best passing season ever by an NFL quarterback is very clear. In 1984 Dan Marino reset all of the major single season passing records two of which stood for 20-30 years. Marino's 1984 campaign stood alone not only in touchdown passes, but in yardage as well. He was the first first QB to throw for more that 5000 yards. That record was not broken until 2011 when Drew Brees threw for 5476 yards. And Peyton Manning surpassed Marino's TD record in 2004 with 49. Let me put this into context. What is more impressive? Breaking the single season passing TD record set 21 years earlier by 12? Or breaking the single season passing TD record set 3 years earlier by 1? To give you an idea how stout Marino was in 1984. One only needs to look at NFL history. Y.A. Tittle set the passing TD record at 36 in 1963. Dan Marino was the first to pass for more than 40 in one season when he reset the record at 48 in 1984. That's 12 more TD passes. Furthermore, Marino was the only guy to throw 40 or more in a season until 1999. Since then, 5 more guys have done it including Brady. Tom Brady only broke Peyton Manning's 2004 record by 1. And it took him 81 more passing attempts to do it. That is not really that impressive! And with all of the NFL rule changes, Tom Brady's 2007 season is totally not worthy of being the best ever! My list: 1.  Dan Marino 1984 – 48 TDs and 5084 passing yards. (NFL MVP) 2. Kurt Warner 1999 – 41 TDs and 4353 yards passing.  (NFL MVP, Super Bowl MVP) 3. Drew Brees 2011 – 5476 yards passing. NFL record. 4. Tie – Peyton Manning 2004 (NFL MVP) and Tom Brady 2007 (NFL MVP).   Denver Sports Chat by Headline     The post Brady 2007 Season Really Not That Impressive appeared first on Denver Sports Chat.
Original Story:
http://feedproxy.google.com/~r/Denver...
THE BACKYARD
BEST OF MAXIM
RELATED ARTICLES
Who is playing left tackle? Though the New Orleans Saints defense was bad last season, the biggest and most important question comes on offense. No matter what improvement the defense sees, it will be all for naught if Drew Brees is on his back. As of now, it has become a three horse race between Charles Brown, free agent signee Jason Smith, and rookie 3rd rounder Terron Armstead...
With Jermon Bushrod now in Chicago, the Saints need a new starting left tackle for this season.  It sounds like the front-runner to take over is rookie Terron Armstead. A MAGNET WITH NO NAME! That's how Coach Sean Payton described the team's depth chart at left tackle during the offseason. With the departure of free agent left tackle Jermon Bushrod to the Chicago Bears, the...
When New Orleans Saints linebacker Curtis Lofton says the defense has something to prove, he's not kidding. After a historically bad 2012 season, new defensive coordinator Rob Ryan was hired to fix the problems that made the unit the worst in the NFL. Lofton is penciled in to be an inside linebacker in Ryan's 3-4 scheme, but says he's has been working at outside linebacker...
Photo from NewOrleansSaints.com According to SportsNola.com, linebackers Will Smith and Jonathan Vilma both aren't locks to make the Saints final roster now that they've switched to a 3-34 defense under new defensive coordinator Rob Ryan. New scheme, new defensive coordinator, perhaps even new roles for veteran defenders Jonathan Vilma and Will Smith. Both players agreed to take...
If you are a weekly fantasy football fan as well as a Saints fan, here is what you need to know in order to draft Saints players to win your fantasy league. Good luck. Drew Brees, QB Brees led the NFL with 5177 passing yards and 43 TD passes. It was the fourth time in the last seven seasons he led in passing yards and the fourth time in five seasons he led in TD passes...
According to Larry Holder of NOLA.com, the Saints have placed Kenny Stills, Rufus Johnson, and Eric Martin on the active/non-football injury list. Holder says they should all be ready for camp. No need to panic about Stills, Johnson, Martin landing on non injury list. I'm told all three players should be ready for training camp. — Larry Holder (@LarryHolder) July 20, 2013...
    Top 9 Fantasy Quarterback Monographs! Monograph – A highly detailed and thoroughly documented study or paper written about a limited area of a subject or field of inquiry. 1. Drew Brees, NO (7)  has missed just 1 game since arriving in New Orleans and has attempted more than 650 passes in each of his past 3 seasons. Brees has been able to produce at least 1 passing touchdown...
The Saints' defense is shouldering a lot of expectations: when training camp opens later this week, all eyes will be on Rob Ryan's fledgling Black and Gold version of the 3-4 scheme. "When you start from the gutter, the only thing you can do is come up. They were in the gutter last year! They were pretty horrendous. They have nowhere to go but up," says former...
I've said this enough times to assuredly make all of you that read this blog with any regularity sick, but a 3-4 defense works best with an anchor nose space eater. If you want to do it right, you have to have that guy. With that in mind, the Saints drafted John Jenkins who I firmly believe is the future of defense at that position. Hopefully he can develop into an elite player...
The most uncertain and unsettling position on the Saints' roster is linebacker. We're not entirely sure who the starters are, how the players will be used, and which guys will have prominent roles in this new defense. What we do know is there will probably be a decent amount of mixing and matching, with heavy rotation. The uncertainty is exciting, though, because with a new...
Hot News for C Sean Payton
Distracted by a controversial bounty scandal and without their primary head coach, the New Orleans Saints struggled through the 2012 season, posting a 7-9 overall record. With coach Sean Payton back this year, quarterback Drew Brees and the Saints hope to make their way back to the playoffs under their combined leadership. However, many questions still remain for the Saints in the...
Saints News

Delivered to your inbox

You'll also receive Yardbarker's daily Top 10, featuring the best sports stories from around the web. Customize your newsletter to get articles on your favorite sports and teams. And the best part? It's free!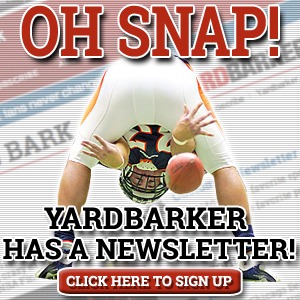 Latest Rumors
Best of Yardbarker

Today's Best Stuff

For Bloggers

Join the Yardbarker Network for more promotion, traffic, and money.

Company Info

Help

What is Yardbarker?

Yardbarker is the largest network of sports blogs and pro athlete blogs on the web. This site is the hub of the Yardbarker Network, where our editors and algorithms curate the best sports content from our network and beyond.