Alright people. Please stop saying that Tom Brady's 2007 passing season is the best ever by a QB. The record books simply don't support this annoying assertion. Drew Brees and Dan Marino need to be in the arguement. First, let me start with why I am motivated to write this post. I just got done reading an article by Bill Barnwell on Grantland. It's a well written piece that talks about a hypothetical NFL Quarterback Championship Belt. He goes through the different eras and basically surmises what QB is the reigning champion of that time period. For the most part I agree with what he has to say. Although, I might argue that he is discounting Drew Brees in 2011 and Brady in 2010 (weird?). But that's a minor point. Where I take notice is his assertion that Tom Brady had the best season by a quarterback in NFL history, bar none. Uhh… not even close. The notion that Brady's season is the best ever just because he threw 50 touchdowns is absurd. Yes, he only threw 8 interceptions. And yes, he did have a 117.2 passer rating. But Brady only threw 1 more TD than Peyton Manning did in 2004. And Brady had to throw the ball 81 more times that season (578 attempts by Brady in 2007 vs 497 attempts by Manning in 2004) to get 50. Furthermore, Aaron Rogers and Manning have both had seasons with higher passer ratings. With that said, one could fully analyze Brady, Manning, and Rogers best passing years and come to no clear cut winner as to who's year was the best. They all have strengths and weakness. And when you look closely, they really are very similar. What is left is personal basis. Nothing else! The best passing season ever by an NFL quarterback is very clear. In 1984 Dan Marino reset all of the major single season passing records two of which stood for 20-30 years. Marino's 1984 campaign stood alone not only in touchdown passes, but in yardage as well. He was the first first QB to throw for more that 5000 yards. That record was not broken until 2011 when Drew Brees threw for 5476 yards. And Peyton Manning surpassed Marino's TD record in 2004 with 49. Let me put this into context. What is more impressive? Breaking the single season passing TD record set 21 years earlier by 12? Or breaking the single season passing TD record set 3 years earlier by 1? To give you an idea how stout Marino was in 1984. One only needs to look at NFL history. Y.A. Tittle set the passing TD record at 36 in 1963. Dan Marino was the first to pass for more than 40 in one season when he reset the record at 48 in 1984. That's 12 more TD passes. Furthermore, Marino was the only guy to throw 40 or more in a season until 1999. Since then, 5 more guys have done it including Brady. Tom Brady only broke Peyton Manning's 2004 record by 1. And it took him 81 more passing attempts to do it. That is not really that impressive! And with all of the NFL rule changes, Tom Brady's 2007 season is totally not worthy of being the best ever! My list: 1.  Dan Marino 1984 – 48 TDs and 5084 passing yards. (NFL MVP) 2. Kurt Warner 1999 – 41 TDs and 4353 yards passing.  (NFL MVP, Super Bowl MVP) 3. Drew Brees 2011 – 5476 yards passing. NFL record. 4. Tie – Peyton Manning 2004 (NFL MVP) and Tom Brady 2007 (NFL MVP).   Denver Sports Chat by Headline     The post Brady 2007 Season Really Not That Impressive appeared first on Denver Sports Chat.
Original Story:
http://feedproxy.google.com/~r/Denver...
MORE FROM YARDBARKER
Saints News

Delivered to your inbox

You'll also receive Yardbarker's daily Top 10, featuring the best sports stories from around the web. Customize your newsletter to get articles on your favorite sports and teams. And the best part? It's free!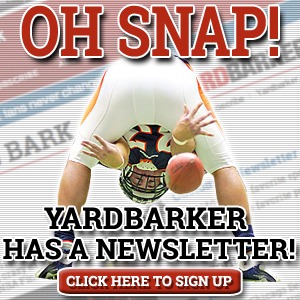 Latest Rumors
Best of Yardbarker

Today's Best Stuff

For Bloggers

Join the Yardbarker Network for more promotion, traffic, and money.

Company Info

Help

What is Yardbarker?

Yardbarker is the largest network of sports blogs and pro athlete blogs on the web. This site is the hub of the Yardbarker Network, where our editors and algorithms curate the best sports content from our network and beyond.