Found March 09, 2012 on Pro Football Zone:
St. Louis Rams linebacker Brady Poppinga is so outraged about Gregg Williams and his bounty programs, that he decided to blast him during an interview with FOXSports.com, according to Alex Marvez.
"I just can't sit there and be silent," Poppinga said. "I look at this as an opportunity to share with the public that we, as football players, are not barbaric and out to try and destroy everything in our path. Football is my profession and I take it seriously. It's an art form. It's technical, strategic and takes a lot of intelligence to play.
"When this came out, it started to confirm the idea that football guys are idiots. That's not who we are. Ninety-five percent of the guys are very intelligent. It's just guys who love to go out and play a physical game."
Poppinga admits that he's heard of under-the-table incentive programs on some NFL defenses, but he believes the Saints went way to far.
"I've heard of other situations where there wasn't a bounty for hurting a guy, but guys throwing in $500 to all of the defense if they held a guy like (Minnesota running back) Adrian Peterson to less than 100 yards," said Poppinga, who played with Green Bay from 2005-10. "But it was nothing like where there was actual programming for that and you talk about (injuring opponents)."
What's really funny is that Williams is now Poppinga's defensive coordinator, at least for the next few days, he'll be a free agent starting on March 13.  I'd be shocked if the Rams re-sign him after ripping their new defensive coordinator.
Original Story:
http://profootballzone.com/nfl/brady-...
THE BACKYARD
BEST OF MAXIM
RELATED ARTICLES
On Jan. 26, 2010, New Orleans Saints defensive coordinator Gregg Williams, who has since admitted to administering a bounty program within the New Orleans Saints defense, appeared on Nashville's 3 Hour Lunch radio show on 104.5 The Zone to discuss the upcoming Super Bowl between the Saints and the Indianapolis Colts while extolling the finer points of his coaching philsophy. ...
Gregg Williams is technically St. Louis Rams linebacker Brady Poppinga's defensive coordinator for at least a few more days. This didn't keep Poppinga from ripping Williams for orchestrating a bounty program while with the New Orleans Saints. Poppinga feels that strongly about a system the seven-year NFL veteran described with such terms as "degrading," &quot...
'A CONSPIRACY THEORY'
Serious penalties are likely headed the New Orleans Saints' way after an NFL investigation brought forth allegations last week of a pay-for-play bounty system under former defensive coordinator Gregg Williams that rewarded players for injuring opponents. But former Saints quarterback and current New Orleans sports talk radio host Bobby Hebert thinks it's all one big plot by...
People assume Peyton Manning's neck problems were started by a Gregg Williams defense. Peyton Manning lost in the Super Bowl to a Gregg Williams defense. And yet, there's Pey-Pey being released just in time to temporarily take some of the heat off of Gregggggggg and his many cohorts. What a class act, that Pey-Pey. It was only a question of when topical news skewers Next Media...
St. Louis Rams coach Jeff Fisher says he feels the indefinite suspension of defensive coordinator Gregg Williams was ''warranted'' for running a bounty pool in New Orleans. At a news conference Wednesday, Fisher said he'd been unaware of the NFL investigation when he hired Williams in January. Fisher says he'll probably use a committee of coaches to replace...
Just when you thought the Madden franchise of football video games could not get any better, the 2013 "Bounty Edition" is unveiled (pictured above)! Of course this game is fake but the concept sounds pretty awesome (just ask the New Orleans Saints how much fun this could be). Imagine having the ability to offer your fake team money to injure opposing players! Oh the fun you...
How many people do you think are currently scurrying around the NFL offices looking at tape of every single New Orleans Saints game over the past few years? How about the other defenses that Gregg Williams was in charge of? Think they are tabulating the number of opposing players injured and/or knocked out of games?
Was this the moment that changed Manning's career forever? The two biggest stories in the NFL right now are Peyton Manning's release from the Colts, and the bounty system run by Defensive Coordinator Gregg Williams while with the Saints and Redskins before them.  And now it seems that those two stories might intersect in a most interesting way, as former colts head coach Tony...
The NFL Players Association announced Wednesday it would launch its own investigation into the New Orleans Saints' illegal bounty program. The Saints are bracing for what is expected to be one of the harshest penalties ever imposed on an NFL team for its illegal payouts, whereby players were offered cash incentives for injuring opponents. "Until the facts are known, judgment...
Retired NFL safety Coy Wire says he was part of a small group of Buffalo Bills players who pooled money and rewarded themselves for hurting opponents during his rookie season in 2002. Though the Bills were coached by Gregg Williams then, Wire told The Associated Press on Thursday the ''pay-for-play pool'' was solely player-driven. Wire says he was wrong and crossed...
It's been a crazy week in the National Football League. The combine is over, draft talk is heating up, franchise tags have been handed out, teams have started re-signing their own players, and some cuts have gone down. A crazy week... and then the pay for pain story broke. Defensive coordinator Gregg Williams, then of the New Orleans Saints, was caught with an elaborate bounty...
Rams News

Delivered to your inbox

You'll also receive Yardbarker's daily Top 10, featuring the best sports stories from around the web. Customize your newsletter to get articles on your favorite sports and teams. And the best part? It's free!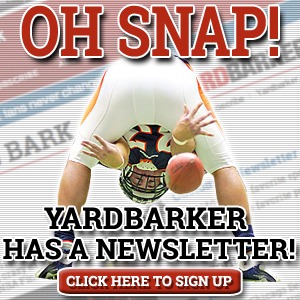 Latest Rumors
The Backyard

Today's Best Stuff

For Bloggers

Join the Yardbarker Network for more promotion, traffic, and money.

Company Info

Help

What is Yardbarker?

Yardbarker is the largest network of sports blogs and pro athlete blogs on the web. This site is the hub of the Yardbarker Network, where our editors and algorithms curate the best sports content from our network and beyond.