Originally written on
Pats 360
| Last updated 10/22/14
Brady Throws Tantrum at WRs--Bleacher Report: I used to work for Bleacher Report and I really enjoyed my time there. It was a great experience.  However, what's one of the biggest gripes when it comes to B/R? The credibility.  The story that I have linked in is a perfect example to why no one takes B/R seriously.  And I quote, Tristan Thornbugh, who is listed as a "Social Media Staff" Member:  Tom Brady no longer has the receiving threats he had last season, and his frustration became obvious on a red-zone drive against the Jets. After his receiver, Aaron Dobson, was nowhere near a Brady pass on third down, Brady unleashed his fury on the field and sidelines. If any of you look at the play that Thornbugh is referring to in his article, it has nothing to do with Aaron Dobson. Tom Brady was not upset with with Dobson, but he was upset with Julian Edelman. Brady was expecting Edelman to read the defense in the same way that he was. Therefore, Edelman continued to run across the middle rather than sitting down in the "bubble" that was in New York's defense.  In fact, I wasn't the only one that saw this. Greg A. Bedard of SI.com, tweeted this out following the conclusion of that play:  That's how I saw it. RT @GregABedard: I think Brady's mad at Edelman, not Dobson. Thought Edelman should have sat in the void. Just a guess — Tony Santorsa (@TonySantorsa) September 13, 2013 Sitting there last night, watching this game, I knew this was coming the following morning. People, who don't have a clue about football Xs and Os, were going to start to criticize Brady. I certainly expected this out of Bleacher Report, as the title of this post is "Brady Throws Tantrum at WRs." In other words, anything to get views at B/R. Thornbugh is listed as a "Social Media Staff" member…So why is he writing about the National Football League? Oh, because he's a "social media expert." He knows how to get views. Therefore, he can take a non-story, completely twist it, and then turn it into 87,000 unique views.  Sorry to rant—but, people like Tristan Thornbugh should stay far away from covering the game of football. 
Original Story:
http://pats360.com/post/61117443704
MORE FROM YARDBARKER
Patriots News

Delivered to your inbox

You'll also receive Yardbarker's daily Top 10, featuring the best sports stories from around the web. Customize your newsletter to get articles on your favorite sports and teams. And the best part? It's free!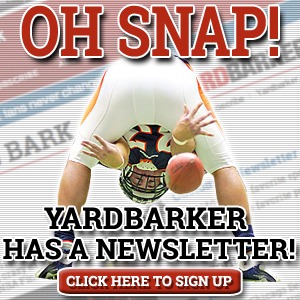 Latest Rumors
Best of Yardbarker

Today's Best Stuff

For Bloggers

Join the Yardbarker Network for more promotion, traffic, and money.

Company Info

Help

What is Yardbarker?

Yardbarker is the largest network of sports blogs and pro athlete blogs on the web. This site is the hub of the Yardbarker Network, where our editors and algorithms curate the best sports content from our network and beyond.