Found January 23, 2013 on Patriots Life:
With the epic fail of the "Ocho Cinco experiment" I feel some fans had a preconceived notion about the signing of Brandon Lloyd. Lloyd has been criticized for his performance this year and even thought of as a bust. I think this is malarkey and that Lloyd did everything we needed him to do and more. Can we give the man a little love? Brandon Lloyd has been a favorite player of Josh McDaniels dating back to the days when McDaniels was the head coach in Denver. Lloyd followed McDaniels to St. Louis when McDaniels took over the offensive coordinator position for a year and performed average which was to be expected in St. Louis (no offense). In some ways I don't really know what Patriots fans expect from people like Brandon Lloyd. If fans are looking for another Randy Moss they should have examined both players skill set and realized that both Lloyd and Ocho Cinco are different players than Moss. Moss is an absolute freak of nature that can spread defenses out with sheer speed and...
Original Story:
http://www.nepatriotslife.com/2013/01...
THE BACKYARD
BEST OF MAXIM
RELATED ARTICLES
The Patriots missed out on going to back to back Super Bowls, but what does that mean for Tom Brady's legacy?  On my radio show this week (Football Extra Points) I talked about Tom Brandy and what his legacy was in New England.  Tom Brady came into the NFL with no expectations.  He wasn't even the full time starter at Michigan.  It did not take him long to get...
CLEATS HIGH
The NFL fined Tom Brady for sliding with his cleats high on Ed Reed. Brady apologized to Reed for the slide, which may have led to the fine.
According to Mike Rodak of ESPN Boston, the "odds are against" S Patrick Chung re-signing with the team. Rodak mentions that because the Patriots have Devin McCourty, Steve Gregory and Tavon Wilson still on their roster, allowing to leave would have a minimal effect of the depth at safety. New England's secondary has struggled considerably in recent years, but it's not...
Could the Patriots make a move for Darrelle Revis? After reports that the New York Jets are open to trading super-stud cornerback Darrelle Revis surfaced Wednesday night, I began to think, "Is it fathomable to think Darrelle Revis could end up in a Patriots uniform come September?" Of course, it would be tough to see the Jets trade their best player to their hated in-division...
Watching Bill Belichick address the media is something that's rivaled only by watching paint dry, but apparently there are quite a few people with a strong desire to watch paint dry nowadays. Brian Billick isn't one of them. Billick, an NFL analyst who spent nine seasons coaching the Ravens from 1999 to 2007, doesn't see what all the fuss is about when it comes to Belichick's...
PatsPropaganda & Frenz Podcast Today 11am EST: 1/23 Patriots Season Wrap: Join me and Frenz as we...
The Patriots were already shallow at wide receiver in 2012, and if they can't sign both of their free agent slot receivers, it could get even uglier in 2013. By the end of the season, the Patriots had just Wes Welker, Brandon Lloyd, Deion Branch, Kamar Aikan and Matthew Slater on their roster. Donte Stallworth and Julian Edelman were placed on season-ending injured reserve and...
Ballertainment Tom Brady appears to aim kick at Ed Reed in AFC Championship game Questions swirl regarding whether or not New England Patriots quarterback Tom Brady attempted to kick Baltimore Ravens safety Ed Reed during Sunday's AFC Championship game. Even the NFL is reviewing the play to see if they need to levy a fine. Brady apologized to Reed, nonetheless. During an interview...
Brady should be fine. I don't think it was the worst thing I have ever seen, but the NFL fines players for wearing their socks too high, so I think Brady should be a little lighter in the wallet. For his part Ed Reed says he isn't tripping. "I told him — you know, we talked," Reed told WJZ-FM in Baltimore. "We talked actually not too long ago, we talked on the phone....
This one little play has certainly gotten a lot of attention. With the final seconds of the second quarter counting down, Tom Brady scrambled, was surrounded by defenders, and then slid awkwardly with his leg going right for Reed's, umm, leg. The Patriots went on to kick a field goal while the Ravens went on to win the game. Apparently that wasn't good enough for some of...
– TMZ.com spoke with Linda Hogan about Wes Welker's wife and she thinks that an athlete's wife shouldn't make her opinions public. Anna Burns Welker slammed Ray Lewis on Facebook after the Ravens defeated the Patriots for a shot at the Super Bowl. She later apologized. Hogan called her rant "way uncool." She says that Welker can say whatever she wants in private but "in...
The NFL is looking into Tom Brady's leg-up slide that hit Ravens safety Ed Reed in the AFC championship game.
NFL News

Delivered to your inbox

You'll also receive Yardbarker's daily Top 10, featuring the best sports stories from around the web. Customize your newsletter to get articles on your favorite sports and teams. And the best part? It's free!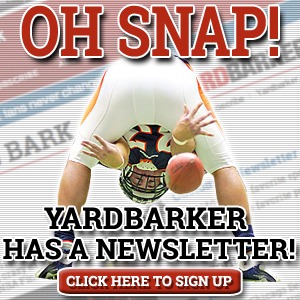 Latest Rumors
Best of Yardbarker

Today's Best Stuff

For Bloggers

Join the Yardbarker Network for more promotion, traffic, and money.

Company Info

Help

What is Yardbarker?

Yardbarker is the largest network of sports blogs and pro athlete blogs on the web. This site is the hub of the Yardbarker Network, where our editors and algorithms curate the best sports content from our network and beyond.