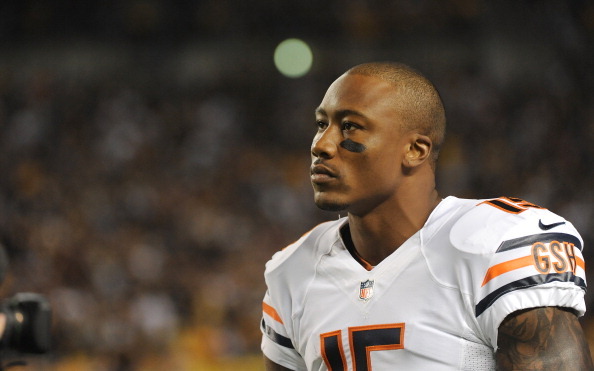 Michigan State has shed its "Little Brother" tag by dominating Michigan on the gridiron in recent years, so Brandon Marshall recycled that trash talk on the Detroit Lions. Speaking on "The Jay Cutler Show" on ESPN 1000 Monday night, Marshall criticized the Lions' defensive line for "borderline illegal" play, ripped on the city of Detroit's financial plight and broke out the all-too-familiar Mike Hart-coined phrase. "They're the little brother who grew a little bit, may be a little taller than the bigger brother," Marshall said, via MLive. "He's not stronger. He's not better than the big brother at anything. But it's just that one day, he says 'I'm fed up. I'm done. I'm going to punch my brother in the face.' … It's the little brother (complex). The big brother wants to go out and play with his friends and the little brother is annoying. 'Hey, can I go?' "No you can't go, Detroit Lions. Sit back. Sit in your little city. Know what I mean? Fix your financial problems and all of that. You can't come with us right now." This would be where one would point out that the Lions are 2-0 against the Bears this week, with a victory in Chicago on Sunday. Detroit's also in first place in the NFC North with seven weeks left in the season — the latest the Lions have led the division since it switched over from its NFC Central moniker back in 2002. But Marshall didn't just talk down the Lions' sudden rise. He also called out Detroit's front for going after the Bears' QBs on Sunday. Willie Young and Nick Fairley each picked up personal fouls for hits on Josh McCown late. "Borderline illegal," Marshall said of Detroit's tactics. "And I'll say this, man, I'll attach my name to it: When I'm looking at film today, it was kind of disgusting to see their D-line go out of their way to knock our quarterbacks down after every single play. Ya know? The ball was gone. They're pushing him down. They're hitting him below the knee. It was kind of disgusting." Lions safety Glover Quin responded to Marshall's comments on Twitter: Did anyone else think Brandon Marshall's comments regarding the city of Detroit where totally uncalled for? — Glover Quin Jr (@GloverQuin27) November 12, 2013 The talk about the team is whatever!! Don't bring the city into it and people livelihoods!! C'mon man!! — Glover Quin Jr (@GloverQuin27) November 12, 2013
Read the rest of this story...
MORE FROM YARDBARKER
NFL News

Delivered to your inbox

You'll also receive Yardbarker's daily Top 10, featuring the best sports stories from around the web. Customize your newsletter to get articles on your favorite sports and teams. And the best part? It's free!