Found September 23, 2012 on Waiting For Next Year:
Brandon Weeden after the Browns' 24-14 loss to the Buffalo Bills-
"I think, and I'm speaking offensively, we started too slow. I think after a week like we had last week, that's disappointing. I think that's the difference in some of these games. I think you just can't be where we were in the first half, 0-5 or 0-6 on third down and doing some things early and expect to win many games. We've got to start faster and that's on us. That pretty much sums it up. You put yourself in a hole, 14-0; it's kind of tough to dig it out. Especially against an offense like that, that spreads the ball out and throws it well. It's tough sledding." (On the pressure he was under in the pocket and whether or not it was hard finding open receivers)- "They have a great front four. I said that during the week, I think they have guys who can really get after the passer. I think, throughout the game they really started doing some things to those guys up front. I think overall, our guys did a great job. I think our offensive line gave me time to throw, there were some tight coverages; some tight windows to throw into but I think overall my offensive line did great. The touchdown pass to Travis (WR Travis Benjamin), you know they got to him a little late. But, I felt pretty good other then some play action stuff as far as the protection went, all day." (On the main problems on the early series where the offense couldn't convert on third down)- "I think a number of things. One, you have to give them a little bit of credit. They made tackles at the line of scrimmage; they were coming off blocks and doing a good job in the run game. When we beat them with the pass, they did a great job of tackling. So you got to give them credit. They played a hard fought game. They tackled well and did some things there. But I think that, without seeing it, you know a lot has happened since then. I think those are the kind of the things that stood out to me. Like I said, went three-and-out however many times there to start the game. That's tough." (On his opinion of his play)- "If you take away the last throw, I think it was a solid day. You know really, I mean I threw the ball where it needed to go all day. I felt extremely comfortable in the pocket. I felt my reads were really good. I felt like I threw the ball accurately. I felt like I had a good day. I mean we take away that last throw. Me and Ben (TE Ben Watson) were just talking about it, he knew I was coming to him, because the guy dropped out and the guy ran right through it. Neither one of us saw him and he made a great play, but you take away that throw, it was a solid day at work. With all that being said, the most important thing is we didn't win this game, so to me, I didn't do enough." (On fighting through an 0-3 start)- "You know you just have to keep your head down, don't get distracted by what's going on around outside this locker room, and keep grinding and doing what were doing. The simple matter of fact is that we have a short week this week. So even though we lost and it's a tough pill to swallow. We got to turn around and as crazy as it is we have to turn around to play on Thursday night. This locker room has got a lot of level-headed, good sound quality guys and we're going to stick together. That's what you've got to do. None of us want to lose, a lot of us have come from other places that haven't lost a lot of games, we've got to continue to fight, and stick together and stay positive. Like I said, it's a long season. You can't get distracted by what's going on around you. "
 [Related: Browns Lose as a Team to the Bills]
Original Story:
http://www.waitingfornextyear.com/201...
THE BACKYARD
BEST OF MAXIM
RELATED ARTICLES
Guys like Greg Little who drop the ball yet do a dance while we're 0-3? I would sit his ass down and tell him, 'listen my friend, there's no I in team, but there's two I's in "idiot." Get the job done and stop the B.S.' – Fomer Cleveland Browns head coach Sam Rutigliano, in an interview on 92.3 The Fan, when asked what he would do with wide receiver Greg Little...
The Cleveland Browns just weren't good enough today. The defense wasn't great, but they consistently gave the Browns' offense a chance to win. The Browns' offense showed some flashes but either shot themselves in the foot or had some calls work against them. There is no giant goat for this one. This was just a team loss all the way around, from the get go. It was made even...
Cleveland, OH. Heading into the 2012 NFL regular season, is there a team who has less hope this year than the Cleveland Browns? In a league where huge turnarounds can happen within just a season or two, it seems as if nobody who knows the game well at all is picking the Browns to be anywhere near the playoffs come January. In fact, based on the overall talent level in the NFC...
Browns safety Usama Young will start against Buffalo in place of Eric Hagg, who was beaten for a touchdown pass last week in Cincinnati. Young, who started eight games last season, has yet to play a defensive snap this season. Hagg started Cleveland's first two games. He gave up a 44-yard TD pass in the 34-27 loss to the Bengals. Browns tight end Alex Smith was also inactive...
BEREA -- Pat Shurmur didnt try to put a happy face in his news conference the day after an aggravating loss to the Buffalo Bills. But its tough to say what kind of face he put on. Whats clear is this: Punter Reggie Hodges might get the boot, and receiver Greg Little is wearing thin on not just the fans but also the coaching staff. Shurmur made one point clear: The Browns did not...
  A huge game in many ways for the Browns moving forward as they host the Buffalo Bills in Cleveland this afternoon. The Browns will look to keep up their offense rhythm from last week's loss to the Bengals while also hopefully improving a bit on the defensive side. From the leadership side of things, many are already saying how bad a loss would be for the combination of Mike...
Cleveland Browns vs Buffalo Bills September 23, 2012 Brian   Browns 23 Bills 17 Last week Brandon and Trent give us some reason to hope. Let's see if they do the same thing at home. Tom  Bills 27 Browns 24 The dreaded 0-3 start is unavoidable with CJ Spiller...
At 0-2 and losers of 48 of their last 68 games, the Cleveland Browns look to turn around losing football Sunday against the C.J. Spiller-led Buffalo Bills.
In what seems to be a yearly affair, the Buffalo Bills are taking on the Cleveland Browns this Sunday in Cleveland. There are a few things to watch for in this game before one can make a solid prediction on the game. Rookie running back Trent Richardson showed the league what he is capable of last week by earning his first 100-yard game. Richardson is elusive and powerful. The Bills...
NFL News

Delivered to your inbox

You'll also receive Yardbarker's daily Top 10, featuring the best sports stories from around the web. Customize your newsletter to get articles on your favorite sports and teams. And the best part? It's free!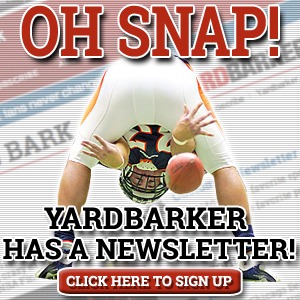 Latest Rumors
Best of Yardbarker

Today's Best Stuff

For Bloggers

Join the Yardbarker Network for more promotion, traffic, and money.

Company Info

Help

What is Yardbarker?

Yardbarker is the largest network of sports blogs and pro athlete blogs on the web. This site is the hub of the Yardbarker Network, where our editors and algorithms curate the best sports content from our network and beyond.