Found November 12, 2012 on Sports-Glory:
Chicago Bears linebacker Brian Urlacher responded Monday to any fans that didn't like him congratulating former teammate and current Houston Texans safety Daniel Manning after Manning intercepted Jay Cutler during the Bears 13-6 loss Sunday night. "That was a nice play. I could give a crap about what people think on the street. Get mad at me all you want, I could give ... I could give a crap about what people say," Urlacher said Monday on"The Waddle & Silvy Show" on ESPN 1000. "Danieal Manning is a friend of mine, he was a teammate for five or six years, and that's the way it is. He made a catch and was running toward the sideline to say something to Coach, so I walked out there. "The guy had a good game, he caused a fumble, had a pick. He's my friend. I wish he wouldn't have caught it, but he did, so nice play to you. I don't give a crap about what fans or people say, they can kiss my butt. I don't care." "When the ball is snapped I want to tackle the other guy, the other team is my enemy," Urlacher said. "I don't want any part of being a friend. I'm not going to take it easy on the guy when he catches the football and not try and hit him because he's a friend of mine. It doesn't happen. Take (Panthers tight end) Greg Olsen. If he catches the ball I'm going to try and (tackle him). He knows that, and he's going to try and make me miss. And Greg is a good friend of mine as well. "When the play is over, it's over. It's not like I have to go out there and be a jerk to him because it's during the game and I'm a tough guy. That's not the way it is. They're my friends. Between the whistles I'm going to try and get them, and when the play is over we'll go back to doing whatever. "It's just dumb that people think that. 'Why did you help that guy up after you tackled him?' Because I wanted to. What's the big deal? 'Butkus would have never done that.' Well, I'm not Dick Butkus. I'm Brian Urlacher, and sometimes I help people up. Sorry if that (ticks) you off." Urlacher and Manning played together for five seasons in Chicago.
Original Story:
http://sportsglory.com/xn/detail/6286...
THE BACKYARD
BEST OF MAXIM
RELATED ARTICLES
It's déjà vu all over again for Chicago Bears fans in 2012.  The Chicago Bears went on a long winning streak which had people talking about them as a top team in the NFL, just like last season.  Now Jay Cutler is hurt, just like last season.  The question now is whether or not Cutler will miss extended time, and how Jason Campbell will perform in his absence. It could be seen...
Jay Cutler left the game against Houston at halftime having also been diagnosed with a concussion, but, for me the issue poses a bigger question than whether or not Jason Campbell can do enough to lead the Bears to victory (I'd suggest it just got quite a bit harder for them). The question is why wasn't a concussion test administered on Cutler before he went to the locker...
Join the guys for their observations and insights on Sunday night's loss to Houston on the next edition of "Bears Claws".  They'll discuss Jay Cutler's injury, the Bears offensive struggles, and whether they can rebound  next Monday night on the road in San Francisco. It will be a lively 30 minutes of blocking, tackling, and tongue-in-cheek humor, so make sure [...]
SEEING STARS
The constant rain has turned this Sunday Night Football game between the Houston Texans and Chicago Bears into an utter slop fest.  But even then it's not without its big plays.Tim Dobbins made a play to get after Jay Cutler and unfortunately for Cutler, despite absorbing a massive hit, it was all for nothing.  Cutler had barely crossed the line of scrimmage, making the pass...
Chicago Bears quarterback Jay Cutler's status for this week remains in question because of a concussion.
Bears quarterback Jay Cutler has left Chicago's game against the Houston Texans because of a concussion. A scrambling Cutler took a helmet-to-helmet hit from Tim Dobbins after unleashing a pass on third down at midfield late in the first half Sunday night. There were offsetting penalties on the play. Cutler got called for an illegal forward pass because he was beyond the line...
Late in the second quarter on Sunday night, with the Chicago Bears down 10-3 to the Houston Texans, Jay Cutler stepped out of the pocket and eventually crossed the line of scrimmage to make a pass to Devin Hester. The play would be called back, and a review of whether Cutler stepped over the line would ensue. Bears fans everywhere would also soon suffer from scary memories of...
Houston Texans linebacker Tim Dobbins has been fined $30,000 for a helmet-to-helmet hit that gave Chicago's Jay Cutler a concussion. The hit came in the second quarter of Houston's 13-6 win on Sunday night when Dobbins hit a scrambling Cutler after he threw a pass. Cutler was past the line of scrimmage and called for an illegal forward pass on the play, and Dobbins was...
The Chicago Bears are expected to sign quarterback Josh McCown with Jay Cutler's status in doubt because of a concussion, ESPN Chicago reported Monday. Cutler sustained a concussion after taking a hard hit during the Bears' 13-6 loss to the Houston Texans on Sunday night. Jason Campbell replaced Cutler for the second half of the game. The Bears will need another backup...
What else must Lovie Smith do to win over the Bear's fans and front office? Don't become a prisoner of the moment and scoff at the title of this article simply due to the fact the Bears lost to the Texans this past weekend. Lovie Smith has proven to be one of the best coaches in Bear's franchise history, and he deserves to be rewarded with a long term contract before his current...
I know why you're here. Week 10 has created so many question marks for teams heading in to Week 11. The biggest of all being at the quarterback position with injuries to the dominant Jay Cutler, Alex Smith, Ben Roethlisberger, and Michael Vick. Let's get to it! Fantasy Football Week 11 Waiver Wire Pickups Nick Foles, QB, PHI (Yahoo! 5%, FOX 1.2%) The big question for a lot of...
Bears News

Delivered to your inbox

You'll also receive Yardbarker's daily Top 10, featuring the best sports stories from around the web. Customize your newsletter to get articles on your favorite sports and teams. And the best part? It's free!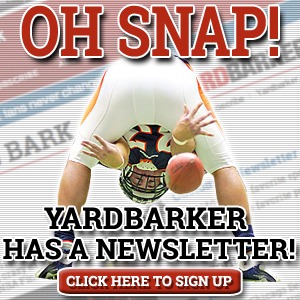 Latest Rumors
Best of Yardbarker

Today's Best Stuff

For Bloggers

Join the Yardbarker Network for more promotion, traffic, and money.

Company Info

Help

What is Yardbarker?

Yardbarker is the largest network of sports blogs and pro athlete blogs on the web. This site is the hub of the Yardbarker Network, where our editors and algorithms curate the best sports content from our network and beyond.