Found March 21, 2013 on Purple Jesus Diaries:
The Chicago Bears announced yesterday that they are parting ways with Brian Urlacher, middle linebacker stalwart and balding man that pretty much has embodied everything about Chicago football for the last 13 years. 13 years! That number is bigger than the reading level age comparison of most of our readers! And this site's writer, too.  Point being, Brian Urlacher, a middle linebacker with some cache behind him, is on the free agent market. Your Minnesota Vikings, semi-active players in the free agency market, are in dire need of a middle linebacker for their team. Brian Urlacher, Minnesota Vikings, Brian Urlacher, Minnesota Vikings ... See where this is going? Have you choked yourself to death yet? However unlikely this scenario seems, it's worth a discussion, even if that discussion is filled with outrage and hate towards former Chicago Bears (LOOKING AT YOU, BERRIAN). Urlacher was apparently looking for a two year contract for around $11.5 Million. The Bears (smarter than the average bear, here) stood pretty solid on an offer of one year, up to $3 Million earned. Brian got upset, probably called them a *****, and then the team was like, "LOL, OK swaggy bro, see you later" and released a statement that said they were done trying to negotiate. BALLSY MOVE. So that leaves Urlacher on the market, and god dammit, the Vikings seem like a likely scenario. Now, I agree with Kevin Seifert at the ESPN NFC North blog that this doesn't SEEM like a Rick Spielman type of move. Spielman's MO over the past several years has clearly been trying to get younger through the draft and using the money you have to re-sign your own players. BUT. Rick has also shown the fortitude to know when he has to reach out and cover his ass, namely, when he does something like leave a position totally devoid of talent (Hi, receivers!) and then is forced into supplementing the position through free agency.  Urlacher, for the right price, could fall into that category too. Sure, he's old, slow, injured, probably has more STDs than Minnesota State - Mankato, but that just means he'd fit right in! At least during training camp. And the whole scenario here is playing out WAY too obviously. The Vikings have exactly NO ONE who could play the middle linebacker position in Leslie Frazier's Cover-2 scheme competently right now. Maybe Audie Cole eventually, but he's seemed more like and outside linebacker, and the coaches were obviously hesitant to have him play AT ALL last year, let alone start a game. Now you think they're just going to throw him into the position? I don't think so.  It's obvious what's going to happen here, and it kills me to say this because it sounds awful. But here's my ******* prediction. The Vikings are going to sign Urlacher for two years, however much millions of dollars. They are going to draft Manti T'eo (OHGODNO) with one of their first round picks (WR with the other) and let him learn from the vet for a year. They'll cut Urlacher next year, let T'eo take over, and the rest of the NFC North will continue to make fun of us for taking their leftover scraps and referencing fake girlfriends.  How excited does that get you? Hopefully not at all. [follow]
Original Story:
http://www.purplejesusdiaries.com/201...
THE BACKYARD
BEST OF MAXIM
RELATED ARTICLES
I was in line at the Jewel grocery store Wednesday when word started spreading through Chicago: Brian Urlacher is no longer a Bear. Where were you when you heard it, Chicago? "They finally did it?'' the guy behind me asked. "What did they get for him?'' They didn't trade him. They dumped him. "They dumped him,'' he repeated. "Ah...
Marc Trestman understands that Chicago Bears fans anxiously want to know whether iconic middle linebacker Brian Urlacher will be returning for a 14th NFL season. Unfortunately for them, Chicago's new head coach doesn't have an update. Urlacher remained unsigned Wednesday as Trestman spoke with the media Wednesday morning at the NFL owners meeting. The fact Urlacher hasn...
Brian Urlacher is in search of a new team after the Bears chose to part ways and not re-sign him.  Many experts figure the Minnesota Vikings would be a logical landing spot. The Vikings and Urlacher's camp have had some initial conversations, and there seems to be mutual interest. Pro Football Talk is reporting that the interest won't be serious until Urlacher comes down in...
After the Chicago Bears announced tonight that they weren't going to be re-signing linebacker Brian Urlacher, he made it clear that he was given an ultiminatium. The Bears reportedly made Urlacher a one-year, $2 million offer and said take it, or leave it. "It wasn't even an offer, it was an ultimatum," Urlacher told the Chicago Tribune. "I feel like I'm a decent football...
Not trying to resign linebacker Brian Urlacher is a move that is going to be widely looked upon as a little crazy; at least by many Bears fans. However, what might really be crazy is what the team is reported to have offered the long time veteran-- One year for $2 million. Yes, he is not a spring chicken. Yes, he has had some injuries over the last few years, but $2 million...
"Lip service." Those are the exact words Brian Urlacher used to describe the Bears' efforts to resign him. Granted, the lack of cap space and Urlacher's recent rash of injuries put Phil Emery in an awkward situation in terms of how to operate in contract negotiations. But this disgraceful divorce from the 13-year face of the franchise will impact the Bears in this coming...
Of course, we've all seen this video before. I feel like Brady has one of these surprisingly athletic but not really that athletic moves every year. Last year it might've been either his scramble for a TD against Buffalo or when he kicked Ed Reed in the balls, can't decide which I liked more. Anyway, Brian Urlacher is leaving Chicago after they basically told him they...
According to Dan Pompei of the Chicago Tribune, the Bears have signed former Broncos' linebacker D.J. Williams to take over for Brian Urlacher. Williams was a heck of a player in Denver before he found trouble.  The Bears are now giving him a chance to turn things around. Williams, 30, was cut by the Broncos after a season in which he faced two suspensions, a six game suspension...
The Chicago Bears announced Wednesday that the team was unable to reach an agreement on a new contract with unrestricted free agent middle linebacker Brian Urlacher. 
NFL News

Delivered to your inbox

You'll also receive Yardbarker's daily Top 10, featuring the best sports stories from around the web. Customize your newsletter to get articles on your favorite sports and teams. And the best part? It's free!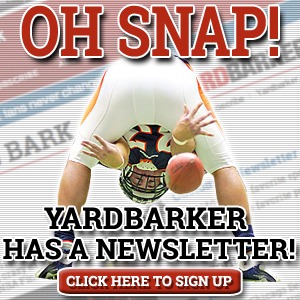 Latest Rumors
Best of Yardbarker

Today's Best Stuff

For Bloggers

Join the Yardbarker Network for more promotion, traffic, and money.

Company Info

Help

What is Yardbarker?

Yardbarker is the largest network of sports blogs and pro athlete blogs on the web. This site is the hub of the Yardbarker Network, where our editors and algorithms curate the best sports content from our network and beyond.