Found August 31, 2012 on Fox Sports Midwest:
ST. LOUIS On one hand, time on the field is necessary, each repetition crucial in helping a young player develop before results are real. On the other, injuries understand no difference between preseason and snaps that count toward true victory and defeat. Pain can strike on a tired Thursday in late August or on a Sunday with playoff berths at stake late in the fall. There are no boundaries. On one hand, the St. Louis Rams were smart to play rookie defensive tackle Michael Brockers the 14th overall pick late in the first quarter of a meaningless 31-17 victory over the Baltimore Ravens at the Edward Jones Dome. Yes, this was the snooze-worthy fourth preseason game. Yes, his spot on the 53-man roster is secure. Yes, the Ravens rested all but three of their first-teamers on defense. But no matter: The hulking LSU product is green, and any work is good work for an unproven talent. On the other, there was risk involved with Brockers sticking his fingers in the turf on a night that didn't require him doing so. It was seen in the 9.52 million asset being carted toward the locker room with a lower right-leg injury, never to return. There's a reason most presumed starters treat the final preseason game like a beach vacation: The pad cracks pick up intensity soon, and preservation is key. "Yes, he got an X-ray," Rams coach Jeff Fisher said of Brockers afterward. "We'll do standard tests (Friday). We'll do the MRI tomorrow, and we will have the results tomorrow." On one hand, the Rams won't need the results to gauge Brockers' emotional state. He walked from St. Louis' locker room wearing a thick black boot on his foot, smiling and making cracks while moving toward an exit. He appeared no different than he has throughout most of training camp he was light, carefree and composed. Those close to him were optimistic that he would be fine. On the other, those same teammates know that injury can happen at any time. That's part of NFL life. In this case, a potential gasp moment occurred when Brockers' leg became tangled with guard Jah Reid. Two trainers helped him hobble off the field, and the deserted dome became tense. "We know any time we take the field, there's that risk of injury," Rams defensive tackle Kendall Langford said. "It's a physical game. It's a violent game. It's unfortunate that it happened. I hope the best for him. I think he'll be fine. I saw him walk out of here, so that's a positive." On one hand, it's positive that Fisher tested his starters as long as he did. It shows that the coach is serious about giving his vision a chance to grow. It sent the message that no preseason game is too empty to present the top unit with measured work. The Rams need plenty of it on both sides of the ball to fix a culture that has produced a 15-65 record over the last five years. On the other, the plan could have backfired. Players seemed confident that Brockers would return soon. But what if his injury were serious? What if an inconsequential night had produced a significant consequence? What kind of questions would be asked then? "It's tough to see," Rams defensive end Chris Long said. "It could happen on any play. It could happen in practice. We'll see what the docs say (Friday), but he's a tough kid. He'll bounce back. Luckily, it doesn't seem to be anything too terrible. Brock has been making some good strides in preseason, and he'll pick up right where he left off whenever he gets back." That's what Thursday was about for the Rams. Making strides. Showing that they are working to improve their woeful reputation. Playing Brockers and other starters on a night when Baltimore coach John Harbaugh rested his stars revealed urgency. It's a feeling that should be shared throughout Rams Park. Still, Brockers' injury showed that drive includes risk. No plan is fail-safe. "He's a positive guy," Long said. "He's a tough kid. He knows injuries are part of this game, and we're all going to deal with them at some point. He's going to do a good job of treating that thing and getting back out there when he can." On one hand, it was wise to have Brockers play at all. On the other, pain is never far away. You can follow Andrew Astleford on Twitter @aastleford or email him at aastleford@gmail.com.
Original Story:
http://www.foxsportsmidwest.com/08/31...
THE BACKYARD
BEST OF MAXIM
RELATED ARTICLES
St. Louis Rams rookie defensive tackle Michael Brockers injured his right ankle near the end of the first quarter of the preseason finale. Brockers, the team's first-round draft pick, was injured when he got tangled up with the Ravens' Jah Reid with 4 seconds to go in the quarter Thursday night. He was helped off the field by two trainers but was able to put weight on the...
Many NFL fans will probably never remember the ongoing eight year stellar career of St. Louis Rams running back Steven Jackson, but Rams fans certainly will. Steven Jackson should join an elite list of running backs whose careers were underrated because they played for mediocre teams.
(Updates.) Scott Wells has had a busy offseason. After signing a four-year, $24 million contract with the St. Louis Rams, the former Green Bay Packers center had knee surgery that kept him from most of the team's activities. While rehabbing, Wells and his wife recently completed the adoption of three orphans from Uganda, a process that took nearly 18 months. As they prepare...
The Rams have struggled in the years since the "Greatest Show on Turf" days of the late 20th century.  They have a very talented running back in Steven Jackson who only experienced the playoffs in his rookie season and probably won't as long as he is still playing, unless new Head Coach Jeff Fisher can turn this once proud ship around.  To make matters worse for the Football...
After a year away, Jeff Fisher returned to the NFL refreshed, renewed and best of all, patient. Rebuilding the St. Louis Rams might take time. Fisher inherits a handful of key veterans from a 2-14 season that got coach Steve Spagnuolo and general manager Billy Devaney fired. Surrounding quarterback Sam Bradford, middle linebacker James Laurinaitis, defensive end Chris Long and select...
RB Steven Jackson UP Isaiah Pead has failed to lock down the #2 back job behind Steven Jackson. He will split the role with follow rookie Daryl Richardson. This is good and bad news for Jackson's fantasy stock. The good news is that there's no immediate threat to his workload and he should see the type of carries he's used to so long as he's healthy and running well. The...
Like a surfer on a tasty wave, the St. Louis Rams continued to win at home in the Edward Jones Dome with a convincing victory against the Baltimore Ravens.  Like their beat down of the Kansas City Chiefs the last time they played at home, the Offense, defense, and special teams gave the Rams a [...]
GAME NOTES —Michael Brockers went down with a lower leg injury on the last play of the first quarter against the Baltimore Ravens. Brockers was caught in a 'high-low' block on a stretch play. The injury has since been diagnosed as a high ankle sprain, and will sideline the rookie defensive tackle for a month. —In just his second season, Robert Quinn appears to have matured...
Sam Bradford gave the St. Louis Rams a positive experience to end the preseason. Bradford threw three touchdown passes in 11/2 quarters giving the St. Louis Rams a 31-17 win over the Baltimore Ravens on Thursday night. Rams coach Jeff Fisher, taking over a franchise that has totaled 15 wins in the past five seasons, used virtually all of his starters until the score was 21-0 on...
ST. LOUIS (AP) -- Sam Bradford gave the St. Louis Rams a positive experience to end the preseason. Bradford threw three touchdown passes in 112 quarters giving the St. Louis Rams a 31-17 win over the Baltimore Ravens on Thursday night. Rams coach Jeff Fisher, taking over a franchise that has totaled 15 wins in the past five seasons, used virtually all of his starters until the...
The Ravens have fallen behind the St. Louis Rams in their final (hooray!) preseason game in the first quarter. Sam Bradford led the Rams on a drive from under the shadow of his own field goal posts. The drive was aided by a long pass play in which Jimmy Smith fell down in coverage. On the next Ravens' offensive possession Tyrod Taylor lost a fumble. The Ravens are down 14-0 in the first quarter.
NFL News

Delivered to your inbox

You'll also receive Yardbarker's daily Top 10, featuring the best sports stories from around the web. Customize your newsletter to get articles on your favorite sports and teams. And the best part? It's free!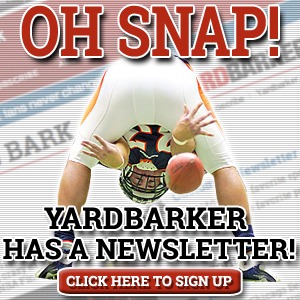 Latest Rumors
The Backyard

Today's Best Stuff

For Bloggers

Join the Yardbarker Network for more promotion, traffic, and money.

Company Info

Help

What is Yardbarker?

Yardbarker is the largest network of sports blogs and pro athlete blogs on the web. This site is the hub of the Yardbarker Network, where our editors and algorithms curate the best sports content from our network and beyond.