Found December 21, 2011 on CJ Sports NFL Talk:
PLAYERS:
Tim Tebow
,
John Elway
,
Josh Mcdaniels
,
John Fox
,
Champ Bailey
,
Willis McGahee
,
Matt Prater
,
Von Miller
,
Kyle Orton
,
Pat Bowlen
TEAMS:
Denver Broncos
,
Kansas City Chiefs
,
New England Patriots
Quarterback Tim Tebow #15 of the Denver Broncos runs the offense against the New England Patriots at Sports Authority Field at Mile High on December 18, 2011 in Denver, Colorado. The Patriots defeated the Broncos 41-23.
(December 17, 2011 – Photo by Doug Pensinger/Getty Images North America)
ENGLEWOOD, Colo. (AP) — A year ago, John Elway agreed to another comeback with his beloved Denver Broncos shortly after the ouster of Josh McDaniels, whom many felt had doomed the franchise to mediocrity for years to come.
The Hall of Famer has pulled all the right strings in rapidly reversing the team's fortunes.
And for all those fans worried that the Broncos' boss isn't completely sold on Tim Tebow and might put the unorthodox quarterback on the trading block this winter, relax. Elway said the city's new comeback king is here to stay.
In an interview with The Associated Press, Elway gave his strongest indication yet that he believes Tebow can morph from a scrambling quarterback into a pocket passer, which suggests he won't be spending a high draft pick on another QB in April.
"Tim Tebow's not going anywhere," Elway said. "I mean, he's going to be a Bronco and we're going to do everything we can and hopefully he's that guy."
Elway, who led Denver to five Super Bowls and two titles during his playing career, reiterated his intention to work with Tebow during the offseason, something he couldn't do last offseason because of the NFL lockout.
It's the latest example of Elway's efforts to resurrect a franchise that has mostly foundered since he retired in 1999, shortly after winning his second straight Super Bowl.
The AFC West-leading Broncos (8-6), who have already doubled their win total from last year, are relevant again under their new chief of football operations, who wasted no time in putting his mark back on the organization.
In short order, Elway empowered general manager Brian Xanders, hired coach John Fox, intercepted star cornerback Champ Bailey on his way out of town, lured tailback Willis McGahee to Denver, re-signed kicker Matt Prater, drafted pass-rusher Von Miller, traded receiver Brandon Lloyd and endorsed the quarterback switch that put Tebow on the field and Kyle Orton on the waiver wire.
After starting the season in the middle of the Andrew Luck sweepstakes talk, the Broncos are instead shooting for their first playoff berth since the 2005 season behind Tebow, who's won seven of his nine starts, four of them via the kind of fourth-quarter comebacks that marked Elway's storied career.
Elway brought back a winning attitude, and his management style, in which he seeks input from those around him, has changed the culture at Dove Valley from the autocratic regimes of McDaniels and, before him, Mike Shanahan.
"I think that if you look at where we were a year ago at this time, it was probably the lowest point in Pat's ownership," Elway said, referring to owner Pat Bowlen. "One of the things that we thought was everybody needed kind of a little bit of football rehab. I mean, you're 6-22, there's a negative feeling about football. That's why John (Fox) was a perfect fit for us, because of his enthusiasm, his energy."
Elway needed to learn the ropes of being an NFL executive, so he has constantly sought others' advice in steering the Broncos while giving his colleagues more say, especially on personnel matters.
"I've always felt the more input you have, the more discussions you have on certain things, the chances are you're going to make the right decisions," Elway said. "And I think the culture now is it's not only teamwork downstairs but it's teamwork upstairs, too."
One of the first things Elway did was reach out to Bailey, the perennial Pro Bowl cornerback who was headed for unrestricted free agency after McDaniels had pulled an extension offer off the table just as he was about to sign it last season.
Elway said he doesn't think Denver's defensive turnaround would have been possible without Bailey, who's provided stellar play, locker room leadership and stability to a team with its sixth defensive coordinator in six seasons.
To the surprise of many, Elway, the greatest offensive player in franchise history, believed the blueprint for winning again was to focus on defense. Trying to outpace everyone just wasn't going to work, he said.
"I think that you have to have a special guy to outscore everybody, and if you look at where we were with Kyle, we didn't have the Tom Bradys or the Peyton Mannings or the Drew Breeses, those are the guys that outscore everybody, and there's three or four of those guys in the league and they're very difficult to find," Elway said.
He said he didn't want to overburden Tebow, who was being groomed for his shot under center.
"The best way for Tim to develop was to be good on the defensive side and take our time with him on the offensive side," Elway said. "And that wouldn't dump all the pressure on him and say, `Here you go, in your second year you need to go out and score 35 points a game.'
"And then I also thought, having gone to the games, that we had lost a lot of the home-field advantage, and I remember that when I played here, we had a great home-field advantage. But it was usually because we were so good on defense."
As for Orton, Elway sympathized with him for being under the microscope with so many No. 15 jerseys in the crowd and a city clamoring for Tebow even when things were going well.
Elway tried to deal Orton as soon as the lockout ended, but he couldn't find a trade partner and Orton won the starting job in camp with his firm grasp of the offense, precise passing and good decision-making. Those traits suddenly abandoned him during the Broncos' 1-4 start, leading to his benching and eventual release.
Orton was claimed by Kansas City, saving the Broncos about $2.5 million, but Orton will get the chance to beat his old team when the Chiefs visit Denver for the regular season finale.
Elway said one of his biggest challenges has been adjusting to the 24/7 news cycle fed by social media and he again expressed remorse for a comment he made last month on his weekly radio show that was misconstrued as criticism of Tebow.
After Tebow had improved to 4-1 as the starter, host Gary Miller asked Elway on 102.3 FM in Denver if he was "any closer to feeling if you have your quarterback on this team?" Elway paused and answered, "No." He then pointed out that Tebow had to do better on third downs and improve as a passer.
"I think that comment was probably a little bit too blunt," Elway said. "Because I think the big picture with Tim is we've got to see the whole body of work. And so really what you want to see with him is the improvement that's going to happen over time.
"Because, he's done what we knew he could do and where we've seen his progress is what he does within the pocket. What we've said, and I said it when I first got here, was we know Tim's a great player and what we've got to do is make him a great quarterback, and what I've learned is you've got to be able to win from within the pocket."
Tebow has indeed begun showing improvement in the pocket over the last few weeks as he gets more playing time and offensive coordinator Mike McCoy adds more plays to his menu.
Tebow's famous work ethic will help him hone his craft, said Elway, who seems to be rooting for him as much as the quarterback's legions of fans.
"We want it to happen because of the competitor he is and what type of person he is and how he represents not only himself but represents the Broncos and the city," Elway said. "People have been watching him, so he's a draw. But that's where some time in the offseason (helps) and it comes down to timing and throwing.
"Do I think he'll get there? Yeah, I do."
Broncos boss Elway: 'Tebow's not going anywhere' is a post from: PhatzRadio.com
Be sure to check out other great articles at PhatzRadio – A New Voice In Sports Talk Radio With Rock, Jazz, Soul, R.
Original Story:
http://cjsportsnflblog.com/2011/12/br...
THE BACKYARD
BEST OF MAXIM
RELATED ARTICLES
John Elway's strong endorsement meant a lot to Broncos QB Tim Tebow, who's 7-2 as the starter and possibly undefeated in terms of attention lavished on him.
For the first time this season, John Elway has publicly backed Tim Tebow ... sort of. In a wide-ranging interview with the Associated Press, the team's director of football operations offered his first true support of his popular, young quarterback, yet still stopped short of giving him any hardened vote of confidence. On Tebow's status as a member of the Broncos: &quot...
Tim Tebow and the Broncos may be momentarily down after Sunday's defeat, but they are still far from being out, writes Jeff Darlington. Denver's fate in the AFC West is very much in its hands.
The Broncos aren't America's Team, but quarterback Tim Tebow is America's favorite quarterback — in some ways.
—With the fan voting for the Pro Bowl having closed, Broncos quarterback Tim Tebow finished third place among AFC quarterbacks with 632,912 votes, well behind Tom Brady's 1,454,311 votes.
ORCHARD PARK, N.Y.—For all the buzz he's generated, Broncos quarterback Tim Tebow's presence couldn't prevent the Buffalo Bills home game against Denver on Saturday from being blacked out
Buffalo Bills receiver David Nelson was a Tim Tebow believer long before the Broncos comeback kid of a quarterback became a national phenomenon and, in the process, put Denver within reach of its first playoff berth in six years.
U.S. Olympic skiing champ Lindsey Vonn says she's still not dating Tim Tebow ... but she's definitely open to the idea. Vonn was out in NYC last night, when she told us she met the Denver Broncos miracle worker at the ESPYs and actually became friends… Permalink
NFL News

Delivered to your inbox

You'll also receive Yardbarker's daily Top 10, featuring the best sports stories from around the web. Customize your newsletter to get articles on your favorite sports and teams. And the best part? It's free!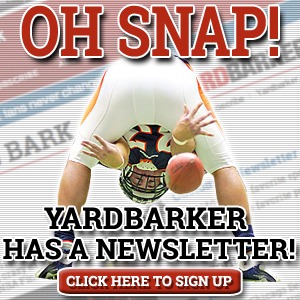 Latest Rumors
Best of Yardbarker

Today's Best Stuff

For Bloggers

Join the Yardbarker Network for more promotion, traffic, and money.

Company Info

Help

What is Yardbarker?

Yardbarker is the largest network of sports blogs and pro athlete blogs on the web. This site is the hub of the Yardbarker Network, where our editors and algorithms curate the best sports content from our network and beyond.