Found June 24, 2012 on BroncoTalk: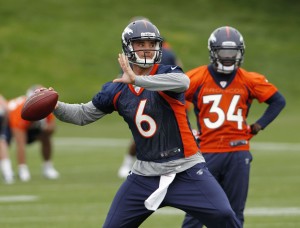 Rookie quarterback Brock Osweiler (6) sets to throw a pass during the Denver Broncos NFL football rookie minicamp at the team's training facility in Englewood, Colo., on Friday, May 11, 2012. Running back Ronnie Hillman (34) looks on at right. (AP Photo/Ed Andrieski)
With training camp less than a month away, the Denver Broncos still have several contracts to get done.
The team has $10.87 million in cap space, according to PFT, and three players remain un-signed.  Disgruntled kicker Matt Prater, rookie quarterback Brock Osweiler and running back Ronnie Hillman are negotiating multiple-year deals with the club.
Prater is seeking a five-year deal worth more than $3 million annually.  The league's highest paid kicker, Oakland's Sebastian Janikowski, makes $4 million a season.
Last week, reports surfaced that the Broncos and Prater were "not far apart" in contract negotiations.  The reality of the situation is that Prater is willing to — and may — holdout into training camp, which opens on July 26th.
The team and Prater reportedly are talking, which is a good sign.  Eventually, a deal should get done.
In the meantime, the team has kicked the tires of running back LaDainian Tomlinson and are working on a four-year deal with another running back, Ronnie Hillman.  According to ESPN, Hillman and the Broncos have had "back and forth" talks on the 25% rookie salary max increase rules.  To the best of my knowledge, the league's CBA limits rookie salary increases to 25%, but agents find loopholes in the system by putting easily attainable performance incentives that increase his clients salary without breaking the 25% max increase rule.
For example, Hillman's agent, Eugene Parker, may be trying to jack up his clients contract with salary advances, performance escalators, workout bonuses and roster bonuses, with little guaranteed money, but opportunity for Hillman's salary to increase.  The Broncos have been "getting tough" in contract negotiations and fleeced Nate Irving on his rookie deal last year, with the third round linebacker earning $465,000 instead of the $512,188 which he could have earned under rookie salary rules.
Parker, Hillman's agent, is probably trying to prevent his client from receiving a similar deal.  In the end, Hillman will probably receive a deal worth around $3 million with a signing bonus worth around $500,000.
Hillman's rookie teammate, Brock Osweiler, is likely hoping to receive deal better than the $3.04 million contract Mikel Leshoure signed with Detroit last year.  After buying an entire Bed Bath and Beyond store, Osweiler could use the extra cash.
Because he is a quarterback, Osweiler's signing bonus will likely be more than doubled that of Hillman's, possibly surpassing $100,000 with over $1.5 million in guarantees.  Unlike Prater, however, Osweiler and Hillman will have no reason to holdout during training camp and may even be signed before then.
Before the season starts, all three players will likely be under contract.  The season is 77 days, 22 hours, 20 minutes, 38 seconds and 971 milliseconds away, though.  And counting down the milliseconds can make things seem so far away.  Is it August yet?
Original Story:
http://broncotalk.net/2012/06/38422/b...
THE BACKYARD
BEST OF MAXIM
RELATED ARTICLES
(Andrew Mason/MaxDenver) This offseason, we're going to do a Speak Up series looking at each position (o-line, d-line, etc).  Today, we're looking at the offensive line. We want to know what you think the Denver Broncos' trenches should look like this season.  Should the 2011 unit stay in place, or should changes be made? Returning:  C/G Manny Ramirez, G Zane Beadles, T...
(Kyle Montgomery/BroncoTalk) The Denver Broncos on Monday announced their 2012 Training Camp schedule.  The schedule features 18 practices open to the public free of charge and a scrimmage at Sports Authority Field at Mile High on August 4th. The team will begin practices on July 26 and conclude camp on August 17th.  All practices will be held at the Paul D. Bowlen Memorial Broncos...
Every team in the NFL has players on their roster that either are totally overrated or that are totally underrated. The Denver Broncos are no different, and this article examines the two most overrated and the two most underrated players on the team. Overrated Peyton Manning Peyton Manning is the most overrated player on the Denver Broncos because of the huge contract, and all...
We love our readers here at BroncoTalk so we thought we would show our appreciation by doing a giveaway on the site. If you follow our Facebook page, you already know that we giveaway trading cards — sometimes autographed — on our page every Monday.  Those winners are randomly selected, today we're doing something different. Today, we're giving away an autographed 2012 Bowman...
Be sure to follow me on Twitter for more Broncos updates throughout the day. Denver Broncos News DeMaurice Smith on importance of being a good sport | MMQB Peter King is on vacation, so he's recruited some help filling in on Monday Morning Quarterback. This week, NFLPA Executive Director DeMaurice Smith takes the reins. Ryan Clady likes Broncos' offense under Manning | NFL.com...
Denver Broncos We couldn't be happier this offseason. We unloaded Tim Tebow. Yeah, he's a great guy, but we're looking for a great passer. And oh by the way, we added a great passer to the roster when we were able to sign Peyton Manning. We have a solid defense, good offensive weapons, and one of the best quarterbacks to ever play the game. We think we should be able...
Newly retired San Diego Charger running back LaDainian Tomlinson admitted he considered joining the Denver Broncos for the 2012 season. Tomlinson told the UT San Diego: "The only team I really gave a thought to was the Broncos, because of Peyton," Tomlinson said Saturday, referring, of course, to Denver's signing of quarterback Peyton Manning. "We talked. Tom (Condon, Tomlinson's...
At the height of "Tebow Time", when the Denver Broncos pulled off an unlikely 29-23 overtime victory against the Pittsburgh Steelers in the Wild-Card round of last year's NFL playoffs, one man felt the hurt more than everyone else on the Steelers. That man is cornerback Ike Taylor. The man who was burnt repeatedly that game by Denver receivers, including the 80 yard touchdown...
Getty Images Former NFL running back LaDainian Tomlinson said that he thought about playing for the Denver Broncos this season, but ultinmately decided to retire instead of playing for a team he's grown to hate over his career with the Chargers. According to Mike Klis of the Denver Post, the Broncos never offered a contract to Tomlinson.  Maybe they offered him a chance to try...
LaDainian Tomlinson, a future Hall of Fame running back who scored 132 points against the Denver Broncos during a ten-year career, retired a San Diego Charger five days ago without a Super Bowl ring. In hopes of getting a ring, Tomlinson considered signing with one team — just one — during the weeks leading up to his retirement. "The only team I really gave a thought to...
Ladainian Tomlinson, who announced his retirement from the NFL last week, reportedly considered signing with the Denver Broncos. Tomlinson, who retired after signing a one-day contract with the San Diego Chargers, told U-T San Diego he nearly decided to play another season -- with the AFC West-rival Broncos. The 11-year veteran considered the move to Denver because the Broncos...
NFL News

Delivered to your inbox

You'll also receive Yardbarker's daily Top 10, featuring the best sports stories from around the web. Customize your newsletter to get articles on your favorite sports and teams. And the best part? It's free!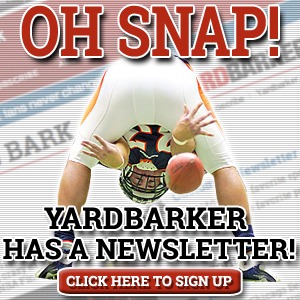 Latest Rumors
Best of Yardbarker

Today's Best Stuff

For Bloggers

Join the Yardbarker Network for more promotion, traffic, and money.

Company Info

Help

What is Yardbarker?

Yardbarker is the largest network of sports blogs and pro athlete blogs on the web. This site is the hub of the Yardbarker Network, where our editors and algorithms curate the best sports content from our network and beyond.