Posted January 13, 2013 on AP on Fox
PLAYERS:
Peyton Manning
,
Brandon Stokley
,
Rahim Moore
,
Von Miller
,
Jacoby Jones
,
Brett Favre
,
Ryan Clady
,
Knowshon Moreno
,
Eric Decker
,
Demaryius Thomas
,
Elvis Dumervil
,
Joe Flacco
,
Champ Bailey
,
Torrey Smith
,
Willis McGahee
,
Tracy Porter
TEAMS:
Baltimore Ravens
,
Denver Broncos
,
Minnesota Vikings
The intended target for Peyton Manning's last pass of the season didn't sleep much after the game that brought Denver's season to an unexpected halt. ''I kept playing it back in my head,'' Brandon Stokley said Sunday, as he discussed the loss in a rapidly clearing locker room. ''It's like a bad dream that keeps playing over and over.'' But yes, that really happened. The 38-35 loss to the Baltimore Ravens goes down as one of the most crushing defeats in Broncos history, as much for when it came -- two games short of the Super Bowl -- as the surreal way it came about. Though Manning's interception in overtime and Rahim Moore's broken coverage stand out as lowlights from the loss, this was a game filled with mistakes, bad decisions by both coach and quarterback and more missed opportunities than the Broncos compiled in 11 games before that, all wins. It brought a sudden close to a season that, at times, seemed almost destined to end at the Super Bowl in New Orleans. As the players packed their belongings in plastic trash bags, signed a few jerseys for each other and said goodbye, both young and old had grasped two simple facts of life in the NFL: Teams change from year to year; and one good season does not guarantee another. ''You'll never have the same nucleus, the same group of guys that we have,'' linebacker Von Miller said. ''I wasn't ready to let it go yet. Especially the way it ended.'' Moore, who blew the coverage that allowed Jacoby Jones to score the tying touchdown with 31 seconds left in regulation, scooted in and out of the locker room quickly and didn't do interviews. Manning, whose three turnovers led to 17 points, including the game-winning field goal in the second overtime, didn't make himself available either. On Saturday after the loss, he acknowledged the throw across his body, back to the middle of the field to Stokley, was a bad decision punctuated by bad execution. ''We really have put a lot of hard work into this season and made a lot of strides and accomplished a lot,'' Manning said in the postgame interview. ''So, it definitely stings, ending on a loss like we had tonight.'' Manning fell to 9-11 for his career in playoff games, matching Brett Favre for most postseason losses in NFL history. He had a near-career year, throwing for 4,659 yards and 37 touchdowns, both second best in his 14 healthy seasons. Until the playoff game, he looked as steady and consistent as he has since he entered the league in 1998. His steadily improving health figures to get better, as well. But he's 36, and at that age, there are no guarantees. The offense he returns to next year will have most of its pieces still in place. Left tackle Ryan Clady is a free agent, but will likely be Denver's franchise player if he doesn't agree to terms. Knowshon Moreno would likely be the front-runner at running back. Eric Decker and Demaryius Thomas will be back. Stokley is a 36-year-old free agent who had a 544-yard season and wants to play more. On defense, the Broncos have Miller and Elvis Dumervil, who combined for 29 1/2 sacks over the season and combined for the only sack on Ravens quarterback Joe Flacco on Saturday. The defensive backfield was a mess Saturday, and though Moore was virtually in tears after the game, nobody felt this loss as deeply as 34-year-old Champ Bailey, the 14-year veteran who has still never been to the Super Bowl. Torrey Smith beat him twice for touchdowns, the first by outrunning him through the post, the second by adjusting to a ball thrown behind him along the right sideline. ''It's tough because I know I'm better than what I showed on that tape yesterday,'' Bailey said. ''There are a couple plays I'd like to have back. But if you haven't been beat on the corner, you haven't played.'' Bailey is one of two Broncos who were around in 2005, when they had home-field advantage in the AFC title game and lost 34-17 to Pittsburgh. It took Denver six years to return to the playoffs. This team, Bailey said, was better than that team. ''The best team that didn't do anything,'' he called the 2012 Broncos. ''It's frustrating. But that's the reality of it. We got to the playoffs, but you have to win in the playoffs for it to mean something. So, it's just another year where we came up short.'' NOTES: RB Willis McGahee said he got cleared Sunday and would have been available to play next week in the AFC title game. ... Moreno, who left the game in the third quarter Saturday, was walking without assistance and said his knee injury was not serious. ... CB Tracy Porter, who sat out 10 games and the playoffs because of illness or injury, is almost certain to be playing elsewhere next season. He signed a one-year, $4 million contract in the offseason. ... In Sunday's NFC playoff game, Atlanta moved the ball 41 yards in 12 seconds to set up the game-winning field goal with 8 seconds left. On Saturday, Fox chose to run out the clock with 31 seconds left and the game tied at the end of regulation.
Original Story:
http://msn.foxsports.com/nfl/story/De...
THE BACKYARD
BEST OF MAXIM
RELATED ARTICLES
BURNED
Ravens defensive lineman Paul Kruger took a shot at Peyton Manning on Twitter after his team beat the Broncos. See what he said.
This is one of the more interesting questions as the NFL kicks off its divisional playoffs later today. Peyton Manning's record in cold weather games hasn't been great, and now we hear he'll be wearing gloves for this playoff game. The Broncos are heavy favorites today as they host the Ravens, and many Ravens fans and those betters taking the points are hoping Peyton will freeze...
Think you can sum up Peyton Manning's playoff career by using his 9-11 record against him? Scott Kacsmar brings only the facts on Manning's eight one-and-done postseasons. Can you handle the truth?
The Ravens shocked football fans on Saturday by taking down the Denver Broncos who came out of the gate strong and from the outset looked to be setting the tone. The Ravens kept their cool and battled back in double overtime to defeat the Broncos 38-35. And while much was made about Peyton Manning's nine [...]
On a day where Broncos fans are depressed over their teams heartbreaking playoff loss to the Baltimore Ravens, there is some good news for fans hoping to see Denver host a Super Bowl. On Saturday, NFL commissioner Roger Goodell was in Denver to personally feel the Rocky Mountain chill, and he actually liked what he felt. "My personal view is, the game of football 
It should come as no surprise but Brandon Stokley hopes to return to the Denver Broncos next season. Stokley, 37, is set to be a free agent. "I definitely would still love to play. I still love to compete and I feel this is the only thing that I do halfway good, so why stop now? So, for me, hopefully I get another opportunity," Stokley said. Stokley was signed to a one-year deal...
That was quick. On their third offensive play of the game, Denver quarterback Peyton Manning threw a pick-six to cornerback Corey Graham. Graham's interception gave the Ravens a 14-7 lead with less than 10 minutes left in the first quarter. The interception was set up by a Chykie Brown tipped pass.
The Ravens and Broncos will feature a bit of a chess match between Peyton Manning and Ray Lewis, two of the biggest names in the game. The night game, Green Bay at San Francisco, features quarterbacks with two very different levels of experience.
When you think about it, 31-seconds is not a lot of time. Most commercials run about 30 seconds. "Wait a minute," is composed of two 30-second halves. But, as we know, 31-seconds can last an eternity, just ask Peyton Manning and Russell Wilson. Both teams were 31 seconds from victory and advancing to their conference championship game. But 31-seconds can be an eternity in the...
Peyton Manning was back in the saddle, looking good in the preseason and donning some sharp new orange threads. Eli Manning was fresh off his second Super Bowl victory in five years, a successful "Saturday Night Live" hosting gig, and throwing the ball better than ever in training camp up in Albany. It was August, the Super Bowl was going to be played in their hometown...
The offensive coordinator who had success with both Tim Tebow and Peyton Manning at quarterback is leaving for a promotion. A person with knowledge of the situation says Denver Broncos offensive coordinator Mike McCoy is working on a contract to become head coach of the division rival San Diego Chargers. The person spoke with The Associated Press on Tuesday on condition of anonymity...
The morning after the Baltimore Ravens came from behind to beat the top seeded Broncos at home the discussion isn't about Joe Flacco's impressive run of recent playoff success; nor is it about Denver's interesting clock management decisions that came back to haunt them, it is centered on Peyton Manning's legacy - but disparaging the quarterback is misguided...
NFL News

Delivered to your inbox

You'll also receive Yardbarker's daily Top 10, featuring the best sports stories from around the web. Customize your newsletter to get articles on your favorite sports and teams. And the best part? It's free!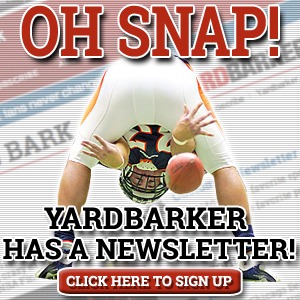 Latest Rumors
The Backyard

Today's Best Stuff

For Bloggers

Join the Yardbarker Network for more promotion, traffic, and money.

Company Info

Help

What is Yardbarker?

Yardbarker is the largest network of sports blogs and pro athlete blogs on the web. This site is the hub of the Yardbarker Network, where our editors and algorithms curate the best sports content from our network and beyond.