I know that writing a story about which players Ted Thompson should sign in free agency is probably a huge waste of time, but that's not going to stop me. That's because I've seldom seen a free agent who fits as perfectly with a team as Ahmad Brooks does with the Packers. The former Virginia star is coming off a career season, and while the 49ers would like to re-sign him, they have bigger priorities and limited cap space. That means there's a pretty good chance Brooks will hit the open market a few weeks from now, and if he does, Thompson should be ready to pounce. Here are three reasons why Brooks is such a perfect fit: 1) He's an ascending young player. After five seasons as a backup in Cincinnati and San Francisco, the 27-year-old finally got a chance to play in 2011. He responded by posting 50 tackles and 7 sacks. Even more impressive than the numbers, he proved to be an all-around 3-4 outside linebacker. He used his great size (6-3, 260) to maintain a hard edge against the run, his athleticism and tenacity to harass the quarterback and his surprisingly good instincts to hold his own in coverage. There aren't many triple threats at this position. Green Bay is fortunate to already have one in Clay Matthews. Signing Brooks would give defensive coordinator Dom Capers a matching pair. 2) He's extremely familiar with the scheme. San Francisco's defensive coordinator is Vic Fangio, who worked under Capers in New Orleans (1986-1991), Carolina (1995-1998) and Houston (2002-2005). And if that's not enough, the two men even spent a season together with the Baltimore Stars in the United States Football League. Going from the 49ers to the Packers would be a seamless transition for Brooks, and for a team looking to rebuild its defense as quickly as possible, that's a big deal. Any other player – veteran or rookie – would have to learn Capers' complex system on the fly. And while it can be done, it's not nearly as easy as Matthews made it seem a few years ago. 3) The Packers badly need to upgrade the right outside linebacker position. Erik Walden and Frank Zombo were so ineffective that Brad Jones, who had barely played from scrimmage all season, wound up starting in the playoffs. Thompson hasn't made many mistakes since returning to Green Bay, but thinking the defense could excel without a second quality outside linebacker was a serious blunder. While he got away with ignoring the position in 2010, that was only because Cullen Jenkins was around. Once the versatile pass rusher left for Philly, the Packers were forced to pray that end Mike Neal and/or one of the young linebackers stepped up. When none did…well, you know what happened. To be fair, there are some concerns about Brooks – the foremost being his relative lack of success from 2006 through 2010. Why would such a talented player be unable to start more than 8 games during that time? There's probably no good answer to that question, but I'll give it a try anyway. Brooks was extremely immature when he entered the NFL with the Bengals in 2006. Remember, he was forced to go through the Supplemental Draft after being kicked off the Virginia football team following his junior season. Numerous off-field problems, including at least one failed drug test, led to his dismissal (he's had no issues since turning pro). Also, he never looked particularly comfortable in any of the defensive schemes prior to last season. Cincy tried him at end and that didn't work. The Niners used him at outside linebacker, and while he performed better with his hand off the ground, it still wasn't an ideal fit. It wasn't until 2011 when maturity plus system equaled success. After all this, you're probably wondering whether there's any chance Thompson will sign Brooks. In all honesty, the answer is probably no. We all know how much he abhors spending money on players from other teams – especially significant money. And Brooks won't come cheap. Almost every 3-4 team in the league is looking for pass rush help, and it isn't every day that an ascending outside linebacker hits the open market. Thompson may have to compete with at least a handful of other teams for Brooks. He's never shown a willingness to do that. Remember, even when he signed Charles Woodson and Ryan Pickett in 2006, there was little if any competition for their services. I very rarely recommend players. That's because Thompson's an expert on personnel and I'm obviously not an expert on personnel. But every once in a while I feel strongly enough about a certain player to write a story. One of the few previous times I did this was back in July 2010 when I urged Thompson to acquire a little-known backup linebacker by the name of Antwan Barnes. The Ravens would eventually trade him to Philadelphia for a seventh-round pick. Thompson wasn't interested then and he wasn't interested a few weeks later when the Eagles released him. So whatever happened to Barnes? Well, he signed as a street free agent with San Diego in October 2010 and has proceeded to record 15.5 sacks, including 11 last season. Hey, what's the old saying about the blind squirrel and the nut?
Original Story:
http://packerupdate.net/?p=16343
MORE FROM YARDBARKER
NFL News

Delivered to your inbox

You'll also receive Yardbarker's daily Top 10, featuring the best sports stories from around the web. Customize your newsletter to get articles on your favorite sports and teams. And the best part? It's free!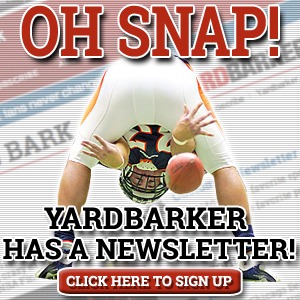 Latest Rumors
Best of Yardbarker

Today's Best Stuff

For Bloggers

Join the Yardbarker Network for more promotion, traffic, and money.

Company Info

Help

What is Yardbarker?

Yardbarker is the largest network of sports blogs and pro athlete blogs on the web. This site is the hub of the Yardbarker Network, where our editors and algorithms curate the best sports content from our network and beyond.