Found September 28, 2012 on Ravens Football Machine:
PLAYERS:
Brandon Weeden
,
Cary Williams
,
Joe Flacco
,
Anquan Boldin
,
Justin Tucker
,
Josh Cribbs
,
Dannell Ellerbe
,
Jameel McClain
,
Craig Robertson
,
Mike Mayock
,
Scott Fujita
,
Joe Haden
,
Torrey Smith
,
Greg Little
,
Pat Shurmur
,
Travis Benjamin
,
Trent Richardson
,
Phil Dawson
,
Mohamed Massaquoi
,
Paul Kruger
,
Joe Thomas
TEAMS:
Cleveland Browns
,
Baltimore Ravens
You have got to give the Cleveland Browns credit...they made it close and took it down to the final seconds of the game... And this was Brandon Weeden's best game so far as a rookie quarterback in the NFL, despite incessant pressure from the Ravens' pass rush...
But in the end, the Ravens wore down the 0-4 Browns, winning by the margin of a Cary Williams interception pick 6 on one of Weeden's few poorly thrown passes in the contest...
Joe Flacco scored on a nice roll-out bootleg to put the Ravens in the cat-bird seat in the 2nd half... but more drama was to follow.
Joe Flacco went 28 for 46 for 356 yards, threw one touchdown and ran for another. Cary Williams returned an interception 63 yards for a score near the end of the third quarter to give the Ravens (3-1) a 13-point lead.
And still, the game wasn't decided until a pass by Cleveland rookie Brandon Weeden sailed out of the end zone as time expired.
A light rain turned heavier at halftime, but it did not immediately deter the Baltimore offense. On the opening drive of the third quarter, Flacco took the Ravens 89 yards in 13 plays for a 16-7 lead. Flacco completed five passes during the march, including three to Anquan Boldin for 60 yards, before the quarterback ran in from the 1 on a third-and-goal.
Later in the quarter, Justin Tucker missed the first field goal try of his pro career, a 47-yarder that sailed wide right. That miss kept the game alive for the desperate Browns. The Browns were forced to play most of the game without wide receiver and punt returner Josh Cribbs, who left with a head injury after absorbing a hard hit late in the first quarter. Cribbs was running back a punt when he lost his helmet while taking a shot from the shoulder of Dannell Ellerbe. Cribbs lay prone for several minutes before being helped from the field. Cribbs lost the ball on the play, and Jameel McClain recovered the fumble. But Baltimore gave it back when Flacco's pass into the end zone was intercepted by linebacker Craig Robertson. Flacco had thrown 125 passes in the Red Zone without being picked off before Robertson stepped in front of Anquan Boldin. It was unusual to see Flacco throwing into double coverage like that, but truth be told, the Browns pulled off a neat stunt on that coverage. In all the film Flacco has studied on the Browns over the years, no Cleveland linebacker has ever dropped back into that kind of coverage. Flacco was as stunned by the LB coverage on that pass pattern as was Boldin and the NFLN broadcasting team which included Mike Mayock.
The Ravens (3-1) took a half-game lead in the AFC North over the Bengals (2-1) by winning their franchise-record 13th straight game at home, which is also the longest current streak in the NFL. Just like the controversial Monday night game, it came down to a shot to the end zone. But the regular officials didn't have to make a tough call like their replacement counterparts. Brandon Weeden's first pass to the end zone was knocked down and his second one sailed to the back of the end zone. It wasn't pretty, but the Ravens were playing their fourth game in 17 days and were taking on a division opponent in a steady downpour. One of two winless teams in the NFL, the Browns dropped to 0-4 for the fourth time in their history (1975, 1999 and 2009 were the other times). Cleveland has lost 10 in a row, their longest losing streak since losing 10 straight from 2008 to '09.
Celebrating in style: Ravens cornerback Cary Williams intercepted the first pass of his career and he made it memorable. He jumped a Weeden pass on the sideline and returned it 63 yards for a touchdown, which put the Ravens ahead, 23-10, late in the third quarter. Williams has been frequently picked on by quarterbacks this season.
Flacco on the move: Joe Flacco threw for 356 yards, but he also impacted the game with his legs. On third-and-goal in the third quarter, Flacco ran to the outside, where he put a move on Browns linebacker Scott Fujita before scoring on a 1-yard run. Flacco's fifth rushing touchdown of his career put the Ravens ahead, 16-7. Flacco's streak of 125 passes in the red zone without an interception ended earlier in the game.
Ravens' receivers stepping up: The Ravens wide receivers took advantage of the Browns not having their top cornerback Joe Haden, who sat out the third game of a four-game suspension. Anquan Boldin caught nine passes for 131 yards, and Torrey Smith had 97 yards receiving, including his third touchdown in five days.
Another critical drop by Little: It looked like wide receiver Greg Little was getting out of Pat Shurmur's doghouse until he dropped a potential touchdown pass in the fourth quarter. Instead of getting the Browns to within 23-20, they had to settle for another long field goal. Wide receiver Travis Benjamin had a pass bounce off his chest while in the end zone in the final minute with the Browns down 23-16.
Richardson keeps up his streak: Browns rookie running back Trent Richardson didn't fare well against the Ravens' run defense, which didn't give him any holes. He finished with 47 yards rushing on 14 carries. Richardson, though, did score a touchdown in his third straight game. He beat Ravens linebacker Jameel McClain to the end zone after taking a pitch from Weeden.
Dawson from long distance: It seemed like last season with the Browns' Phil Dawson hitting long field goals. He converted from 51, 50 and 52 yards. This was his fourth from 50 or longer this year and his 11th since the start of the 2011 season.
Scary moment: Already playing without leading receiver Mohamed Massaquoi (hamstring), the Browns lost another receiver when Josh Cribbs was knocked out of the game with a head injury. Cribbs' helmet was dislodged on a punt return when linebacker Dannell Ellerbe hit his head with his right shoulder, which also forced a fumble. Cribbs got up on his own power and walked off the field before going to the locker room.
Ravens' OLB Paul Kruger narrowly escaped the goat horns when he was flagged on the next-to-last play of the game for retaliating against the holding and grabbing of Browns' All-Pro LT Joe Thomas, who put on a tremendous Emmy-winning performance to draw the flag. That penalty gave Weeden one last shot at throwing into the end-zone...which fortunately for the Ravens ended up in a game-ending incompletion. Scoring Summary SECOND QUARTERCLEBAL TD 12:57 Torrey Smith 18 Yd Pass From Joe Flacco (Kick Aborted) 0 6 FG 10:03 Justin Tucker 45 Yd 0 9 TD 02:32 Trent Richardson 1 Yd Run (Phil Dawson Kick) 7 9 THIRD QUARTERCLEBAL TD 09:53 Joe Flacco 1 Yd Run (Justin Tucker Kick) 7 16 FG 06:52 Phil Dawson 51 Yd 10 16 TD 00:15 Cary Williams 63 Yd Interception Return (Justin Tucker Kick) 10 23 FOURTH QUARTERCLEBAL FG 12:11 Phil Dawson 50 Yd 13 23 FG 04:33 Phil Dawson 52 Yd 16
23
  Team Stat Comparison  CLEBAL 1st Downs 20 23 Passing 1st downs 17 16 Rushing 1st downs 1 5 1st downs from Penalties 2 2 3rd down efficiency 3-15 5-15 4th down efficiency 0-1 0-1 Total Plays 70 77 Total Yards 357 438 Yards per play 5.1 5.7 Total Drives 14 12 Passing 314 337 Comp - Att 25-52 28-46 Yards per pass 6.0 7.3 Interceptions thrown 1 1 Sacks - Yards Lost 1-6 4-19 Rushing 43 101 Rushing Attempts 17 27 Yards per rush 2.5 3.7 Red Zone (Made-Att) 1-2 2-4 Penalties 7-66 11-100 Turnovers 2 1 Fumbles lost 1 0 Interceptions thrown 1 1 Defensive / Special Teams TDs 0 1 Possession 26:57 33:03   BAL Passing  C/ATTYDSAVGTDINTSACKSQBRRTG J. Flacco 28/46 356 7.7 1 1 4-19 63.8 83.2 Team28/463377.3114-19----
Baltimore Rushing  CARYDSAVGTDLG R. Rice 18 49 2.7 0 10 B. Pierce 6 48 8.0 0 21 J. Flacco 2 4 2.0 1 3 T. Smith 1 0 0.0 0 0 Team271013.7121   Baltimore Receiving  RECYDSAVGTDLGTGTS A. Boldin 9 131 14.6 0 28 12 T. Smith 6 97 16.2 1 34 10 R. Rice 8 47 5.9 0 11 11 T. Doss 1 39 39.0 0 39 2 V. Leach 2 25 12.5 0 17 2 J. Jones 2 17 8.5 0 10 7 D. Pitta 0 0 0.0 0 0 2 Team2835612.713946   Baltimore Defensive  TACKLESMISC  TOTSOLOSACKSTFLPDQB HTSTD A. McClellan 8 5 0 2 0 0 0 L. Webb 6 6 0 0 3 0 0 D. Ellerbe 5 5 0 0 1 0 0 J. McClain 5 4 0 0 0 1 0 B. Pollard 4 3 0 0 0 1 0 H. Ngata 4 3 0 1 0 1 0 R. Lewis 4 3 0 0 0 2 0 P. McPhee 3 3 0 0 0 2 0 C. Williams 3 3 0 0 1 0 1 C. Upshaw 3 1 0 0 0 0 0 P. Kruger 2 2 1 1 2 1 0 J. Smith 2 2 0 0 1 0 0 T. Cody 2 1 0 0 0 0 0 E. Reed 2 1 0 0 3 0 0 C. Graham 1 1 0 0 0 0 0 A. Jones 1 1 0 0 0 0 0 S. Koch 1 1 0 0 0 0 0 Team5645141181  
Original Story:
http://www.ravensfootballmachine.com/...
THE BACKYARD
BEST OF MAXIM
RELATED ARTICLES
Joe Flacco is one of perpetural internet scorn, and why stop today. Thursday night, the Baltimore Ravens' QB made sure to not be confused with Rob Gronkowski.
"We battled, we came up short and we fought our [tails] off." — Brandon Weeden "He battled." — Pat Shurmur on Weeden "Browns quarterback Brandon Weeden and his young, inexperienced receivers grew up a lot in Baltimore Thursday night, making the Ravens sweat it out until the last play of the game when they had a chance to tie it." — Mary Kay Cabot "Nobody gets...
The Ravens will be playing their fourth game in 17 days, and third primetime game in their first four Thursday night when they take on the division rival Browns. Cleveland is winless and has a rookie quarterback and running back combination in the backfield. The winless part won't change for Cleveland because the Ravens' defense will harass Brandon Weeden into mistakes. Weeden...
Cleveland Browns wide receiver Greg Little (second in drops last season) continued his catching problems last night against the Baltimore Ravens, dropping a total of five catches, including a great Brandon Weeden would-be-touchdown pass that he had right in his hands. "My job is just to beat the guy and get through the middle of the field," Little said. "[Weeden] moved...
Season 3, Episode 22 of The Terrible Podcast is up and co-host David Todd I start by giving our thoughts on the Baltimore Ravens win over the Cleveland Browns Thursday night. We give our thoughts on Browns quarterback Brandon Weeden and the way the Ravens are really stretching the field vertically this year. The Pittsburgh Steelers are on a bye this week, but there is still plenty...
The 0-3 Browns will return to primetime with a visit to Baltimore to take on the 2-1 Ravens. This game will be the first following the end of the NFL referee lockout, with real referees on tap to officiate tonight. So this means no more complaints, no matter how valid, can be attributed to poor officiating! Cleveland Browns After a terrible performance in Week 1, it looked like...
Cornerback Cary Williams had been having a rough couple games until now. Williams intercepted rookie quarterback Brandon Weeden and returned it 61 yards for a touchdown. The pick was Williams' first in his career. The Ravens now lead the Browns 23-10 heading to the fourth quarter.
A few dropped passes, none no bigger than Greg Little's drop late in the fourth quarter hamper the Browns once again. Rookie QB Brandon Weeden pushes the Baltimore Ravens to the edge as rushing attack abandoned.
Tonight had such great potential, what with replacement refs and the Cleveland Browns on the field at the same time. But, no, the NFL and the real refs just had to settle their squabbles in time for tonight. After three weeks of chaotic deliberations of the rule book, the real refs will take the field. I feel a bit robbed. I was looking forward to a team being granted four timeouts...
Cleveland Browns (0-3) at Baltimore Ravens (2-1)Thursday, 8:25 ET, NFL Network, Brad Nessler, Mike Mayock, Alex Flanagan Last Meeting: The Ravens won, 20-14, at home last Dec. 24 with QB Joe Flacco throwing a pair of touchdown passes. Streaking: The Ravens have won 12 straight home games and 20 of their last 21 at M&T Bank Stadium. The engine that can: Browns RB Trent...
With the NFL reaching an agreement with the officials to return to refereeing the league, it has kind of gotten lost in the shuffle that there is an actual game tonight. And at first glance, you'd think any match up consisting of the Ravens, who look like rue Super Bowl contenders in the early going, facing off against the hapless Cleveland Browns would be a pushover. But there...
The real refs are much better Great to see a smooth game played. The product may not have been the best, but at least the refs didn't add an additional hour and half to the game with constant meetings, reviews and overall ***********. Welcome back, refs. Here's to hoping Ed Hochuli kept in shape over the lockout. There was noticeably less Cee Lo last night Our prayers were all...
NFL News

Delivered to your inbox

You'll also receive Yardbarker's daily Top 10, featuring the best sports stories from around the web. Customize your newsletter to get articles on your favorite sports and teams. And the best part? It's free!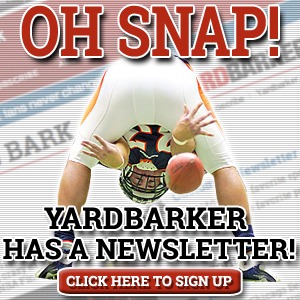 Latest Rumors
Best of Yardbarker

Today's Best Stuff

For Bloggers

Join the Yardbarker Network for more promotion, traffic, and money.

Company Info

Help

What is Yardbarker?

Yardbarker is the largest network of sports blogs and pro athlete blogs on the web. This site is the hub of the Yardbarker Network, where our editors and algorithms curate the best sports content from our network and beyond.