Found October 22, 2012 on Waiting For Next Year:
PLAYERS:
Pat Shurmur
,
Trent Richardson
,
Reggie Hodges
,
Josh Gordon
,
Brandon Weeden
,
Colt McCoy
,
Josh Cooper
,
Terry Francona
,
Bobby Valentine
,
Braylon Edwards
,
Cam Newton
,
Craig Robertson
,
Joe Haden
,
T.J. Ward
,
Billy Winn
,
Jabaal Sheard
,
Derek Anderson
TEAMS:
Cleveland Browns
,
Boston Red Sox
Lost in all of the Pat Shurmur play-calling bashing, questions about the health of Trent Richardson, the special teams disaster, the extra point gaff by Reggie Hodges, and of course the big drop by Josh Gordon was the stellar play of rookie QB Brandon Weeden. Remember back after the 17-16 season-opening loss to Philadelphia, half of the city was already done with Weeden? The Colt McCoy catcalls were in full effect. I for one told people that what I saw from the rookie in his debut was some of the worst quarterbacking I can ever remember. I walked away from the game thinking the defense was better than I thought and Weeden was a disaster waiting to happen. But a funny thing happened on the way to writing Weeden off….. He got better and better and better. This is not Blaine Gabbert version 2.0 folks. While last week's big home win over Cincinnati was a day we will look back at as Weeden's first victory as a pro, it was yesterday's 17-13 loss that may have been his finest hour in his first year under center in Cleveland. I know, the Browns only scored 13 points and you aren't going to win many games that way, but it certainly wasn't the fault of Weeden. He was efficient and smart, completing 25-41 for 264 yards and two TD's. The rapport with college teammate Josh Cooper worked well. He only made one ill-advised throw by my count. The poise was there. Weeden is a victim of porous play-calling at times too, which is the west coast offense way. I am still not crazy about these two yard crossing routes on third and four (and we see them way too much). But with each passing week, you can see Brandon's improvement with the command of the offense. The guy we are seeing today compared to that deer in the headlights rattled rookie in the home opener are as different as Terry Francona and Bobby Valentine. And as we know, that is a very good thing. Of course he'd have gone over 300 yards with three TD's and possibly had been a winner if not for Gordon's fourth quarter endzone drop. And on that particular play, Weeden couldn't have thrown a better ball. The narrative this morning would have been completely different. There would be story after story about the ascent of the Browns rookie QB. Instead, we are discussing the Jimmy Haslam reaction shot. Think about the stakes and the timing of the play. The Browns trailed 17-13 with just over six minutes to play. It was third and one at the Colts 41. Weeden play action-faked and was absolutely crushed as he put a perfect ball in the air in stride right to Gordon, who has become the Browns big play receiver. He just dropped it. These things happen. Gordon obviously has to make that catch, but he also came down with that amazing TD catch a week before against the Bengals and has shown the ability to give the Browns something they haven't had since Braylon Edwards 2007 season – a legitimate deep threat. Take the good with the bad. Credit Weeden for standing up for his guy after the game as well. "The loss was not even close to being on him. Everybody in this locker room makes mistakes. He makes that catch nine times out of 10. He's coming into his own, and he's becoming a really good player," he said. That is the kind of leadership that teammates love from their QB. As much of a talent Cam Newton is in Carolina, check out his comments after the Panthers lost another heartbreaker at home to Dallas yesterday: "This taste, this vibe – I'm not buying it, man," Newton said, according to Scott Fowler of the Charlotte Observer. "And I don't know what it is but something's going to have to change. Something's going to have to change real fast." "We just find a way to keep the game close and just wait to see what happens at the end," Newton said. "I'm getting tired of it. That's not a formula to win. Domination is a formula to win. "I'm going to leave this (media) room and I'm going to bring in a suggestion box and I want your suggestions to be in that suggestion box because I sure don't know," Newton said. "I really don't. I wish I could tell you. But the only thing I control, sweetheart, is myself. Offensively, I am the leader of this bunch and we haven't been getting the job done." Stark contrast right there. Weeden gets it. I know you are all upset about losing this very winnable game, but this is another throw-away year in terms of record. Its all about the improvement and seasoning of the young core players. From Weeden to Gordon to Richardson to Craig Robertson to Joe Haden to TJ Ward to Billy Winn to Jabaal Sheard…. I could go on and on. The bottom line here is being competitive each week while growing as a group and Weeden is leading that charge. What we've seen out of him since that first week debacle is probably the best Quarterbacking in Cleveland since the return of the Browns in 1999 other than the fluke 2007 season from Derek Anderson. There's nowhere to go but up. (photo via John Kuntz / The Plain Dealer)
Original Story:
http://www.waitingfornextyear.com/201...
THE BACKYARD
BEST OF MAXIM
RELATED ARTICLES
Colts 17 Browns 13 Photo credit: Indianapolis Colts' Instagram Account 1st Half The Colts and Browns traded long drives in the first half, with the Browns answering Luck's brilliant touchdown run with a long drive and a Brandon Weeden TD pass.  Cleveland missed the extra point.  The Colts fired back with a 14 play 76 yard touchdown drive.  14-6, Colts at the half. ...
Bruce Arians appeared to be trolling the Browns when he called timeout with one second left in the first half. Arians had an explanation, but after hearing it, I still don't really understand the logic. "I don't have the button to our special teams coach, so I was trying to run down and catch him to call timeout with four seconds left to make them kick the ball and just try...
BEREA The Browns headed to Indianapolis thinking they would be able to successfully run the ball against the banged up Colts. Just a week earlier, the Jets ran rough shod over Indianapolis. However, the Browns rushed for just 55 yards on 17 carries for a dismal 3.2 average. Pat Shurmur was asked what the problem is with the running game. Is it that Trent Richardson isnt healthy?...
Jimmy Haslam shows how he feels about the decision to punt in the 4th quarter If Pat Shurmur thought he was embroiled when the team was 0-5 he ain't seen nothing yet. Pat Shurmur will be able to say things to defend himself, but the second-guessing is just too obvious on this day to be baseless. Yes, Shurmur called what should have been a go-ahead TD pass to Josh Gordon on 3rd...
Over at Bleacher Report, Nate Dunlevy recapitulated the Colts' win over the Browns with his observations and even some highlight videos.  Nate saw it the way many fans familiar with the team saw it: Following a similar formula to previous encounters with the Vikings and Jaguars, the Colts jumped out to a comfortable halftime lead, and then hung on for dear life. With just...
It hurt me inside not being out there. I didn't want to come out. [Coach Pat Shurmur] knows what's best, he made his decision. You will have to ask him [if it was the right decision]. For me, I thought I should have been in the game, but that's any athlete, anyone who has that fight in him and is competitive. [...] [The injury] is worse than people think. I'm not myself out...
Cleveland Browns coach Pat Shurmur wouldn't rule anything out when it comes to running back Trent Richardson. After the back was benched during the second half of Sunday's matchup against the Indianapolis Colts, Shurmur indicated that Richardson could be rested for a week or two due to his rib injury, reports Mary Kay Cabot of The Plain Dealer. "You just watch...
San Diego at Cleveland Sunday, 1:00 p.m. ET, at Cleveland Browns Stadium, Cleveland - TV: CBS; DirecTV: 708 *TV announcers: Spero Dedes, Rich Gannon *Keys to the game: The Chargers were shell-shocked by a furious Broncos comeback the last time they were on the field. There's no magic bullet for the pre-bye week ills. QB Philip Rivers disavowed the notion that more conservative...
During his Monday press conference with the Cleveland media, Pat Shurmur revealed that Phil Taylor will be returning to practice after missing the first seven games of the season. And not a moment too soon, considering that Ahtyba Rubin wasn't able to play the full game against the Colts with his calf injury. Maybe someday the Browns will have a full complement of defensive linemen...
While Cleveland Browns running back Trent Richardson was able to start Sunday's game against the Indianapolis Colts, the rookie was eventually removed from the game by coach Pat Shurmur, reports Kareem Copeland of NFL.com. "We just kind of didn't feel like he could play as effective as he'd been," Shurmur said. "He wanted to play." ...
Another first. This time, I spoke with Jacob about the Browns and the Indians. The Browns are coming off of their loss to the Indianapolis Colts and the Indians are still working on publicizing the Terry Francona hire. How insane were Browns fans to predict a victory after the Bengals win? Pat Shurmur and his 4th and 1 call Terry Francona and what kind of difference he can make...
NFL News

Delivered to your inbox

You'll also receive Yardbarker's daily Top 10, featuring the best sports stories from around the web. Customize your newsletter to get articles on your favorite sports and teams. And the best part? It's free!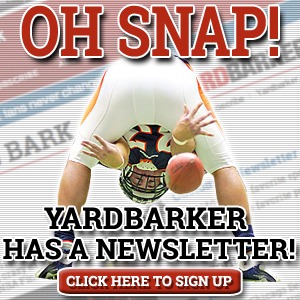 Latest Rumors
Best of Yardbarker

Today's Best Stuff

For Bloggers

Join the Yardbarker Network for more promotion, traffic, and money.

Company Info

Help

What is Yardbarker?

Yardbarker is the largest network of sports blogs and pro athlete blogs on the web. This site is the hub of the Yardbarker Network, where our editors and algorithms curate the best sports content from our network and beyond.