Found December 24, 2011 on Waiting For Next Year:
PLAYERS:
Seneca Wallace
,
Phil Taylor
,
Joe Flacco
,
Pat Shurmur
,
Josh Cribbs
,
Colt McCoy
,
Ben Watson
,
Jordan Norwood
,
Scott Fujita
,
T.J. Ward
,
Peyton Hillis
,
Buster Skrine
,
Kaluka Maiava
,
James Dockery
,
Carlton Mitchell
,
Montario Hardesty
,
Tom Heckert
,
Mike Holmgren
TEAMS:
Cleveland Browns
,
Baltimore Ravens
Your Cleveland Browns were ultimately out-classed today.  Seneca Wallace threw an interception. The Browns bungled the clock at the end of the first half worse than anything anyone could possibly imagine.  Phil Taylor ended it with an inexcusable offsides penalty that Joe Flacco shouldn't even get credit for.  The Browns got beat on some big plays, but ultimately they didn't play totally horrendously.  They worked hard to the very end and even got within six points with an opportunity to take the lead. Ultimately Pat Shurmur and the Browns fell short 20-14 on Christmas Eve.
The Browns appeared like the effort was there, but even when they found themselves in decent positions, they were unable to make enough plays.  (Josh Cribbs' 84-yard punt return TD aside, obviously).  You hate to just say "talent deficit," but at this point in the season with the injuries and the glaring "misses" on talent judgement and acquisition this off-season it is more apparent than ever.
To be fair, this Browns team has a chance, albeit a small one, with all their players.  I'm not even talking about Colt McCoy, so stop the QB stuff right there.  I'm talking about Ben Watson, Jordan Norwood, Scott Fujita, and T.J. Ward for example.  And don't forget Peyton Hillis who did his best to convince the world that he is worth signing this offseason.  He finished the game with 112 yards on 24 carries.  Isn't it amazing how much better the offense looks when he is carrying a load?  But even with those guys on the field the Browns have to play their best game and the Ravens can't play theirs if the team will have any chance of winning.
Maybe at some point in the future if guys like Buster Skrine, Kaluka Maiava, James Dockery, Carlton Mitchell, and Montario Hardesty and others become starters or more experienced backups the Browns won't be so dangerously thin year-in and year-out.  Right now I know it takes a leap of faith.  For me too.  But this is what happens when you miss on two out of three second rounders two drafts ago, just for one example.  I don't mean to pile on Mangini either.  That draft is on Lerner as much as Mangini.
Regardless, the Browns are now 4-11 and nobody should escape criticism.  Pat Shurmur, the players, Tom Heckert, Mike Holmgren and everyone else in the Browns organization have earned a fair allotment.  The Browns played their hand this year and it worked out pretty badly for them and even worse for Browns fans.
They now have all the pieces in place organizationally that they said they wanted when they got rid of Mangini.  By mid-season next year there must be a more encouraging storyline coming out of Berea for Browns fans.  I won't ever put a time limit on a specific achievement like the playoffs (PLAYOFFS??!?!?,) but they absolutely can't afford another meaningless stretch of football that outweighs the meaningful games by at least double.
Enjoy your holidays though, people.  We knew all we needed to about the deficiencies of this team before the holiday season was even on the radar.  That can't happen next year, but this year it should have been to your advantage.  Dialed down expectations and caring less is the only way to guard against this team crushing your spirits.  Sad but true.
Now go have a Christmas Ale or something.
(AP Photo / Gail Burton)
Original Story:
http://www.waitingfornextyear.com/201...
THE BACKYARD
BEST OF MAXIM
RELATED ARTICLES
Wallace says it was his decision to call for a running play at the end of the first half instead of spiking the ball.
Seneca Wallace's starting days may not be over after his second start for injured Colt McCoy Saturday in Baltimore.
No decision has been made about the Browns starting quarterback for the season finale against the Steelers on Jan. 1 in Cleveland. Seneca Wallace says Colt McCoy deserves to start if healthy because McCoy started the first 13 games. McCoy missed the last two games because of the concussion suffered Dec. 8 in Pittsburgh. Wallace started against the Cardinals and Ravens and came up...
While We're Waiting serves as the early morning gathering of WFNY-esque information for your viewing pleasure. Have something you think we should see? Send it to our tips email at tips@waitingfornextyear.com.                 Our very own Brendan Bowers took a stab at quantifying expectations for the Cavaliers over at his blog, Stepien Rules, "There is no statistical...
Though it might have seemed that the major play-calling mishap that closed out the first half of the Browns' 20-14 loss to the Ravens Saturday was coach Pat Shurmur's fault, quarterback Seneca Wallace claimed the mistake was his.
Who's to blame for all the mistakes against the Ravens? Will Seneca Wallace start again on Sunday? Plain Dealer Browns beat writer Tony Grossi answered those questions and more in his weekly podcast.
Clearly, no one is feeling terribly apprehensive about today's game against the Cleveland Browns, who will be starting Seneca Wallace at quarterback and playing for absolutely nothing on a day they'd rather be home with their families. This ought to be an episode of "Fear Factor" for them, because the Ravens are still smarting from last week's embarrassing...
Browns Phil Taylor jumps offsides on fourth-and-2, sealing the victory for the Ravens.
Browns coach updates injuries, including those to Colt McCoy and T.J. Ward. Replies to questions about Seneca Wallace, Steelers linebacker James Harrison and more.
Wondering whether or not to start Drew Brees and LeSean McCoy, or to bench Seneca Wallace and Joseph Addai in your championship game? The network bozos specialize in that kind of advice. If you're looking for help with your real starting lineup conundrums, read on.
It's tough to remember that another football game actually took place between Colt McCoy's concussion and this coming contest between the Browns and the Ravens, but it's true: actual football has been played since James Harrison went all full-forced Zenedine Zidane on the Browns' quarterback. Seneca Wallace will be getting the nod once again, but his receiving corps is...
Here's the final injury report for week 16′s matchup between the Cleveland Browns and Baltimore Ravens as the two teams prepare to do battle, tomorrow at 1 p.m. For the Cleveland Browns: Quarterback Colt McCoy (head) has officially been ruled out. Backup Seneca Wallace will start in McCoy's place. Four starters are listed as questionable: [...]
NFL News

Delivered to your inbox

You'll also receive Yardbarker's daily Top 10, featuring the best sports stories from around the web. Customize your newsletter to get articles on your favorite sports and teams. And the best part? It's free!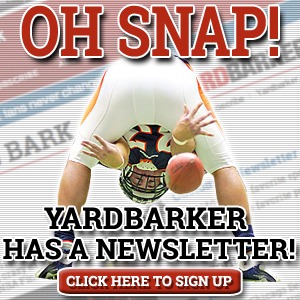 Latest Rumors
Best of Yardbarker

Today's Best Stuff

For Bloggers

Join the Yardbarker Network for more promotion, traffic, and money.

Company Info

Help

What is Yardbarker?

Yardbarker is the largest network of sports blogs and pro athlete blogs on the web. This site is the hub of the Yardbarker Network, where our editors and algorithms curate the best sports content from our network and beyond.