CLEVELAND - DECEMBER 30: Josh Cribbs #16 of the Cleveland Browns positions himself at the line of scrimmage during the game against the San Francisco 49ers on December 30, 2007 at Cleveland Browns Stadium in Cleveland, Ohio. (Photo By Gregory Shamus/Getty Images)
The Cleveland Browns certainly didn't embarrass themselves (just like Josh Cribbs 1 said) in losing 23-16 to the Ravens, but this team seems to be the absolute opposite of opportunistic. You have to give the Browns credit for having a plan on defense. They got gashed at times, but they kept Ray Rice under control and got some pressure on Joe Flacco. Offensively, you have to give them credit for running plays that gave them chances to stay close with one of the best teams in the league, but you have to win at some point. Too many field goals (three) and not enough touchdowns (one.) Staying close feels like something worth building on… for a while. But just being close could very well start to weigh heavier and heavier on this team until (or if) they finally make two or three more of those big plays and win a game. I know people are going to want to kill Greg Little for dropping passes, specifically what would have been a touchdown to bring the Browns within three in the fourth quarter. It's frustrating to watch for sure, and that wasn't his only missed opportunity. Still, he made a huge catch on the team's 94 yard touchdown drive. The same player who "killed the Browns" is the same one who gave them the one spark they needed to finally put some offense together. The passing game was totally out of sync and listless before that catch, for the most part. I don't have a conclusion other than he and the rest of the Browns' offense need to get better and make those four to five extra plays that they're leaving on the field. Greg Little has proven that he can make them. He just needs to do so consistently. That's everyone's story on offense right now.  Brandon Weeden showed some real flashes of ability tonight when he wasn't looking like a rookie (which he is) staring guys down for far too many plays in a row. For all the drops he endured, he also threw a pick six and threw behind guys pretty frequently. Even on the last play of the game and a chance to win, Weeden threw the ball in an uncatchable fashion out of the end zone. They're rookies, so on the one hand, I get it. On the other hand, that just can't happen at any level of football. Go ahead and try to give him a single grade for this game. What a strange game to reflect on for the defense. It was the ultimate mixed bag. The defense saved a touchdown when Craig Robertson made a great interception on a Flacco ball within spitting distance of the endzone. Ray Rice ran for only 50 yards, but he also received for 47. In all Flacco and Boldin had their way with the Browns' secondary. It felt like the Browns' defensive line played pretty well, but they amassed only one sack to go along with eight QB hits. Just a confusing game for the Browns other than the final score. The score is always the easiest part to understand with the Browns. 23-16 and a loss to Baltimore is only good if you took the Browns +13. It might seem like a really obvious statement, but where they go from here is up to them. This game didn't seem particularly demoralizing and I could see a scenario where it might give them confidence heading to New York to face the Giants. At the same time, if they hang their heads over the losses piling up as they pass the quarter way mark for this NFL season, they might start to press and get worse. With a looming ownership change and an unknown (at best) in the head coaching position, there's just a lot of uncertainty right now for the Cleveland Browns. It's uncertain for fans, and the biggest fear is that it might just be uncertainty for the team inside the locker room too. Enjoy your weekend off from Browns football. ___________________________________
Didn't know exactly where to fit it into the story, but Josh Cribbs took one of the worst head shots I've ever seen. It wasn't dirty at all. Just a freak angle taken by a defender on a punt return. Cribbs incredibly walked off the field under his own power, but obviously didn't return. Here's hoping there are no lasting injuries from that shot.
Original Story:
http://www.waitingfornextyear.com/201...
MORE FROM YARDBARKER
NFL News

Delivered to your inbox

You'll also receive Yardbarker's daily Top 10, featuring the best sports stories from around the web. Customize your newsletter to get articles on your favorite sports and teams. And the best part? It's free!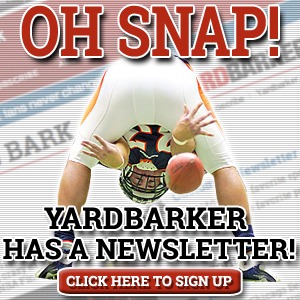 Latest Rumors
Best of Yardbarker

Today's Best Stuff

For Bloggers

Join the Yardbarker Network for more promotion, traffic, and money.

Company Info

Help

What is Yardbarker?

Yardbarker is the largest network of sports blogs and pro athlete blogs on the web. This site is the hub of the Yardbarker Network, where our editors and algorithms curate the best sports content from our network and beyond.