Found May 08, 2013 on Waiting For Next Year:
We're deep into the off-season now that the draft is over, but that doesn't mean it's quiet now in and around the Cleveland Browns. In the case of this week and the things that are happening, quiet would be a relief. So let's get on with it. On Armonty Bryant… Let's just say that a seventh round draft pick shouldn't be making noise in the press a week prior to showing up for rookie camp. Armonty Bryant was arrested for driving under the influence. Scott already weighed in wondering aloud where the line should be drawn on character concerns. Terry Pluto also weighed in yesterday indicating that he didn't think there was any place for a guy like this with his troubles compounding on top of previous troubles that pushed him so very far down the draft board. Now that I've had some time to think about it, I'm choosing to abstain from my opinion on this matter and use it as a way to gauge the new organization. There are a few things the Browns could choose to do. If the Browns decided to make an example of a seventh round draft choice who can't keep his nose clean, I can follow along with Terry Pluto's logic and say that's a justifiable decision. If the Browns go the opposite way and decide to try and help this young man change his life for the better, I think it could indicate something about Rob Chudzinski and his coordinators. Maybe this version of the Browns don't care about character and want to win at all costs. As long as it isn't number 3, I can get on board with it. I see coaches like Tony Dungy who've made it something of a mission in life to help troubled people like Mike Vick. There's a place in football where that kind of mission can benefit both a player and a team. The choice is Chud's and I'll be interested to see what kind of guy he is and what kind of staff he aspires to have for the Browns. Indications right now are that Bryant will be in Cleveland for rookie camp starting on Friday as he plead "no contest" with a deferred sentence.  On Jimmy Haslam's apology… One of the hot questions of the day is whether or not Jimmy Haslam should have apologized to Browns fans. I'll admit that I think Haslam is handling this about as well as he can from a Browns perspective in the media. The apology is the right P.R. move, but it all just feels so superficial right now. Knowing how much hangs in the air and the gravity of the situation that he's facing in his primary business life, while an apology is nice, it does very little allay the worst fears of Browns fans. I guess it's better than the alternatives of him hiding from Browns fans or acting like the Browns don't matter anymore compared with his troubles, but it just can't stop the imagination from running wild to the negative possibilities, including him having to sell the team right as a new organization is getting in there. On Garrett Gilkey's bullying mission… It's a few days old now, but I realized I hadn't mentioned Tom Reed's piece about Garrett Gilkey and how rough a time he had growing up before he became a giant of a man weighing 318 pounds at a towering 6-6. Reed's lengthy profile of Gilkey is a really fascinating read about how Gilkey – sidelined by a rapid heartbeat and subsequent surgery – became the target of mockery in high-school. The worst example was about how he was booed at two separate school assemblies in front of the entire school. I don't want to re-write Reed's piece because it really is a great read. I just wanted to note it because it couldn't be a starker contrast from the Armonty Bryant story. This is one of those stories that is almost independent of football but gives really good cause to root for a longshot type of player as the Browns welcome the rookies to Berea. It takes a real issue that has a tendency to get watered down as just another overblown buzzword and puts a legitimate instance and face on it. In this culture where everything gets played out and used and abused by fakers and opportunists, it's good to have someone putting it back in the proper perspective and looking to address the real problems. Gilkey is looking to make a difference and not in some sort of twisted revenge plot fantasy that you might expect from a scrawny kid who ends up being big enough to protect himself from almost any bully on earth. ————- And those are the Browns thoughts for today. I skipped the Josh Cribbs stuff, because I just don't know what to say about it yet. I'm not sure how much reality there is there and exactly what conditions it would be good for both Cribbs and the Browns to re-unite again for another contract.
Original Story:
http://www.waitingfornextyear.com/201...
THE BACKYARD
BEST OF MAXIM
RELATED ARTICLES
Jamison Hensley of ESPN is ranking all the position groups in the AFC North and he has decided where they all fall when it comes to receivers. The Cleveland Browns, despite a recent trade for Devone Bess and despite the exit of Anquan Boldin from Baltimore, are last in Hensley's mind. The Steelers take the top spot and the Bengals with the league's very best receiver, A.J. Green...
Several team officials are reportedly saying they believe it may be extremely difficult for Jimmy Haslam III to keep his ownership of the Cleveland Browns. CBS Sports' Mike Freeman reports that, because Haslam may be "ensnared by a myriad of lawsuits and legal actions," Haslam could experience a significant drain to his finances, preventing him from keeping the team he...
Cleveland Browns majority owner Jimmy Haslam spoke at a National Football Foundation awards banquet in Westlake on Tuesday. Following his remarks to the coaches and high school players, Haslam addressed the media assembled- "I apologize to the city of Cleveland, Northeastern Ohio and all Browns fans because the last thing we ever wanted to do as a new owner was detract from football...
The Cleveland Browns are coming off a 2012 season where they only reached five wins as well as a 2013 draft class that only had five players taken and only two in the first five rounds.For Browns fans the 2013 season doesn't seem too promising. When you have a quarterback battle between the likes of Brandon Weeden and Jason Campbell, you know it might be a long season.But thankfully...
The Eagles will bring in free agent LBs Chris Gocong and Gerald McRath for tryouts during the team's rookie minicamp this weekend, via PhiladelphiaEagles.com Gocong, 29, and McRath, 26, will be the only two veteran players in attendance this weekend. Both players suffered serious injuries last year as Gocong tore his Achilles and McRath torn left patella tendon. It's not...
Andrew and I got rolling and in what seemed like a few minutes, 50 of those bad boys went floating by. We talked about some business of sports by comparing it to the business of the music industry. We talked about the NBA playoffs, the Cavs, the Browns draft and pretty much everything else other than the Indians. We like the Indians though. Spotify and the business of music Ben...
Cleveland Browns owner Jimmy Haslam says he was ''absolutely not'' aware of and did not participate in the practices that led to the federal investigation into his Pilot Flying J company. ''I take responsibility for what happens at PFJ as the guy at the top of the shop, but I was absolutely not aware of any of this,'' Haslam said. ''As soon...
We've all just had a lesson in how front offices turn over in an off-season. It feels like a relatively new lesson here in Cleveland. The Browns have decided not to renew some contracts of scouts that were in Berea under former General Manager Tom Heckert. The timing of waiting until after the draft is apparently pretty commonplace. In Denver the Broncos let Keith Kidd depart after...
Browns draft pick Armonty Bryant was charged Monday with driving under the influence of alcohol, the latest legal trouble for the defensive end. Bryant was arrested Friday in Ada, Okla., according to a police report obtained by The Associated Press. He was charged in Pontotoc County District Court and a court appearance was scheduled for Tuesday. According to an arrest affidavit...
Cleveland Browns rookie defensive end Armonty Bryant was arrested for DUI after being drafted in the 7th round just over a week ago, according to Ohio.com. Bryant was arrested Friday morning in Ada, Okla., and charged with driving under the influence, according to a police report obtained today by the Beacon Journal. He faces a misdemeanor DUI charge and is scheduled to be arraigned...
Cleveland Browns seventh-round draft pick Armonty Bryant has been given a deferred one-year jail sentence after pleading no contest to a charge of driving under the influence of alcohol. Bryant was arrested Friday near the stadium at East Central University, where he was a standout player for the Division II school. His blood-alcohol level was 0.098 percent; the legal limit in Oklahoma...
Check out Lavelle Hawkins run after the catch against the Cleveland Browns in 2011. 
NFL News

Delivered to your inbox

You'll also receive Yardbarker's daily Top 10, featuring the best sports stories from around the web. Customize your newsletter to get articles on your favorite sports and teams. And the best part? It's free!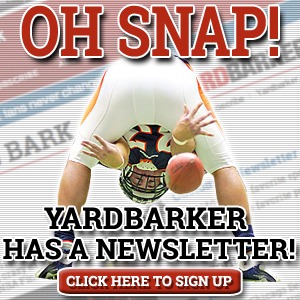 Latest Rumors
Best of Yardbarker

Today's Best Stuff

For Bloggers

Join the Yardbarker Network for more promotion, traffic, and money.

Company Info

Help

What is Yardbarker?

Yardbarker is the largest network of sports blogs and pro athlete blogs on the web. This site is the hub of the Yardbarker Network, where our editors and algorithms curate the best sports content from our network and beyond.