Found January 14, 2013 on Fox Sports Ohio:
Hurricane style is coming to Cleveland. And it has nothing to do with the drink in New Orleans. New Browns coach Rob Chudzinski has roots that go back to the U, and its the Miami Hurricanes that give him his offensive and defensive approaches. Both are based on attacking and playing aggressively, and both have their foundation in Jimmy Johnson, Chudzinskis first college coach and a coach whose impact in Cleveland probably should not be minimized. To the point that when Chudzinski was hired, Johnson tweeted he is one of my guys. The thread from Johnson goes through Norv Turner and Butch Davis to Chudzinski, who played for Johnson and coached under Turner and Davis. Does the system guarantee success? Its a good start. It has worked in several places, from Miami to Dallas to San Diego to Washington to Chicago. But any system needs players. Johnson had a great run in Dallas, but he didnt leave Miami with the same impact -- because he didnt have as many good players. The Browns have added talent the past couple years under Tom Heckert. They need to add more. And the person doing the adding has yet to be determined. One thing not to expect to be imported from Miami, though, is the flamboyance. Chudzinski wants his players to be enthusiastic, but he wont encourage the excessiveness. But fans should enjoy Chudzinskis approach because hes aggressive. His offense is based on a vertical passing game that opens up the field for the run. Its what Johnson did when he coached the University of Miami, where Chudzinski played for him. He said at his introductory news conference that the system he used as offensive coordinator goes back to Miami I had been around that system for a long time prior (to joining the Browns), he said. In Miami, a guy named Kosar had great success with it under Howard Schnellenberger as coach. When Johnson took over, guys like Michael Irvin and Brian Blades and Randal Hill thrived at receiver in the vertical system. The passing game opened up the run for backs like Alonzo Highsmith and Melvin Bratton. When Johnson left, he took the system to Dallas, where Irvin and Alvin Harper piled up stats while Emmitt Smith was running. Back in Miami, Dennis Erickson kept the basics, but modified the system to bring a one-backspread to UM. He wound up winning two national titles. Johnson hired Turner as offensive coordinator in Dallas to call the plays in Johnsons system. When Turner left the Cowboys to coach Washington and San Diego he took it there. Chudzinski played for both Johnson and Erickson; Chudzinskis system more resembles Johnsons because it uses two backs. There are modifications and adjustments, but the attacking style down the field came right out of Johnsons playbook. Defensively, Chudzinski made no secret of the style he wants. Were going to be an attacking style defense, he said. Were going to create turnovers. Thats what we want to do. We want to get after the quarterback and affect the quarterbacks play. Which again sounds like its right out of the Hurricane(s) manual. There, the defense was predicated on the defensive line getting up the field and disrupting plays by clogging run lanes or harassing the quarterback. There were just a few basic fronts and a basic approach, which players liked. Each practice play started with defensive coach screaming at the line to get up the field. We dont go around blocks, we dont go underneath blocks, we go through blocks, Johnson screamed at one of his first practices as Miami Dolphins coach. An aggressive, up-the-field approach clogs blocking lanes and allows linebackers to run and make tackles. Its not an approach with high-risk blitzes a la Rob Ryan, but it is one predicated on disruption through aggression. When Johnson went to the Cowboys, Erickson took over. He liked the Miami defense so much he didnt change a thing. Why would you? he always asked. Chudzinski saw the results.
Original Story:
http://www.foxsportsohio.com/01/14/13...
THE BACKYARD
BEST OF MAXIM
RELATED ARTICLES
It appears the Cleveland Browns may be close to hiring two coaches with ties to the San Diego Chargers as their coordinators. Former Chargers head coach Norv Turner appears to be the choice as the Browns' offensive coordinator, and The Plain Dealer also reported in Cleveland that Chargers defensive coordinator John Pagano could be headed to the Browns to take the same position...
SHOW ME YOUR LIGHTNING BOLT
The San Diego Chargers have finally found their replacement for Norv Turner. They hired Mike McCoy, was Denver's offensive coordinator.
Looks possible that Norv Turner may not be the only former Chargers coach joining Rod Chudzinski in Cleveland. ESPN's Adam Schefter reports: Browns HC Rob Chudzinski targeting SD's John Pagano as his defensive coordinator. KC also did, but Chargers wouldn't let him out of deal yet — Adam Schefter (@AdamSchefter) January 12, 2013 Ohio.com's Nate Ulrich adds: Pagano was a...
SAN DIEGO - Looks like Mike McCoy might be leaving Denver...so, cue the music... Mike McCoy Jason LaCanfora is reporting that new Chargers GM Tom Telesco has made a decision to replace fired Norv Turner with McCoy, who is currently the Denver Broncos' offensive coordinator. LaCanfora says a deal could very well be finalized by close of business today. ESPN...
The San Diego Chargers have decided to hire within the AFC West and name Denver Broncos offensive coordinator Mike McCoy as its next head coach. San Diego had offered the job to McCoy on Tuesday, which prompted McCoy to cancel a scheduled meeting with the Arizona Cardinals regarding their head coaching vacancy. McCoy becomes the second Broncos assistant coach to be hired as a head...
  NFL.com Greg Rosenthal and others report that Broncos offensive coordinator Mike McCoy is all-but-signed as the next head coach of the San Diego Chargers. Let the Tebow to Chargers rumors begin. The Chargers swept away GM A.J. Smith and Head Coach Norv Turner at the end of the season and seem ready for big changes, which could include a move to Los Angeles. New GM Tom...
The new year frequently brings with it a slew of resolutions made by well-intended people who desire to better some aspect of their lives, whether that be to lose weight, quit smoking, or some other difficult endeavor; however, these plans typically end by the end of January.The same can be said for NFL teams, particularly those with disappointing seasons, such as the San Diego Chargers...
Denver Broncos offensive coordinator Mike McCoy has agreed in principle to become head coach of the division rival San Diego Chargers, two people with knowledge of the situation said Tuesday. The people spoke with The Associated Press on condition of anonymity because McCoy's hiring hasn't been announced. The 40-year-old McCoy replaces Norv Turner, who was fired along with...
By BERNIE WILSON AP Sports Writer SAN DIEGO -- Denver Broncos offensive coordinator Mike McCoy will not be the next head coach of the Arizona Cardinals. McCoy has agreed in principle to become head coach of the division rival San Diego Chargers, two people with knowledge of the situation said Tuesday. The people spoke with The Associated Press on condition of anonymity because...
The San Diego Chargers announced yesterday that former Denver Broncos offensive coordinator Mike McCoy will become their next head coach, reports the Associated Press. "There was no doubt in my mind when I got back on that plane to go back home," said McCoy, the former Denver Broncos offensive coordinator who was introduced Tuesday as Chargers' new coach. "They...
NFL News

Delivered to your inbox

You'll also receive Yardbarker's daily Top 10, featuring the best sports stories from around the web. Customize your newsletter to get articles on your favorite sports and teams. And the best part? It's free!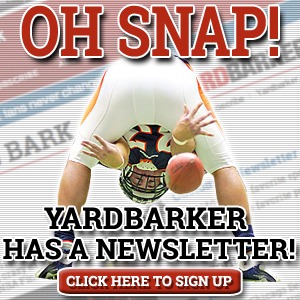 Latest Rumors
The Backyard

Today's Best Stuff

For Bloggers

Join the Yardbarker Network for more promotion, traffic, and money.

Company Info

Help

What is Yardbarker?

Yardbarker is the largest network of sports blogs and pro athlete blogs on the web. This site is the hub of the Yardbarker Network, where our editors and algorithms curate the best sports content from our network and beyond.