Found July 30, 2012 on Waiting For Next Year:
PLAYERS:
James-Michael Johnson
,
Pat Shurmur
,
Mitchell Schwartz
,
Jabaal Sheard
,
Mohamed Massaquoi
,
Trent Richardson
,
Frostee Rucker
,
Buster Skrine
,
Trevin Wade
,
Alex Smith
,
Joe Haden
,
T.J. Ward
,
Josh Gordon
TEAMS:
Cleveland Browns
The Browns had a rather spirited practice this morning, complete with some goal-line drills, two minute offense and even a couple of minor scuffles. A couple of rookies stepped up, while others struggled and a veteran receiver looked good.
LB James-Michael Johnson looked very good in drills and in the two minute situations. He picked off two passes, one of which was tipped. He was in the right place at the right time, and whether that was good fortune or by design he made the plays when they came to him. Including a big time stop on a goal line situation. He stood a running back straight up and held him there for his teammates to polish off. When I asked him who it was that he stood up, Johnson said "I don't know, someone had their head down and I blew him up."
See ball, hit ball carrier I guess. Good instinct.
While talking about his first interception, Johnson said "When I caught it I froze. I knew I was supposed to be doing something but I couldn't think what, then I heard my teammates yelling run. It was a rookie moment."
His play did not escape the eye of head coach Pat Shurmur "When you put on pads it separates linebackers. James-Michael has had a good couple of days."
Johnson has been getting work as a MLB in the nickel packages and outside in the base 4-3. He said like all rookies his goal is to start, but he realizes he has his work cut out for him. "I've never been a bench player, I always want to be out there competing."
—
One rookie that I was excited to see in person was RT Mitchell Schwartz. I'll say this, he didn't exactly blow me away. I had to keep reminding myself that this is just his third real NFL practice against live competition. When going against Jabaal Sheard one on one, he struggled. Now, Sheard is a very good defensive lineman with well above average speed and quickness. He made Schwartz look like a rookie on several plays. Sheard worked him outside a few plays in a row, then gave him a hesitation move and ran right passed him. Sheard got his hands on a couple of passes, tipping one for a pick. All working against Sheard.
Shurmur would spin that as good protection from Schwartz, but the fact is Jabaal was too close to the QB on those plays and got to him on several others. He also bull rushed Schwartz to the ground on one play.
"The better the player you go up against in practice, the quicker you develop." said Shurmur about Schwartz. Let's hope so. Shurmur would add "He came in with good technique. Fundamentally, he came in pretty ripe."
Perhaps the best judge will be how Schwartz reacts and adjusts to today's lessons.
—
The player that may have surprised me the most (at least on offense) was Mohamed Massaquoi. MoMass had several nice receptions over the middle and I didn't see him drop a single ball. I'll be the first to admit I had written MoMass completely off. I thought with the concussions and what we've seen from him the last couple years he may find himself the odd man out.
I know I'm not alone.
However, with Little and Gordon on the outside, and Watson, Moore or Cameron at the Tight End spot, MoMass could look really good in the slot. He didn't look like he wanted to have anything to do with the press after practice either. Perhaps he has a chip on his shoulder this year? That could be a good thing for the Browns.
—
Quick Hits
-Trent Richardson is a very impressive specimen in person. Frostee Rucker may have said it best- "If No. 33 is in the backfield, we have a chance. He's gonna do a tremendous job for many years."In addition to hard running and a couple nice plays in the passing game, Richardson picked up a corner blitz in the two minute drill.
-The corner back position could be really deep. Behind Haden and Brown, Buster Skrine, Patterson and rookie Trevin Wade looked good.
-Alex Smith was talking trash several times to the defensive backs. It started on a play where he was popped pretty good, but bounced up and said "You better bring more than that little DBs." He then repeated the 'little DBs' bit in the general direction of Joe Haden and TJ Ward standing on the sidelines.
-Josh Gordon had some rookie moments, including a few drops. "He is eager and smart, but he has a long way to go." was the quote from Pat Shurmur about him today.
-Finally, when told by a reporter that Joe Haden called his season last year "Amazing except for four plays", Pat Shurmur said "Everyone has room to improve. We need him to be Super Amazing this year."
Original Story:
http://www.waitingfornextyear.com/201...
THE BACKYARD
BEST OF MAXIM
RELATED ARTICLES
Getty Images Cleveland Browns great Jim Brown told the Cleveland Plain-Dealer that he plans on attending Alumni weekend on September 22-23.  Both former defensive back Clarence Scott and running back Ernie Green will be inducted into the Cleveland Browns legends. "I'll be there to support Ernie," said Brown on Saturday night per the Plain-Dealer. The induction ceremony will...
BEREA -- The education of a rookie continued Sunday. Brandon Weeden got baptism by pads, and he understood immediately that the first Cleveland Browns training camp practice in full gear meant the intensity was that much higher. Especially for the defensive guys, Weeden said. Throw those pads on and start thumping up, theyre just hungry to do that. Everybody gets more intense. Its...
Joe Banner will have some decisions to make in Cleveland While Randy Lerner's sale of the Cleveland Browns to Jimmy Haslam is not yet official, it's becoming quite clear that everyone expects the deal to go through without issue. Furthermore, we now know that former Philadelphia Eagles President Joe Banner is a part of Haslam's ownership group. What does that mean for the Cleveland...
One of the things we talked about most last year at this time was the maturity of Colt McCoy. He got the team together for "Camp Colt" down in Texas. He spent a weekend throwing with Brett Favre to try and improve his game. He had the support of his teammates in camp and did all the big interviews with the national writers that came through town. That was last year. This year...
Last week, Browns head coach Pat Shurmur made the local media rounds, giving rise to an explosion of commentary about how the second-year Browns head coach is a different man this season, a new guy with a new attitude. This was all clear by last Friday, the day before veterans reported to training camp. Which, of course, is a huge bummer, because if Shurmur really is a different...
Forbes magazine reported this weekend that the Cleveland Browns are being sold for $920 million dollars. Current owner Randy Lerner is selling the team to a group headed by James Haslam, a current minority owner in the Pittsburgh Steelers. Forbes had placed a value of $977 million on the Browns organization last summer and Lerner reportedly had been asking between $1 to 1.1 billion...
Aston Villa owner Randy Lerner remains 100% committed to the club after deciding to sell Cleveland Browns , Paul Faulkner has said. Lerner has opted to sell the NFL franchise, prompting some speculation that he could follow the same path with Villa whom he bought six years ago. But Villa chief executive Faulkner is adamant that is not the case and Lerner has already spent nearly...
While We're Waiting serves as the early morning gathering of WFNY-esque information for your viewing pleasure. Have something you think we should see? Send it to our tips email at tips@waitingfornextyear.com. The Browns have a lot of potential on offense. "In his first practice, Josh Gordon caught the attention of Browns fans. Nearly 3,000 fans showed up despite threatening...
While We're Waiting serves as the early morning gathering of WFNY-esque information for your viewing pleasure. Have something you think we should see? Send it to our tips email at tips@waitingfornextyear.com. "Hands down at this early stage of the summer, it is the last player selected by GM Tom Heckert in the 2011 draft. It is free safety Eric Hagg. Hagg is not a screamer on...
Comments on the Cleveland Browns by the AP Pro32 panel (ranking in parentheses): CLEVELAND BROWNS (30) Chris Berman (ESPN, 25): Trent Richardson should solve lots of problems. Ira Kaufman (Tampa Tribune, 27): Don't be shocked if Trent Richardson runs for 1,500 yards. Alex Marvez (Foxsports.com, 28): Addition of three rookies (running back Trent Richardson, quarterback Brandon...
Pat Shurmur talks to media following first day of training camp The difference in Pat Shurmur year over year is obvious. While it is far too early to see how it translates to the team on the field, there's simply no doubting he is a different guy than the guarded, often flustered coach that talked to the media every day last year about the percentage of "installation" that...
About 2,937 attended the first training camp practice open to the public -- more than attended any camp session a year ago. And coach Pat Shurmur was a much more relaxed man 24 hours after learning the team was being sold.
Browns News

Delivered to your inbox

You'll also receive Yardbarker's daily Top 10, featuring the best sports stories from around the web. Customize your newsletter to get articles on your favorite sports and teams. And the best part? It's free!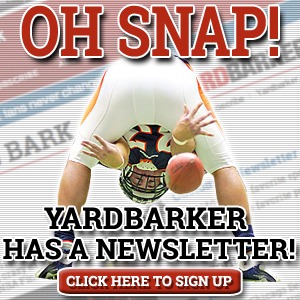 Latest Rumors
Best of Yardbarker

Today's Best Stuff

For Bloggers

Join the Yardbarker Network for more promotion, traffic, and money.

Company Info

Help

What is Yardbarker?

Yardbarker is the largest network of sports blogs and pro athlete blogs on the web. This site is the hub of the Yardbarker Network, where our editors and algorithms curate the best sports content from our network and beyond.