Found April 24, 2013 on BlackSportsOnline:
James Ihedigbo of the Baltimore Ravens is the epitome of a well-rounded guy.  Ihedigbo is a professional football player, a scholar, and a philanthropist.  The University of Massachusetts graduate has the distinction of appearing in the last four AFC Championship game, albeit with three different teams. Ihedigbo's proudest work and honor comes from his non-profit public charitable foundation HOPE Africa. HOPE Africa has created a platform to grant academic scholarships and build a broader structure for its mentorship program, by providing volunteer opportunities, internships and a network of professionals to aid in facilitating projects. The foundations focus is to establish a continuing system of resources for future scholars. BSO recently had the pleasure of sitting down and speaking to Ihedigbo about HOPE Africa, the wonderful service it provides, and the NFL Draft Cocktail Fundraiser he will co-host with Tutan Reyes of Beyond The Boroughs. … BSO: James can you tell our BlackSportsOnline readers and those who are wondering a little about the your foundation HOPE Africa, and some of the things you guys try to do.  JI:  HOPE Africa is a non-profit public charity that provides academic scholarships and a broader structure: volunteer opportunities, internships and a network of people to help them create sustainable projects with the aim of establishing a continuing system of resources for future generations. It was piloted by parents efforts and them working  their way out of rural Nigeria. They came over to the United States to help better their lives and ours as well.  My parents were able to both get PhD's in education.  My parents wanted to be able to return to Africa to give back the same opportunities.   My parents started an agricultural college in Nigeria. My father passed away in 2002, so his legacy and everything he left behind is a big inspiration in what I do. BSO: Would you say your father was a major inspiration in you starting the foundation? JI: Of course, of course.  Yes both my parents Dr. Rose, and Dr. Apollos were the backbone for me starting this organization.  They both traveled and worked while attending to gain their doctorates.  They did all that while raising five kids as well. BSO: You are having a high-profile fundraising event on NFL Draft night next Thursday, can you tell us a little about that event? JI: It's our major fundraiser that we do every year.  it's our second year co-hosting it with Beyond The Boroughs.  It's an NFL Draft fundraiser where NFL players from all across the league attend this event.  Guys like Victor Cruz, Calvin Johnson and Ray Rice all come out and support the cause.  Fans get to buy tickets and watch the first round of the Draft with their favorite NFL stars.  The players aren't in VIP or behind a glass or anything.  It's a fun exciting night and red carpet event to support HOPE Africa and Beyond The Borough. BSO: You went to UMass, Victor Cruz went to UMass, what is your opinion of your school and the presence it has in the NFL? JI: Its awesome. You think about two guys from the same IAA school and we both have Super Bowl rings.  It's guys that play in this league 14 or 15 years that never get to experience such a thing.  We both talk all the time and are proud of each other.  We went to UMass together and it's very exciting. BSO: I read somewhere that you are the only player that I  to have played in four straight AFC Championship games.  What was has that experience been like? JI: Yes that's true. Two with the New York Jets, one with the Patriots and this year with the Ravens. It's an amazing thing. It drives you to play harder and worker harder.  Now I'm finally a world champion, and I want another one. BSO: What was it like winning a world championship with Ray Lewis and Ed Reed, two all time greats? JI: It's amazing.  Playing with two all time greats. It was a life changing experience.  The type of knowledge that comes from those two guys.  Ray Lewis' ability to captivate you with his speaking and motivation.  Ed Reed's preparation, his leadership, his ability to execute at a high level, it definitely changed my career. BSO: How can people get involved with HOPE Africa? JI: You can definitely go to www.hopeafricausa.org and get tickets to the event.  You can also donate to the organization or donate your time.  But definitely go to the website because it's going to be an exciting time.  
Original Story:
http://blacksportsonline.com/home/201...
THE BACKYARD
BEST OF MAXIM
RELATED ARTICLES
According to Mike Preston of the Baltimore Sun, the Ravens are thinking about trading up in the first round to draft offensive tackle Lane Johnson. The Ravens will be keeping an eye on Oklahoma left offensive tackle Lane Johnson. He is rated the third-best at the position in the draft, and a lot of the experts have predicted he will go in the top 10 picks, but the Ravens might trade...
I thought the Ravens would trade back for an extra pick in the 2nd round...but in the end, at pick #32 in the 1st, the Ravens held their ground and got their man. Matt Elam, a safety from Florida, is a Raven.             A solid value pick... Ryan Mink of Ravens.com summed it up best---- "General Manager Ozzie Newsome has watched...
I don't know if this situation was karma, but it definitely ended bad for all parties involved.  Dr. Craig Brigham, the neck surgeon who cleared Georgia All American Jarvis Jones weeks before this years draft, and who was being sued by former NFL player Samari Rolle for a botched surgery, was found dead outside his Charlotte home Monday morning. The Charlotte Observer is reporting...
1. Inside Linebacker: The Ravens inside linebacker situation is a mess. Lewis retired, Ellerbe signed with Miami, and Jameel McClain is coming off yet another major surgery. So far, the only thing they've done to address the situation is bringing in Rolando McClain. They may be able to turn his career around, but more than likely he'll continue to be a bust. Baltimore needs...
Ray Lewis fears the lack of team chemistry will hold back the Ravens(Credit: AP Photo) While visiting New York during NFL draft week, Ray Lewis was asked whether he thought the Baltimore Ravens were in position to repeat as champions. The former inside linebacker, Ray Lewis told Robert Klemko of  USA Today that is was unlikely, Lewis believes the team lost to much team chemistry...
All of a sudden the Ravens have some draft needs at receiver, tackle, linebacker and in the secondary. It's a good thing they have a dozen picks and GM Ozzie Newsome calling the shots.
I guess even with money and fame, some guys still get the urge tell a few fairy tales about the people they've shared their naughty bits with. Bryant McKinnie won a Super Bowl with the Baltimore Ravens this season. Soon after he hit up New York and appeared on the popular morning show, "The Breakfast Club" on Power 105. Once they were through discussing football stuff, other...
After winning the Super Bowl with the Baltimore Ravens, Bryant McKinnie high tailed to New York to catch up with Power 105 FM The Breakfast Club to discuss all things including: his journey to the Super Bowl, parties, strap ons, and who he has and has not slept with. First up was Venus Williams. Next, was top model Toccara. Then without being asked, in an effort to ensure the hosts...
Super Bowl Champion Chris Canty was a standout defensive lineman for the Dallas Cowboys and New York Giants before signing this offseason with the defending Super Bowl Champion Baltimore Ravens, so he's used to being in the media spotlight. But now the 9-year NFL veteran is flipping the script, serving as a special correspondent and NFL draft insider for Sqor, the groundbreaking...
Dear incoming NFL rookie: Worried your $8 million contract might get held up by a balky fax machine? Worry no more. The NFL Players Association announced a deal Tuesday with an electronic-signature company that will give players being drafted this week, along with their current NFL brethren, access to technology that makes signing a contract as easy as hitting a few buttons on...
NFL News

Delivered to your inbox

You'll also receive Yardbarker's daily Top 10, featuring the best sports stories from around the web. Customize your newsletter to get articles on your favorite sports and teams. And the best part? It's free!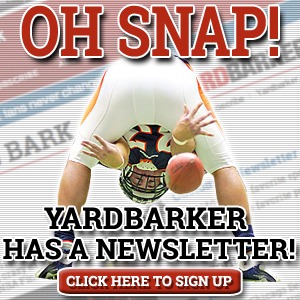 Latest Rumors
Best of Yardbarker

Today's Best Stuff

For Bloggers

Join the Yardbarker Network for more promotion, traffic, and money.

Company Info

Help

What is Yardbarker?

Yardbarker is the largest network of sports blogs and pro athlete blogs on the web. This site is the hub of the Yardbarker Network, where our editors and algorithms curate the best sports content from our network and beyond.