Found December 27, 2012 on Boston Sports Then & Now:
Ever Bank Field in Jacksonville BST&N Patriots writer Josh Books and I have been best friends since the third grade. When our other best childhood friend Ethan moved to Jacksonville for work in August, he immediately asked us to come down and visit him. It was obvious we would visit, but the question was when? After peaking the New England Patriots 2012 schedule, the date was obvious – we'd head down for the December 23 game versus the Jacksonville Jaguars. We arrived on Friday and spent the night catching up – Ethan, Josh and Carl style. On Saturday we did some sightseeing in St. Augustine, 30 minutes away, at an old 1600′s Spanish fort called Castillo de San Marcos.  Now a national monument, the fort was in great condition. They even had a reenactment of the cannon firing every hour. Walking around the fort and town, we began to see Patriots fans; we quickly realized we were not alone down south. Friend of BST&N Mike Reiss from ESPN Boston does a "Tweet Up" for Patriots road games. This Tweet Up is more of a meet up for the Patriots fans attending the road game. Earlier in the week I emailed Mike to see if an event was going on, and sure enough there was. A group of 30 fans met up at Hurricane Bar & Grill in Jacksonville for two hours on Saturday afternoon, and it was truly a magical time. Mike captured the room of Patriots fans answering question after question. The three of us stayed for a half hour after the group left and I introduced Mike to my friends. The rest of the weekend they could not stop talking about what a great guy he was. We were very happy to have this "pregame get together." Josh, Ethan, Mike Reiss, and I After another long night Saturday we rallied for another pregame of sorts on Sunday. This time of the tailgate variety. Ethan did not have a grill, so we had to collectively improvise and we certainly did. Our tailgate meal included shrimp cocktail, cheese and crackers, bananas, Krispy Kreme donuts, sunflower seeds, aquapods, some adult beverages, and a football. We were the first ones in the parking lot at 9:45 AM and had a great street view. As the confines began to fill up we again realized we were NOT the only Patriots fans. Roves of New Englanders walked by on the street and a "Go Patriots!" chant became common. During our pregame we were not only friendly with our follow Patriots brethren, but we came to meet some very welcoming Jaguars fans – all of whom were anticipating a beat-down (of course). Before we knew it, it was game-time and we walked over to the Ever Bank Field – home of the Patriots Super Bowl XXXIX victory over the Eagles. As far as the game, well we were surprisingly, like those of you back home, on the edge of our seats. All too often we expect to roll over teams, but a combination of factors saw this game go down to the wire. In fact, when things got very tight on that last Jaguars drive, "DE-FENSE" chants broke out across the crowd as Patriots fans hoped to stop the Jacksonville offense. Our pseudo tailgate The stadium was "OK" by our accounts. It certainly did not stand as tall as Gillette as the highest sections were not "as high" because the levels were not truly stacked but rather just kept working their way up, almost like a bowl shape. The video boards were pretty weak as they were far from HD and were an odd rectangular dimension. The concourses were also very narrow which made for a slow exit post game. Highlights included an up-to-date fantasy football stat scoreboard, decent views from all around, and some amazing marketing acts during timeouts and at halftime. The team mascot Jaxon De Ville began the game bungee jumping from well above mid-field and during timeouts he rode a Segway around the field. At halftime three Army Rangers jumped from a plane and each landed exactly at midfield. Other promotions included a chance to win $2,000 to a local grocery store if the individual could hit a target from five, ten, and fifteen yards away in a 30 second time-frame (the individual did not). There was also a Florida lottery promotion where a guy got an early Christmas present of $10,000. We were awed by all of this though, because for the last 11 years we have not been subjected  to these marketing promotions at Gillette - mostly because the team sells itself. It was, however, entertaining to see such promotions. We flew out Monday which capped off a wonderful weekend. It was a scary game, but a great experience. The weather, stadium, and fans certainly beat what Josh and I experienced in Buffalo two seasons ago. We do not know where our next BST&N road trip will take us, but safe to say we'd be very satisfied if we had a reason to think about going to New Orleans for Super Bowl XLVII in February for a Patriots appearance.
Original Story:
http://boston.sportsthenandnow.com/20...
THE BACKYARD
BEST OF MAXIM
RELATED ARTICLES
Little big man: Danny Woodhead often leaves some opposing defenders with this look as they try to figure out how a person his size got by them. When the Patriots need a spark on offense, which believe it or not, they sometimes do, the team often finds themselves turning to the little man with the big heart, Danny Woodhead. The 5-foot-8-inch running back from the slightly undersized...
The Jacksonville Jaguars placed three players on season-ending injured reserve, including wide receiver Cecil Shorts III, running back Rashad Jennings and linebacker Greg Jones, reports Kevin Patra of NFL.com. Wide receiver Cecil Shorts III was placed IR after suffering his second concussion of the month in Sunday's 23-16 loss to the New England Patriots. And the Jaguars...
According to Shalise Manza Young of the Boston Globe, Patriots head coach Bill Belichick told the media that tight end Rob Gronkowski still isn't ready to play. BB on Gronkowski's progress: he did more last week than he did the week before…we'll take it day to day. he's moving along, not ready yet — shalise manza young (@shalisemyoung) December 26, 2012 The Patriots...
While most of us left milk and cookies for Santa, it appears that New England Patriots linebacker Brandon Spikes decided to leave him something a little more risque. Check out this Twitter post that he left on his page: (Courtesy of Backyard Sports Blog)
For some reason Bledsoe ended up deleting this tweet and then going with the much safer "Way faster than Tommy". While I guess he was probably concerned about some backlash from his swearing, that probably wasn't necessary. The original tweet, above, was way funnier.I don't think anyone would doubt Bledsoe is faster than Tom Brady. Brady's been asked pretty...
In a move that took about two months longer than it should have, the Jacksonville Jaguars have finally placed running back Maurice Jones-Drew on season ending IR. Of course, the season was going to end in three more days for the Jaguars to begin with, so this move means very little. A season that began poorly ended even worse for Jones-Drew and the Jaguars. After a lengthy contract...
In sports, it's a conundrum nearly as old as the ball itself. When staring down at a sure-thing playoff slot but with more regular season to go, do you rest your players, or keep them on the field? Unfortunately, with the patriots and tight end Rob Gronkowski, it's a little more complicated than even that. Gronkowski has missed every game since Week 11 when he fractured his forearm...
The Houston Texans dropping a suprise loss at home to the Minnesota Vikings has opened up top seed possibilities for the New England Patriots. What looked like a complete wasted opportunity when they dropped their home game against the San Francisco 49ers, the Patriots in one week, went from conceding to a harder road in the playoffs to a possible no.1 seed if things play out in...
While Rob Gronkowski returned to the New England Patriots practice on December 14th after breaking his left arm one month prior, it still remains unclear as to when we will see Gronk return to game play. Head coach Bill Belichick gave the media an update today on Gronk's status.From Comcast Sports Net New England:"He did more last week than he did the week before,&quot...
For many New England Patriots fans the baritone sound of Gil Santos' voice meant that another fall was taking shape in New England.  For 36 years (1966-1979, 1991-2012), Santos has been the voice of New England Patriots football. In 1966 Santos and the legendary Bob Starr replaced Bob Gallagher and Ned Martin in the broadcast booth and it was the start of a New England love...
Don Banks of Sports Illustrated is reporting that the Jaguars are ready to cut loose GM Gene Smith, as well as first-year head coach Mike Mularkey, following the end of the season. "The Jaguars have been gearing up to part ways with general manager Gene Smith for weeks, and recent signs point to head coach Mike Mularkey also being out after just one defeat-filled year on the job...
Super Bowl 38 (XXXVIII) - Carolina Panthers vs New England Patriots - Full Game - Part 2/2 (by Robert Park)
NFL News

Delivered to your inbox

You'll also receive Yardbarker's daily Top 10, featuring the best sports stories from around the web. Customize your newsletter to get articles on your favorite sports and teams. And the best part? It's free!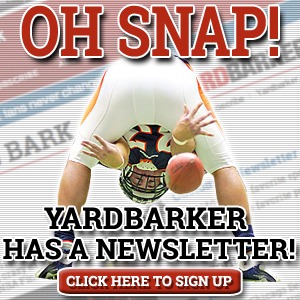 Latest Rumors
The Backyard

Today's Best Stuff

For Bloggers

Join the Yardbarker Network for more promotion, traffic, and money.

Company Info

Help

What is Yardbarker?

Yardbarker is the largest network of sports blogs and pro athlete blogs on the web. This site is the hub of the Yardbarker Network, where our editors and algorithms curate the best sports content from our network and beyond.