Found February 10, 2013 on The Bay Cave:
During the 2012 season, there were times where Buccaneers head coach Greg Schiano was careful to not say the word "concussion" when addressing players who appeared on injury reports with a head injury. But the Buccaneers are not the only ones who take that approach.  In fact, teams categorize possible concussions as "illness", "head injury", or "neck injury." Such reporting of possible concussions have brought the NFL a lot of scrutiny on how they handle potential concussions. It doesn't stop there though. Teams have been criticized and fined for not handling a concussion properly. In 2011, the Cleveland Browns cleared quarterback Colt McCoy to re-enter a game against the Pittsburgh Steelers after experiencing concussion-like symptoms from a hit he took. This past season, Washington Redskins quarterback Robert Griffin III left a game after taking a hit along the sidelines. The Redskins described him as being "shaken up" during the game but after, head coach Mike Shanahan described Griffin as having a mild concussion. Washington was later fined $20,000 for incorrectly reporting the injury. So now that you have somewhat of an understanding on how the reporting (or lack thereof) for concussions from teams work, take the following information however you'd like. From 2010-2012, the Buccaneers averaged 3.33 concussions per year (0 in 2010, 5 in 2011 & 2012). That number ranks 5th best in the NFL. (The chart with each team's reported concussions can be seen below.) The information was gathered by Sports Brain, LLC containing statistical data from The Concussion Blog and PBS Frontline's "concussion watch" which was was partnered with ESPN's Outside the Lines. The Concussion Blog has been committed to compiling concussion figures since 2010 while Frontline was just this past season. Each has a difference in numbers for 2012 for the majority of the teams around the league. The reason behind that is the theory of labeling a player's injury and his symptoms as an actual concussion. For example, if a player gets to the sideline after a hit complaining about nausea, vision problems, or slight loss of memory, the player should be diagnosed with a concussion. But as referenced previously, if not reported by the team or the player properly, a concussion diagnosis will be missed. The league has yet to respond to emails and calls made to them regarding the data. The Frontline report lists defensive tackle Roy Miller, wide receiver Tiquan Underwood, cornerback Eric Wright, and tight end Luke Stocker as Bucs players who suffered a concussion. During preseason, Schiano stated he "stays away from that 'C' word" unless a doctor confirms that's what it is when he was asked about Stocker. Same for Wright and Miller as coach never wanted to name his players in the same sentence together with the dreaded "C-word." That's where the process for proper testing of a concussion needs to be re-evaluated. And not because of the way Schiano has handled it, but the league wide process to test for a concussion is not enough. Team doctors use a questionnaire to determine if a player has suffered a concussion called the "NFL Sideline Concussion Assessment Tool." It contains questions pertaining to the player's behavior, physical appearance, and how well they do with questions. The document also instructs doctors to use it along with their "clinical judgement" and adds that a player should be a "no go" if he shows any sign of a concussion. Problem with that is not all concussion symptoms show up immediately and in some cases, do not show up at all. Conducting tests days after the injury was suffered can also prove to be useless as several medical experts have said signs may no longer show as soon as hours after the first symptom was reported. How accurate the charts below are remains to be seen. The NFL keeps the concussion issue tight-lipped and head coach Greg Schiano demonstrates that to perfection. Regardless of their accuracy, huge strides can be made towards treatment if conditions get reported properly from players, doctors, and everyone else involved. Click the following charts to enlarge. 2010-2012 Data               Concussions per position             Comparison between Concussions Blog and PBS/ESPN Concussion Watch The post Buccaneers have had one of the lowest numbers of concussions appeared first on The Bay Cave.
Original Story:
http://www.thebaycave.com/2013/02/10/...
THE BACKYARD
BEST OF MAXIM
RELATED ARTICLES
Leonard Hankerson has the size and speed to become a top flight receiver in the NFL, and this off-season he will get the chance to prove it. He was drafted by the Redskins in the third round of the 2011 NFL Draft with the 79th overall pick. Hankerson's deep speed makes him ideal as number two receiver, however, he needs to be more refined in the short to intermediate game and...
The Tampa Bay Buccaneers defense led by Lavonte David, Mason Foster and Ronde Barber were horrific in 2012. Ranking 29th in the league in sacks and dead last in passing yards allowed, they were an embarrassment, or were they? The Buccaneers finished number one against the run allowing only 1,320 yards on the ground and only 3.5 yards per carry. Opposing teams averaged only 82...
There has been an argument among the Native American communities of the United States for a very long time that the Washington Redskins should change their name. The Washington Redskins logo has been around for an extended period of time, way before owner George Preston Marshall decided to move the team to the Nation's capitol from Boston, Massachusetts. Officially the Boston Braves...
1. Cornerback The Tampa Bay Buccaneers have been thin in the secondary for a few years. They added a major piece of the puzzle with Mark Barron last year, but they still need to upgrade the situation at cornerback. Eric Wright was overpaid last offseason and is now likely to be cut loose. 2. Inside Linebacker 2011 third-round pick Mason Foster has failed to develop and the Bucs could...
The Washington Redskins have been facing increased pressure recently to change their name because some believe it holds an offensive Native American connotation. The team proudly defended its nickname in a story published on its official website on Monday. However, their reasoning will likely leave most folks scratching their heads.In the story on redskins.com, Washington uses quotes...
The debate over whether or not the Redskins should change their name has flared up this offseason, and while nothing is imminent, the pro-name change movement seems to be gaining momentum. And while we have made it clear that we support changing the name, there are intelligent arguments to be made to the contrary. On Monday, Redskins' lineman Jordan Black provided an excellent...
The Tampa Tribune wouldn't be surprised if the Buccaneers ended up going after Giants' tight end Martellus Bennett in free agency this offseason. If the Bucs are able to re-sign defensive end Michael Bennett (who is Martellus' brother) it would make signing with them very enticing for Martellus once he becomes a free agent on March 12th. I think the Giants would like to keep...
The Buccaneers are going into the 2013 free agency period with around $30 million of cap space. But Tampa Bay needs to be smart with their money and limit their "splash" signings. The signings of Vincent Jackson and Carl Nicks made noise around the league. Another that the team had hoped would be a splash as well was cornerback Eric Wright and after this past season, the Wright...
NFL News

Delivered to your inbox

You'll also receive Yardbarker's daily Top 10, featuring the best sports stories from around the web. Customize your newsletter to get articles on your favorite sports and teams. And the best part? It's free!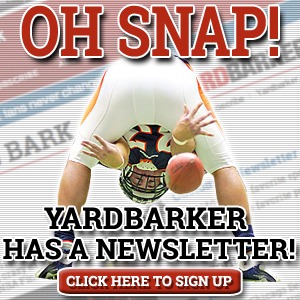 Latest Rumors
Best of Yardbarker

Today's Best Stuff

For Bloggers

Join the Yardbarker Network for more promotion, traffic, and money.

Company Info

Help

What is Yardbarker?

Yardbarker is the largest network of sports blogs and pro athlete blogs on the web. This site is the hub of the Yardbarker Network, where our editors and algorithms curate the best sports content from our network and beyond.