Found March 20, 2013 on The Bay Cave:
The national media has weighed in on the Jets potential trade of Darrelle Revis to the Buccaneers. While reports have said anything from it happening this week to not happening until this summer, none have labeled their cornerback situation better than NFL Network's Charles Davis.  Appearing on 98.7 The Fan Wednesday morning with Justin "The Commish" Pawlowski, Davis was asked if the Bucs are doing the right thing with Revis and their cornerback situation. "I think that they are because it's a deep draft for corners," Davis told The Commish. "So i don't think the Bucs are sitting there saying 'I have to pull the trigger on someone that I'm not sold on because I have to have someone'." Davis would continue on. "Despite all these reports on them (the Bucs) running out of patience and all that, let me just say this as bluntly as I can, no one runs out of patience when it comes to Darrelle Revis." He would also add that if a deal can be made to acquire Revis, patience is the least of their worries. So why hasn't the trade happened? Simply put, New York doesn't like Tampa Bay's offer. The good news is, negotiations may be moving along as head coach Greg Schiano described it as a "fluid" situation. And there is reason to believe that. A report from the New York Daily News says the Bucs and Revis would agree on a long-term deal worth $12-$13 million per year. Be mindful that the report claims that figure is according to "sources." But boy does that match with what Schiano may be implying. No one is certain what Tampa Bay will do next. Or what may happen for that matter. However, for those who suggest they should at least sign Brent Grimes, Charles Davis also touched on that option. (Click here for the entire interview from 98.7 The Fan)   The post Bucs have "patience" for a Darrelle Revis trade appeared first on The Bay Cave.
Original Story:
http://www.thebaycave.com/2013/03/20/...
THE BACKYARD
BEST OF MAXIM
RELATED ARTICLES
It is time for another rebuttal to a story that was a rebuttal to previous stories which was a rebuttal for… Well you get the hint. To follow up yesterday's story about the Bucs' 2014 draft picks comes a story from the New York Post saying general manager John Idkzik isn't even clear what he wants in return from the Bucs to trade Darrelle Revis. According to league sources...
Another day, another bit of news regarding Darrelle Revis. This time, it comes courtesy of Peter King of Sports Illustrated.  King writes that the Buccaneers do not necessarily need to part with any of this year's draft picks. In fact, the source said, if the Jets are willing to take both picks in 2014, Tampa Bay would likely deal its first- and second-round picks for Revis...
The Bucs and Jets have been linked in trade talks for the services of Darrelle Revis. Monday evening, a report stated the Buccaneers are possibly considering sending their first round pick to New York for Revis. Now, Mike Florio of Pro Football Talk is saying the Bucs are losing interest in trading for the Pro Bowl cornerback. The biggest takeaway from our first full day at the league...
Last week we reported that the Tampa Bay Buccaneers were the front-runners and close to acquiring star cornerback Darrelle Revis from the Jets. Pro Football Talk  is reporting that feelings are starting to change now, and reports suggest that the Buccaneers are cooling on Revis, and losing interest in a possible trade. The biggest takeaway from our first full day at the league meetings...
It appears the Bucs may be upping the ante on possible trade offers to the New York Jets. The speculation of the Buccaneers offering a second and a fourth round pick or a second this year and a potential first next season may no longer be an option.   To be clear, Bucs won't rule out using a first round pick for Revis. No offer made, undecided at this point. Would consider it...
As we reported earlier this week, the Tampa Bay Buccaneers are growing tired of the games the New York Jets seem to be playing in regards to working out a deal for star cornerback Darrelle Revis.  The Buccaneers are still the only team we hear in regards to the Revis trade, and it appears they are not going away quietly. The Star Ledger via Peter King of Sports Illustrated is reporting...
Update: Peter King of SI.com reports that a source has informed him that the Buccaneers would consider trading the Jets their first- and second-round picks in 2014 for CB Darrelle Revis. King mentions that the Buccaneers are the "only serious bidder" for Revis at this point, and there's a good chance that this is as far as Tampa Bay is willing to go in the negotiating process...
New York Jets coach Rex Ryan says the team is not actively pursuing a trade of star cornerback Darrelle Revis. Speaking at the NFL owners meetings Tuesday, Ryan says it is not a foregone conclusion that the Jets will deal Revis, who is unhappy with his contract. But Ryan acknowledges any team will listen if another club calls about acquiring any player. Revis missed most of last...
Rex Ryan insists the Jets are not actively shopping All-Pro cornerback Darrelle Revis.
Earlier today, offensive lineman Brandon Albert signed his franchise tender with the Kansas City Chiefs. According to Mike Garafolo of USA Today Sports, the Chiefs are actively shopping Albert in hopes of trading him. The person, who spoke to USA TODAY Sports on condition of anonymity, said the Chiefs aren't desperate to move Albert but realize another team might offer him a better...
NFL News

Delivered to your inbox

You'll also receive Yardbarker's daily Top 10, featuring the best sports stories from around the web. Customize your newsletter to get articles on your favorite sports and teams. And the best part? It's free!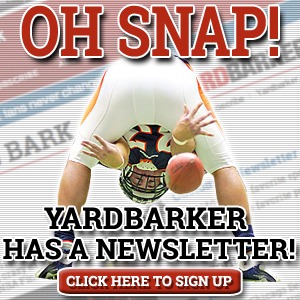 Latest Rumors
Best of Yardbarker

Today's Best Stuff

For Bloggers

Join the Yardbarker Network for more promotion, traffic, and money.

Company Info

Help

What is Yardbarker?

Yardbarker is the largest network of sports blogs and pro athlete blogs on the web. This site is the hub of the Yardbarker Network, where our editors and algorithms curate the best sports content from our network and beyond.