Posted August 13, 2012 on AP on Fox
The NFL can be a cruel business for players on the fringes of a roster, and nobody knows it better than Tampa Bay Buccaneers wide receiver Tiquan Underwood. Underwood spent most of the 2011 season and postseason - including Super Bowl week - with the New England Patriots, but coach Bill Belichick released him the night before the big game. ''It was tough,'' Underwood recalled Monday, ''but coach Belichick makes all his roster decisions on Saturday whether it's Week 1 or the day before the Super Bowl. It doesn't matter.'' Underwood was replaced on the roster by defensive tackle Alex Silvestro, who didn't play in the Patriots' 21-17 loss to the New York Giants. ''(Belichick) had to make a decision and I was one of the latter guys on the depth chart, so it's part of the business,'' Underwood explained. ''He's going to make the best decision for his team for that game, and he did that.'' As if to make it a little worse, the Patriots re-signed him two days after the Super Bowl, then released him again three months later. The 25-year-old signed with the Bucs in May, and so far he is making the most of it. The 6-foot-1, 187-pounder has been one of the most impressive receivers in the training camp. He caught three passes in Friday night's preseason opener at Miami, including a 44-yard catch in double coverage to set up a touchdown. ''He's trying to make the club. I'm not sure where he fits in yet,'' said coach Greg Schiano. ''He did have a good game the other night. I think consistency is going to be the key. He works hard and he understands what we want in this program, so if he can be consistent, he's got a good chance.'' One thing Underwood understands is Schiano, his head coach at Rutgers from 2005-08. But Underwood laughed at the suggestion that his history with Schiano might give him an edge. ''You know how this league is,'' he said. ''At the end of the day it doesn't matter if you've played for a guy or not. In this league it's about doing your job, making plays and getting judged on the field.'' It was a lesson he learned in New England, even if his experience there ended in disappointment. ''Going up there changed my career,'' he said. ''The way they run their organization, I learned how to be a professional. I learned how to actually work on my craft. When you're there with Wes Welker every day, Deion Branch, the receivers, Tom (Brady) always being one of the first ones in the meeting room. Watching those guys work, it's no secret why they're so successful. They practice and work so hard, and I just try to take that and bring it wherever I go.'' While Underwood was with the Patriots, the Bucs were losing their final 10 games. But under Schiano, he sees some similarities. The training camps are ''very grueling, very hard,'' he said. ''Both coaches demand damned-near perfection; they want you to give your all every day. Training camp is about beating your body up and coming close together as a team so when times get rough during the season, you stick together and don't unravel.'' NOTES: Monday's practice session was cut short about 20 minutes by lightning. ... LT Donald Penn, who has yet to practice because of a strained left calf, won't be hurried. ''Circumstances won't ever dictate behavior around here,'' Schiano said. ... The Bucs will play Tennessee in their preseason home opener Friday night.
Original Story:
http://msn.foxsports.com/nfl/story/Bu...
THE BACKYARD
BEST OF MAXIM
RELATED ARTICLES
Vincent Jackson is excited to be playing in Tampa Bay, which is lovely because I'm sure the fans are happy to have him. Jackson signed a five-year contract worth slightly over $55 million over the offseason, so it is hardly surprising that he has only positive things to say as he begins his new journey with the Buccaneers. That being said, there's a very fine line between being...
Tampa Bay Buccaneers rookie head coach wants to employ a run heavy offense this season. On Friday night, the Buccaneers took the field for the first time under Schiano's leadership with their new rushing attack on full display. Third-year running back, LeGarrette Blount along with rookie Doug Martin were impressive in their limited action, energizing the fan base for the upcoming...
There's a lot of crummy quarterbacks in the NFL. And while Josh Freeman might not be one of them, he's certainly not as good as his teammate, Vincent Jackson, believes. In fact, Jackson's confidence is downright laughable. Jackson, who is entering his first season in Tampa Bay, spoke highly of his new Buccaneers squad on Monday, but it's his comment regarding Freeman...
With a new head coach, The Tampa Bay Buccaneers look like a team not to be reckoned with. Greg Schiano has jumped on this year after being in college ball for years. After being stuck at 4-12 last year, there needed to be a change. From the sideline talk, Schiano seems to be taking the [...]
Apparently Greg Schiano hasn't seen enough speed or playmaking in the return game during training camp because he is looking for an upgrade. As first reported by PewterReport.com, the Tampa Bay Buccaneers are interested in signing Olympic sprinter and former Florida Gators RB/WR Jeff Demps. Demps just got back from London where he helped the U.S. win a silver medal in the...
The Tampa Bay Buccaneers have little to show for the four first- and second-round picks they spent on defensive linemen in the drafts of 2010 and 2011. It's a high priority of new coach Greg Schiano to get some production from that unit. The Bucs have continued to rank near the bottom of the league in most defensive categories, especially those reflecting strength in the defensive...
We get it. Vincent Jackson is happy to be out of San Diego and with the up and coming Tampa Bay Buccaneers. But that happiness doesn't give him the license to make outlandish statements about his new quarterback. We've been down this road once, but that time it was with Ravens quarterback Joe Flacco. And as absurd as it was for Flacco to state that he's the best quarterback...
After Vincent Jackson inked a $55 million deal with the Buccaneers this offseason, he instantly became the team's top receiver, and shiny new toy for quarterback Josh Freeman. Jackson, formerly of the Chargers, was tasked with transitioning from Philip Rivers, a perennial Pro Bowler, to Freeman, who most would agree is still a work in progress. V-Jax disagrees — and that's...
TAMPA, Fla. In a funny way, Dan Orlovsky may boast the perfect resume as the new No. 2 quarterback for the Tampa Bay Buccaneers. Scroll down his list occupational experiences to 2008 and youll notice the distinct historical connection he shares with the Bucs. Orlovsky was a backup on the woeful Detroit Lions club that became the NFLs first 0-16 team linking him, at least in...
The Tampa Bay Buccaneers kicked off the Greg Schiano era with a dominant 20-7 victory over the Miami Dolphins in their preseason opener on Friday night. Buccaneers101.com has gone back over the game and here are some of the highlights from the defense: Defensive Line: They showed some quickness and ability to attack, but the pass rush still isn't there. Tampa Bay had a league-worst...
Battle of South Florida ends with Bucs on top of Fins 20-7 The Miami Dolphins and Tampa Bay Buccaneers met Friday night under the moon and lights in Miami for each club's first preseason contest of the 2012 season. The game started off smoothly for the Bucs as they scored on their first two drives with touchdown runs by rookie running back and first-rounder from Boise State...
NFL News

Delivered to your inbox

You'll also receive Yardbarker's daily Top 10, featuring the best sports stories from around the web. Customize your newsletter to get articles on your favorite sports and teams. And the best part? It's free!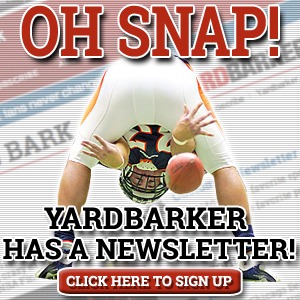 Latest Rumors
The Backyard

Today's Best Stuff

For Bloggers

Join the Yardbarker Network for more promotion, traffic, and money.

Company Info

Help

What is Yardbarker?

Yardbarker is the largest network of sports blogs and pro athlete blogs on the web. This site is the hub of the Yardbarker Network, where our editors and algorithms curate the best sports content from our network and beyond.