Found October 06, 2012 on Queen City Sports:
PLAYERS:
Bryan Scott
,
Kelvin Sheppard
,
Ryan Fitzpatrick
,
Cordy Glenn
,
Kraig Urbik
,
Scott Chandler
,
Donte Whitner
,
Carlos Rogers
,
Chris Culliver
,
Dashon Goldson
,
T.J. Graham
,
Jim Harbaugh
,
Alex Smith
,
Vernon Davis
,
Michael Crabtree
,
Mario Manningham
,
Stephon Gilmore
,
Aaron Williams
,
Fred Jackson
,
C.J. Spiller
,
Justin Smith
,
Ray McDonald
,
Brandon Bolden
,
Frank Gore
,
Arthur Moats
,
Marcell Dareus
,
Kyle Williams
,
Kendall Hunter
,
Aldon Smith
,
Chris Hairston
,
Anthony Davis
,
Mario Williams
,
Rob Gronkowski
TEAMS:
Buffalo Bills
,
San Francisco 49ers
,
New England Patriots
Photo Courtesy of Zimbio.com
The Buffalo Bills were absolutely brutalized in a disgusting 52-28 loss to the New England Patriots after a 21-7 lead going into halftime. Safety/linebacker Bryan Scott replaced Kelvin Sheppard at the middle linebacker position for the majority of the game. This was a gameplan installed to implement a nickel package that would allow the Bills' defense to keep pace with the arsenal of weapons in the Patriots' passing game. However, Guru Belichik said, "Hey, why not just pound the crap out of this nickel defense with the run game!"
This week the Bills (2-2) face a potent defense in the 49ers (3-1) that will be a a true test for Buffalo on both sides of the ball.
Bills Pass Offense Vs. 49ers Pass Defense
The Bills enter Sunday's contest with the league's 22nd ranked pass offense, averaging 229.8 yards per game through the air. Led by quarterback Ryan Fitzpatrick, who leads the NFL in touchdowns with 12, has been streaky, tossing seven picks. Buffalo lost two starting offensive linemen in rookie left tackle, Cordy Glenn, and right guard, Kraig Urbik, in last week's loss to the Patriots, which means that Fitz will be under a lot of pressure against the 49ers ferocious defense.
Tight end Scott Chandler has emerged as Fitzpatrick's favorite weapon in recent weeks, as he has recorded 12 catches for 175 yards and four scores on the year. He will be covered by former Bills' safety Donte Whitner, who has 19 tackles and a forced fumble throughout the first four games of the year. The 49ers have a solid and hard-hitting secondary including cornerbacks Carlos Rogers, Tarrell Brown, Chris Culliver, and safety Dashon Goldson. San Francisco has the leagues fifth ranked pass defense, allowing opponents to gain just 197.8 yards per game.
Ryan Fitzpatrick will really need to rebound from last week's mediocre performance and utilize the weapons he has at his disposal. Rookie wide receiver T.J. Graham showed some flashes in his first two games in the NFL, making eight catches for 65 yards and a score in that span.
Bills Pass Defense Vs. 49ers Pass Offense
49ers head coach Jim Harbaugh relies on the run game as a focal point of his offense, but quarterback Alex Smith has been reliable. With the 30th ranked pass offense that averages 179.3 yards per game, the biggest problem for the Bills' defense wont be the wide receivers, but tight end Vernon Davis.
Davis has 15 grabs for 197 yards and four touchdowns this year, and we all know how tight ends have been an issue for the Bills linebackers and safeties. On the outside, Michael Crabtree and Mario Manningham will face off with rookie corner Stephon Gilmore, who had a breakout game against the Patriots, and second-year man Aaron Williams. Crabtree and Manningham have combined for 36 catches and 358 yards, but neither have managed to find the endzone this season.
Defensive coordinator Dave Wannstedt needs to gameplan for Davis, and you can expect to see Bryan Scott covering the stud tight end throughout the game.
Bills Rush Offense Vs. 49ers Rush Defense
The 49ers have arguably the best front seven in the game right now, and surrender just 79.5 yards per game on the ground, good for 6th in the league. Last week, both Fred Jackson and C.J. Spiller returned from injuries but were a non-factor. Justin Smith, Issac Sopoaga, and Ray McDonald all can penetrate the line of scrimmage, and without Cordy Glenn and Kraig Urbik in the lineup for the foreseeable future, it's hard to imagine seeing the rushing stats we saw in the first three weeks of the year.
Bills Rush D Vs. 49ers Rush Offense
The Bills gave up 247 yards on the ground last week to Steven Ridley, and an undrafted rookie named Brandon Bolden. Frank Gore has a much better resume than the former, and has rushed for 326 yards on the year, finding the endzone three times. Given that the Bills were utilizing a nickel scheme against the Patriots, which gave New England a better opportunity to run, its likely that we will see a heavy dose of Kelvin Sheppard and Arthur Moats trying to plug the holes.
Marcell Dareus and Kyle Williams really need to hold their own at the line of scrimmage against a stout San Francisco offensive line. The 'niners are a run-first team and will try to wear out the Bills defense by pounding the ball with their bruising running back. In addition to Gore, Kendall Hunter is a change of pace back that has rushed for 126 yards and a touchdown this year.
Key Matchups To Watch
49ers Linebacker Aldon Smith Vs. Bills Left Tackle Chris Hairston
Chris Hairston will be the starting left tackle this week, with Cordy Glenn nursing an ankle injury. Aldon Smith was an absolute beast in his rookie campaign, and already has 4.5 sacks and 16 tackles in his sophomore year. The Bills will need Hairston to play well, otherwise we could see Fitzpatrick under some serious pressure, and well, we know that usually results in costly interceptions.
49ers Right Tackle Anthony Davis Vs. Bills Defensive End Mario Williams
Throughout the first four games of the year, the $100 million Mario Williams experiment hasn't exactly been what the "Bills Mafia" thought it would be. Williams has just nine tackles and 1.5 sacks thus far, and has been facing right tackles that are average to say the least. Anthony Davis is a solid tackle with strength and good technique that will present a tough matchup for the former All-Pro.
49ers TE Vernon Davis Vs. Bills' Linebackers & Safeties
Throughout four games, the Bills have already allowed tight ends to torch them for 253 yards and a score on 20 receptions. Now, 104 of those yards came from Rob Gronkowski, but covering tight ends is still a major issue, and the 49ers have one of the best in the game. Davis is a major threat in the redzone, and has the speed that linebackers cant keep up with, and size that defensive backs cant match.
49ers CB Carlos Rogers Vs. Bills WR Stevie Johnson
Stevie Johnson leads the Bills in both receptions and targets, with 15 receptions for 195 yards and three scores on 36 targets, but he was made a non-factor last week against the Patriots, catching just two passes for a measly 23 yards. The Bills' wide receivers operate out of multiple sets, but Johnson will likely be lined up against San Francisco's Carlos Rogers. Rogers is a physical corner, and Johnson will need to fight him in that five-yard window to get open, otherwise he might be in for another miserable week.
The post Buffalo Bills Vs. San Francisco 49ers Preview and Key Matchups to Watch appeared first on Queen City Sports.
Original Story:
http://www.queencitysports.net/buffal...
THE BACKYARD
BEST OF MAXIM
RELATED ARTICLES
In order to avoid writing a thousand cogent words about the travesty that was Week 4 at Ralph Wilson Stadium, I beefed up on my western films. Mainly my favorite: The Good, The Bad and The Ugly. It's a common favorite, I realize, but it does have the single best climactic duel in cinematic history. Plus it has a seriously motivating soundtrack. I feel like I could draw a pistol...
The NFL is investigating whether Buffalo defensive end Mario Williams has an injured left wrist. Williams has not been on the Bills' injury report this season despite what he claims has been a wrist injury that has bothered him all season. But the team says he has not missed any practices or game time. NFL spokesman Greg Aiello said Sunday that ''the club says he is...
SAN FRANCISCO -- The NFL is investigating whether Buffalo defensive end Mario Williams has an injured left wrist. Williams has not been on the Bills' injury report this season despite what he claims has been a wrist injury that has bothered him all season. But the team says he has not missed any practices or game time. NFL spokesman Greg Aiello said Sunday that "the club...
Buffalo Bills wide receiver Steve Johnson is known for his off-beat sense of humor. While we sit around and say ' hey man focus on your season,' he continues to promote his Street Games reality show. In this episode he talks a young lady into staging a fake engagement to the dismay of her mother. Please Click Here To Watch This Video
The NFL is investigating why the Buffalo Bills have yet to list Mario Williams on their injury list, despite the fact he has been vocal about a wrist injury, ESPN reported Sunday. Williams, who was a celebrated free-agent signing this off-season by the Bills, has been complaining about the injury all season, which is why the NFL is looking into the matter, league sources told ESPN...
Bills running back Fred Jackson was the team's leading carrier Sunday against San Francisco but he didn't lead the team in rushing yards.Fantasy Spin:Neither did C.J. Spiller. Buffalo's leading rusher ended up being Brad Smith, with one carry for 35 yards. Jackson and Spiller combined for 53 yards on 16 carries.
Bills DT Kyle Williams Fined $15,000 + - Buffalo Bills DT Kyle Williams was fined $15,750 for hitting New England Patriots QB Tom Brady below the knee area. He was called for roughing the passer. In a stunning development, Williams was not happy with the fine. Original Story Here!
  Before making his decision to stay out west for the two-game road trip, Buffalo Bills head coach Chan Gailey consulted with someone who has been there, and done that. That person is this week's opposing head coach, Jim Harbaugh. "San Francisco's done it the last couple of years," Gailey said. "I talked with Harbaugh, and he thought there were some real positives in...
The last time the Buffalo Bills entered Candlestick Park, the 2004 San Francisco 49ers started a struggling quarterback (not named Smith!) the day after Christmas on the way to a 2-14 season under then coach, Dennis Erickson.Drew Bledsoe played conservatively following a running game that pounded the Niners for 226 yards and a 41-7 score.Oh, how things change! In 2012, if you have...
The Buffalo Bills and defensive lineman Mario Williams haven't gotten off to the start they wanted. While there are multiple issues plaguing the Bills, Williams has been slowed by a wrist injury, reports Gregg Rosenthal of NFL.com: "I'm a hands-on player and it's all about power in my game," Williams said via the Rochester Democrat and Chronicle...
The 49ers beat the Buffalo Bills 45-3. Scratch that they humiliated the Bills. The offense put up a total of 621 yards on offense, a franchise record. We are not going to spend much time talking about how great the team looked today. We will leave you with some stats instead. 621 yards of offense the most ever by a 49ers team. The 49ers had a 300 yard passer (Alex Smith), two 100...
NFL News

Delivered to your inbox

You'll also receive Yardbarker's daily Top 10, featuring the best sports stories from around the web. Customize your newsletter to get articles on your favorite sports and teams. And the best part? It's free!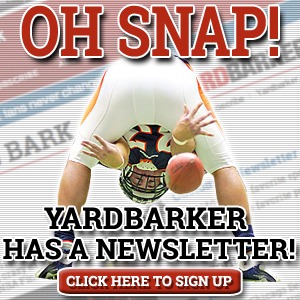 Latest Rumors
Best of Yardbarker

Today's Best Stuff

For Bloggers

Join the Yardbarker Network for more promotion, traffic, and money.

Company Info

Help

What is Yardbarker?

Yardbarker is the largest network of sports blogs and pro athlete blogs on the web. This site is the hub of the Yardbarker Network, where our editors and algorithms curate the best sports content from our network and beyond.