Found December 03, 2012 on Fox Sports Wisconsin:
GREEN BAY, Wis. A day after the Packers defeated the Minnesota Vikings at Lambeau Field, defensive coordinator Dom Capers, special teams coordinator Shawn Slocum and offensive coordinator Tom Clements addressed several topics from the 23-14 win. Here are three question-and-answer highlights from each coordinator: DOM CAPERS, defensive coordinator 1. How good was Morgan Burnett against the Vikings? CAPERS: I think Morgan's played excellent football for us the whole year. You'd have to say that those two plays changed the tempo of the game. They came when we needed them. We came out of the locker room at half and (Adrian Peterson) breaks the long run the very first play so, at that time, they had a lot of momentum because we'd missed a field goal at the end of the half and then when we kicked off (after halftime) we kicked off out of bounds and then they hit the play, so everything had been going their way. From that point on, after Morgan made that interception, we really picked up our play. (Peterson) still had one 23-yard run but, as you look at the game, we had six series of three-and-outs. I thought that was big. 2. How can you improve on all the missed tackles? CAPERS: You just continue. I think that our tackling has improved tremendously this year over a year ago. We knew going in -- all you had to do was watch tape, this guy (Peterson) makes a lot of people miss because the one thing he does is he attacks tacklers and he's big, strong and explosive, and you've got to wrap up. You see an awful lot of guys who are good tacklers miss on this guy and, unfortunately, when you do miss, he's got the explosiveness to turn what would be a 6-, 8-, 10-yard play into the one we saw. 3. What's your take on the personal foul called on Tramon Williams? CAPERS: Geez, those are tough. You coach guys to just stay down on the frame of the body and not go up to the head but the guy's breaking full speed and he's trying to go for the ball and unfortunately the flag went out. You certainly don't want to coach the aggressiveness out of guys. I liked his aggressiveness on him. You just say, 'Hey, try not to go helmet to helmet and try to go to the frame of the body.' SHAWN SLOCUM, special teams coordinator 1. What was your assessment of Mason Crosby's performance? SLOCUM: I thought the three field goals that he made were very important. I thought the missed 53-yarder we need to make. I think he kicked off well except when he went after one of them too hard and pulled it out of bounds. 2. Was making 3 of 4 field-goal attempts a turning point for Crosby? SLOCUM: I think it was positive results for him and the amount of work he's put into getting himself right. I thought he had a good week of practice. He kicked the ball very well. It was good to see him end the game that way. 3. Are you getting what you want out of the return game lately? SLOCUM: No, I think we left some plays on the field yesterday. I thought we slipped down one time, we had a seam, and then I thought we did a poor job taking what we could get there around our 20-yard line. We ended up, Randall reversed his field and lost some yardage there. Then on the kickoff return, the first kickoff return was productive and it was close to coming out, and the second one we got tackled inside the 20, that's not good enough, and the third one we missed a block there on the perimeter and we got tackled right at the 20. I thought we left some plays on the field. TOM CLEMENTS, offensive coordinator 1. How was the production of the offensive line after T.J. Lang was injured and Don Barclay came in? CLEMENTS: It was his first time playing a lot on the line. He went in and did a good job. He wasn't perfect, wasn't expected to be perfect, but he's a battler and he did well. He's on the roster for a reason. He earned his way on the roster and we always say when someone has a chance to play, they have to step in and do the job. He did that. Obviously we were aware of the situation and structured things a certain way to help him at times, but it's a credit to him that he did as well as he did. 2. Did Greg Jennings play more than you wanted him to? CLEMENTS: He played probably about twice as much as we wanted him to, but that was obviously because Jordy got out of the game early. But he played well. He caught the ball, which is one of the things after a long layoff and on a day where it wasn't that cold but conditions weren't ideal and he hadn't played in a while and hadn't been hit in a while. We were happy with the way he played, and it came out of it without any physical problems, and that's a good sign. 3. Will you continue splitting carries between James Starks and Alex Green? CLEMENTS: It depends on each plan, but I think I said last week what we tried to do is to give those guys the types of runs that we think they're best suited for to use their abilities, and it worked out that they were roughly equal in carries. Some weeks, one guy might get more, one guy may get less. The way it worked out the other day was good for both of them. Follow Paul Imig on Twitter.
Original Story:
http://www.foxsportswisconsin.com/12/...
THE BACKYARD
BEST OF MAXIM
RELATED ARTICLES
A report from ESPNMilwaukee.com surfaced late Tuesday night that Green Bay Packers RB James Startks could be placed on the season ending injured reserve list. Starks reportedly suffered a knee injury in the team's win over the Minnesota Vikings on Sunday. Although the injury is not being reported as an ACL, Starks could be placed on the injured reserve list in order to clear a...
With a depleted backfield, the Green Bay Packers have brought back a player from their past, adding veteran free agent RB Ryan Grant. The Packers have lost RB Cedric Benson for the season and could lose RB James Starks for the remainder of the season with a knee injury. The loss of Starks leaves the Packers with little depth on the roster with Alex Green likely to shoulder the majority...
Morgan Burnett's two big plays overcame a whole bunch of them by Adrian Peterson. Burnett picked off Christian Ponder twice, James Starks had Green Bay's first rushing touchdown in almost two months and the Packers overcame a monster day by Peterson for a 23-14 victory Sunday over the Minnesota Vikings. Peterson finished with 210 yards, the most he's had since blowing...
Jason Wilde reports that the Green Bay Packers have reached an agreement with their former running back Ryan Grant. This comes shortly after reports surfaced that James Starks could be done for the season. Grant drew little interest on the open market, despite trying out for a number of teams this year, so there are definitely some questions regarding skill set at this point in...
GREEN BAY, Wis. -- With one month until the playoffs begin, the Packers showed Sunday that they still have a lot of work to do to become serious Super Bowl threats. But this was certainly an improvement over how they played a week ago, so coach Mike McCarthy's team is starting to make a few of the necessary adjustments. Handing out grades following the Packers' 23-14 win...
The Minnesota Vikings' playoff chances are slipping away with each missed opportunity, such as Sunday's 24-13 loss at the Green Bay Packers. Green Bay and the Chicago Bears (8-4) are tied atop of the NFC North, with the Packers owning a tiebreaker advantage against Chicago. Minnesota (6-6) is a game out of the playoffs after the Seattle Seahawks (7-5) beat the Bears Sunday...
Fantasy Football News - The Green Bay Packers have gone back to the well by agreeing to terms with Ryan Grant to help bolster a RB corps decimated by injury this season. It is rumored that James Starks is being considered for the injured reserve after sustaining an injury during the week 13 contest. The Packers have also placed backup RB Johnny White on injured reserve because of...
GREEN BAY, Wis. -- The Packers have signed free-agent running back Ryan Grant and will likely place running back James Starks on injured reserve, according to Jason Wilde of ESPN Wisconsin.com. This is a return to Green Bay for Grant, who played five seasons with the Packers from 2007 to 2011 and ran for 1,200-plus yards in two of them. Grant, who will turn 30 Sunday, was not re...
GREEN BAY, Wis. -- Aaron Rodgers got plenty of help. Adrian Peterson got none at all. The Green Bay Packers won a key NFC showdown against the division rival Minnesota Vikings 23-14 on Sunday at Lambeau Field. The Packers (8-4) stayed comfortably in the playoff chase while the Vikings (6-6) are in deep trouble after losing for the fourth time in five games. Rodgers completed...
GREEN BAY, Wis. -- Aaron Rodgers got plenty of help. Adrian Peterson got none at all. The Green Bay Packers won a key NFC showdown against division rival Minnesota 23-14 on Sunday at Lambeau Field. With a win by the Packers (8-4) and a loss by Chicago (8-4), the Packers are tied for first place in the NFC North. The Vikings (6-6), meanwhile, are in deep trouble after losing for...
NFL News

Delivered to your inbox

You'll also receive Yardbarker's daily Top 10, featuring the best sports stories from around the web. Customize your newsletter to get articles on your favorite sports and teams. And the best part? It's free!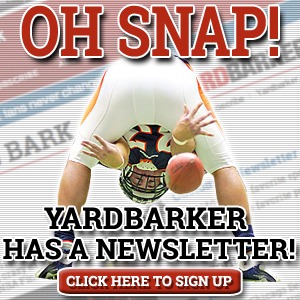 Latest Rumors
The Backyard

Today's Best Stuff

For Bloggers

Join the Yardbarker Network for more promotion, traffic, and money.

Company Info

Help

What is Yardbarker?

Yardbarker is the largest network of sports blogs and pro athlete blogs on the web. This site is the hub of the Yardbarker Network, where our editors and algorithms curate the best sports content from our network and beyond.