Found February 06, 2013 on Down and Distance:
A move that sparked "change" in Baltimore in early December resulted in the Ravens hoisting the Lombardi Trophy in February. The losing piece in the move they made, will be getting a bit of the glory himself. Cam Cameron will indeed be getting a ring from the Ravens (Kenneth K. Lam/MCT/ABACAUSA.COM) Ravens head coach John Harbaugh said on Wednesday that former offensive coordinator Cam Cameron will be receiving a Championship Ring for his work with the Ravens this season. "In my mind, he is definitely going to get a ring. He deserves a ring," Harbaugh told Sports Illustrated. Cameron was fired on December 10th, and the Ravens offense started to click. In the eyes of Ravens fans, the move was a building block to success. In the eyes of Cameron, the move was brilliant. It was a risky, yet well-calculated move by John Harbaugh, who sent one of his good friends packing just in time for his team to make a playoff run. It refocused the team, and led them to the promised land where they sent Ray Lewis out on top. Cameron's offense was one of the best in the NFL early on in the season, but swindled to a screeching halt at the midway point, relying on an injured defense to carry the weight. After his firing, things clicked for the team and they put their foot on the gas, Flacco leading the way, tying an NFL best 11-0 touchdown/interception ratio in the playoffs under newly appointed offensive coordinator Jim Caldwell. The firing was the fire under the rear end of the team, and it was the right move – but Cameron helped build the base of the team, and he's deserving of a ring as well – a good gesture from his good friend, John Harbaugh.   Follow us on Twitter @DownandDistance Down and Distance Editor-in-Chief – Justin Arbogast @NFLGuy_SK The post Cam Cameron to receive Ravens' Super Bowl Ring appeared first on DOWN & DISTANCE.
Original Story:
http://sports-kings.com/downanddistan...
THE BACKYARD
BEST OF MAXIM
RELATED ARTICLES
'A FUN PARTY'
Joe Flacco was on the Kelly & Michael Show  this morning, making the usual post Super Bowl media stops. What was initially a dull, standard talk show interview took an interesting twist when Flacco's height (6'6″) came up. Kelly Ripa got a little aroused. Then she asked how tall Flacco's wife was. Joe informed us that she was about 5′, pretty close to being a legal...
RELEASE THE HOUNDS
Check out these crazy Baltimore Ravens fans crawling over the fence at M&T Bank Stadium during the Super Bowl parade.  You would figure the Ravens staff would have a little better security for this type of event.  Heck, you would feel like they would have better security to protect people from getting into their stadium on a regular day. The video is below of the crazy fans...
Joe Flacco had a pretty interesting plan for the final play of the Super Bowl. Problem is, had he needed to carry out his plan it might have turned into the most infamous play in Super Bowl history, for all the wrong reasons. The Baltimore Ravens were about to make a free kick with four seconds left. The Ravens had just taken an intentional safety complete with some egregious holding...
Most championship celebrations get filled up but not to capacity.  Tuesday the Ravens celebrated their Super Bowl win with a parade and a final stop at M&T Bank stadium. Ravens owner Steve Bisciotti said he expected about 30,000 fans to show up.  By the time the team arrived to the stadium, it was filled to capacity like a game was about to be played. Police and Stadium officials...
Ravens owner Joe Bisciotti told reporters on Thursday that they offered QB Joe Flacco a "top-5 contract" last summer, per Albert Breer. If true, it would make Flacco's decision to play out the final season of his contract all the more remarkable. Flacco, 28, will definitely secure a $100 million contract at some point, but it will be interesting to see just how much guaranteed...
I can understand these Baltimore Ravens fans exuberance over their team winning the Super Bowl, but this is completely idiotic.  Baltimore is not exactly a sports town, winning two Super Bowls in 17 years, and the Orioles haven't won a World Series since 1983, so their excitement is not surprising.These two fans took it to the extreme with their drunken actions and hopefully both...
An alternate title for this post could have been "Future Darwin Award Contestant' since this woman is clearly not the brightest person in the world. In a day and age where fan violence is as common as a fine from Roger Goodell you would think that people would start to wise up some. Now I'm not saying that you can't express yourself or wear whatever you want when...
Despite supposedly retiring, you already knew that there was just no way that you would no longer see Ray Lewis. He's already reportedly going to be on your television every week during football season on ESPN. And now, Ravens fans will have the opportunity to see Lewis at every home game. But unlike years past, Lewis will be in statue form because the Ravens plan to build a statue...
The NFL season came to a close with John Harbaugh and the Baltimore Ravens raising another Vince Lombardi Trophy after defeating the San Francisco 49ers 34-31 in New Orleans. If you're having football withdrawals, NFL fans can now relive the season through animation. Austin Madison has been an animator on such hit Pixar films as Ratatouille, Up and Brave. The Pixar animator...
Team needs and impending free agents for the Baltimore Ravens.
In hour one of the Open Mike program, host Michael Cohen digests Super Bowl XLVII and shares his thoughts on the game, the legacy of the Ravens and the futures of Colin Keapernick and Joe Flacco. Michael even breaks down Super Bowl commercials in his Points of Contention. Open Mike 2-6-13 Open Mike 2-6-13
Ravens News

Delivered to your inbox

You'll also receive Yardbarker's daily Top 10, featuring the best sports stories from around the web. Customize your newsletter to get articles on your favorite sports and teams. And the best part? It's free!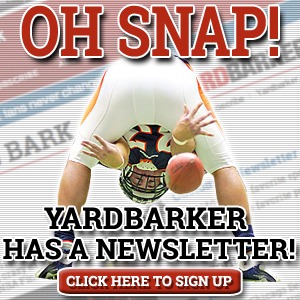 Latest Rumors
Best of Yardbarker

Today's Best Stuff

For Bloggers

Join the Yardbarker Network for more promotion, traffic, and money.

Company Info

Help

What is Yardbarker?

Yardbarker is the largest network of sports blogs and pro athlete blogs on the web. This site is the hub of the Yardbarker Network, where our editors and algorithms curate the best sports content from our network and beyond.