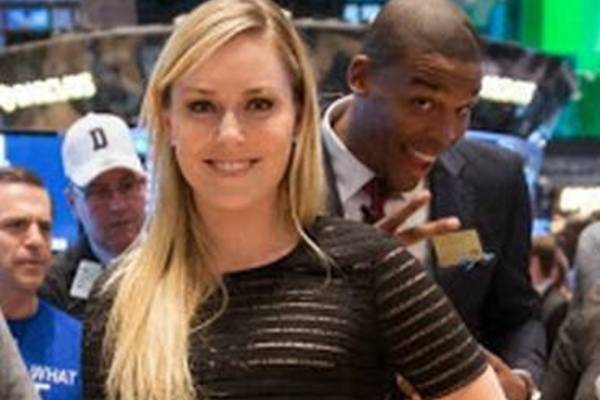 Carolina Panthers quarterback Cam Newton pulled off what may be one of the best photobombs of all time during a visit to the floor of the New York Stock Exchange on Friday, with the unsuspecting victim being Olympic Alpine ski racer Lindsey Vonn. Photo via Twitter / NYSEEuronext.Newton and Vonn were part of a group of athletes representing Under Armour as part of the NYSE "Super Bell Week" leading up to Super Bowl XLVIII, which also included Pro Football Hall of Famer (and NFL Network analyst) Deion Sanders. Under Armour CEO Kevin Plank rang the closing bell to celebrate the launch of their Speedform Apollo running shoe and the upcoming "What Fast Feels Like" global marketing campaign.Based on the fun that Newton and Vonn seemed to have fun during the closing bell proceedings, we don't think Vonn will mind the photobomb too much. We happened to uncover this little gem of Newton picking up the gavel and pretending he was going to hit Vonn over the head with it:Fortunately, it was all in good fun and no one got hurt.Watch the full NYSE Under Armour closing bell proceedings (featuring Newton and Vonn) here.H/T FTW. This post appeared first on Holdout Sports. Follow us on Twitter @HoldoutSports.
Read the rest of this story...
MORE FROM YARDBARKER

Panthers News

Delivered to your inbox

You'll also receive Yardbarker's daily Top 10, featuring the best sports stories from around the web. Customize your newsletter to get articles on your favorite sports and teams. And the best part? It's free!