Found January 22, 2013 on Bush League Chronicle:
With the Super Bowl quickly approaching, be on the lookout for plenty of prognostications from folks. This even includes some picks from animals. Namely, Princess, a 26-year old camel from Popcorn Park Zoo in New Jersey.The prophetic mammal has chosen the correct winner in six of the last seven Super Bowls, according to the zoo's general manager. She correctly tabbed the New York Giants in last year's big game.So, how does she do it?The method to this camel's madness might be hunger driven, however. "She loves graham crackers. In one palm we write down with one of these magic markers the 49ers, and on the other, the Ravens. We cover them with graham cracker so she can't see. Whichever she chooses to eat first is her pick," Bergmann said. "She picked the 49ers to win yesterday, and they did." But just this morning Princess had a change of heart."She picked the Baltimore Ravens. I guess she picked the older brother," Bergmann joked of the sibling rivalry this year between brothers, John Harbaugh, head coach of the Ravens, and Jim Harbaugh, head coach of the 49ers."Princess has also been making outcome predictions for Giants and Jets games since 2006.We shall see if her dubious pick comes to fruition on Feb. 3.Via Yahoo! Sports
Original Story:
http://www.theblcblog.com/2013/01/cam...
THE BACKYARD
BEST OF MAXIM
RELATED ARTICLES
Members of the Harbaugh family will be getting plenty of media attention over the next couple of weeks, with brothers John and Jim coaching on opposite sides of the field as the Baltimore Ravens take on the San Francisco 49ers in Super Bowl XLVII. One of those family members is John and Jim's younger sister, Joanie, who happens to be married to Indiana Hoosiers men's basketball...
On Wednesday, USA Hockey published a fantastic photo of brothers Jim and John Harbaugh from their days playing youth hockey. You may have heard before that the two are head coaches of NFL teams and that Jim Harbaugh, as head coach of the San Francisco 49ers and John Harbaugh, as head coach of the Baltimore Ravens, will be facing off against one another in Super Bowl XLVII on Feb...
NFL = NO FUN LEAGUE
A man who paid over $1,000 last year to file trademarks for the phrases "Harbowl" and "Harbaugh Bowl" claims he was pressured by the NFL to not do it.
While most people in America have pledged their allegiance to the San Francisco 49ers or Baltimore Ravens for the upcoming Super Bowl, Jacki and Jack Harbaugh hope for a tie. Naturally. The parents of Ravens head coach John Harbaugh and 49ers head coach Jim Harbaugh refused to pick a favorite for the first Super Bowl matchup to fit brothers against one another as coaches. &quot...
Greatest NFL coincidence of all time? Ray Lewis will be playing his last game pitted against the man who he got his first career sack off–49ers coach Jim Harbaugh. 17 years ago, back when Reverend Ray was still just  in proverbial Sunday school, he got his first career sack off 33-year-old Colts Quarterback Jim Harbaugh. NFL.com dug up the almost too awesome to believe stat...
Look for lots of Harbaughs in New Orleans next week. Two of them will be working the sidelines in the Super Bowl. Oh, brother! John Harbaugh and his Baltimore Ravens set up a family reunion in the Big Easy, shutting down the New England Patriots 28-13 Sunday in the AFC championship game. Waiting for them will be his younger brother Jim and the San Francisco 49ers, who beat Atlanta...
Congrats to the Baltimore Ravens and San Francisco 49ers, who both defeated higher-seeded opponents on the road to punch tickets to the Super Bowl. Here's our initial preview of the biggest matchup on the planet, which kicks off 332 hours from now. Two storylines you're going to be sick of by Wednesday: 1. Jim Harbaugh and John Harbaugh are the first brothers to hold...
FOXBOROUGH, Mass. -- It is going to be a Harbaugh vs. Harbaugh Super Bowl. Hours after Jim Harbaugh directed the San Francisco 49ers into the NFL's title game, his brother John's Baltimore Ravens upset the New England Patriots with a second-half rally that produced a 28-13 win Sunday in the AFC Championship Game. The coaching brothers and their teams will square off in...
Once the Baltimore Ravens knocked off the Denver Broncos and the possibility of a Peyton Manning versus Tom Brady AFC Championship was eliminated, the next best option for the Super Bowl immediately became a Baltimore-San Francisco match-up. In the AFC Championships second half Joe Flacco looked very Tom Brady-esque. Anquan Boldin shed years off his [...]
                                 "I've always had the prettier boner." And here we are.  The ************* HarBOWL.  ******* gag me already.  Any human rooting for the Ravens in this situation can get their dick ripped out at the root.  The vision of Ray Lewis hoisting another Super Bowl trophy over his head is enough to make...
49ers Jim Harbaugh announced that David Akers will remain the team's kicker despite missing a field goal against the Falcons. (NFLTR) Bengals Bengals may look to the draft to find a backup quarterback for next season. (NFLTR) Browns Browns CEO Joe Banner mentioned that he viewed hiring Chip Kelly as their HC as too big of a "gamble." (Sports Illustrated) Cardinals...
NFL News

Delivered to your inbox

You'll also receive Yardbarker's daily Top 10, featuring the best sports stories from around the web. Customize your newsletter to get articles on your favorite sports and teams. And the best part? It's free!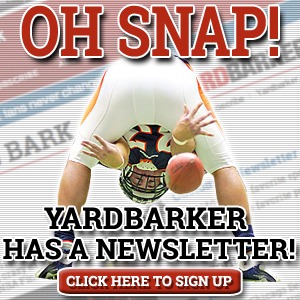 Latest Rumors
Best of Yardbarker

Today's Best Stuff

For Bloggers

Join the Yardbarker Network for more promotion, traffic, and money.

Company Info

Help

What is Yardbarker?

Yardbarker is the largest network of sports blogs and pro athlete blogs on the web. This site is the hub of the Yardbarker Network, where our editors and algorithms curate the best sports content from our network and beyond.