Found May 20, 2013 on Fox Sports Ohio:
The Cleveland Browns are changing again, and in that regard Jason Campbell already feels at home. Campbell comes to the Browns with plenty of stamps on his NFL passport, eight seasons of experience -- and absolutely no guarantee of anything when it comes to a role in his new stop. He operated the second-team offense last week as the Browns started their organized team activity practices, the first of four weeks of work that wrap up the offseason program. The Browns have been non-commital when it comes to anything involving the game's most important position. Brandon Weeden is the returning starter, and Brian Hoyer was added last week after the first week of OTA sessions was completed. It sure smells like a full-fledged quarterback competition is coming as all involved try to learn the new offense being installed by new coach Rob Chudzinski and offensive coordinator Norv Turner. "We haven't talked about (a competition)," Campbell said. "Right now, the coaches are working all of us out to get better. Whatever reps you have, you go in there and do the best that you can. You compete every day at a high level. It's all a learning curve, so there's not a whole to talk about. We're all just trying to work. "I just come out here to get better honestly. We've got a great offensive coordinator in Norv Turner, and head coach in coach Chud. You've got two offensive-minded guys like that, it's really a goal for us to come out here...to learn this offense and do everything I can, whatever my role is, to help the team win." Cleveland marks the fourth NFL stop for Campbell, 31, who was a first-round pick of the Redskins in 2005. A career 61-percent passer with a 76-52 touchdown-to-interception ratio suggests that he hasn't been terrible. He hasn't been great, either, and he really hasn't had a chance to build on the positive things he's done. He didn't bring all of his old playbooks along when he moved to Cleveland, probably because he didn't have toom. Campbell had four offensive coordinators in his four years at Auburn, then had four offensive coordinators in his five years with the Redskins. "Sometimes," Campbell said, "I call a play from another life." He has a sense of humor about his past, but he also has a serious desire to write a positive personal chapter. "Right now I'm trying to help everybody else get better and help myself get better," Campbell said. "I don't worry about the future. I've been through some different situations in my career. Now I've ended up in Cleveland, the team I broke my collarbone against two years ago. "After the injury it was tough. To be honest it took a while to grasp. I feel I was playing really well and was at a crucial part in my career. To get hurt and no longer be starting, it took a little bit. I've rebounded now. I'm happy, excited and I'm here to help this team get better and at the same time improve my own growth. Whatever happens, happens. At the end of the day it's about winning." That injury ended his two-year stint with the Raiders, who had traded for Campbell on draft day in 2010. He was a backup with the Bears last year, where he played in six games but saw significant action in just three. A Monday night loss at San Francisco was a disaster for Campbell and all involved; in two other games, he wasn't bad. The Browns added Campbell in March, making him no promises. He saw this new start as a selling point. "If you get caught up in (competing for the starting job) you can't go out and focus and get better," Campbell said. "Ultimately I do want to help but also compete and give my best. I'm still at a point in my career where I still have a lot of things in me. "We'll just see how it goes. (Weeden) is a good guy. I'm happy for Brandon. I'm trying to help Brandon. Right now we're a team and that's how it's going to be throughout the season. No matter what, I'm supporting whatever. Whatever that role is I'll do the best I can it because I just want to win, especially at this point of my career."
Original Story:
http://www.foxsportsohio.com/nfl/clev...
THE BACKYARD
BEST OF MAXIM
RELATED ARTICLES
Brian Hoyer was signed by the Browns next week and details of his two-year deal are starting to surface. See, unlike depth-chart speculation, this is actually news regarding Brian Hoyer and the Browns. Brian Hoyer's 2-year deal w/the Browns is worth $1.965M. $250k of his $715k '13 base salary is GTD. There's a '14 base salary escalator. — Joel Corry (@corryjoel) May 20...
Cleveland Browns running back Trent Richardson is unlikely to face criminal charges stemming from a mid-December incident which occurred at his home following the team's win over the Kansas City Chiefs. The Morning Journal reports that the lawsuit agains Richardson has been transferred from Cuyahoga County Common Pleas Court to Lorain County Common Pleas Court, and that there...
Cleveland Browns offensive coordinator Norv Turner's job is hard enough trying to get Brandon Weeden up to speed in his offense, and evaluating Jason Campbell. He now has to field questions about third string pickup Brian Hoyer, a darling of general manager Mile Lombardi. Since signing Hoyer, there have been reports of doom for Weeden, that it is an ominous sign for the second...
Cleveland marks the fourth NFL stop for Campbell, 31, who was a first-round pick of the Redskins in 2005. A career 61-percent passer with a 76-52 touchdown-to-interception ratio
Talk about skyrocketing value. Jordan Cameron's ADP and trade value have ballooned over the last few weeks. He's gone from a player commonly ranked around the 20th to 25th tight end to a guy comfortably slated in the 10th to 15th range. The rise is mostly due to recent comments from the Browns' coaching staff that have led fantasy owners to speculate about Cameron's ceiling...
Cleveland Browns quarterback Brandon Weeden should start to feel the walls closing in on him, paranoid behavior is warranted after the week he had. Jason Campbell, his main competition has looked good at offseason training activities, while Weeden has struggled. If that's not enough to deal with, GM Mike Lombardi signs former New England Patriots backup Brian Hoyer who...
The Browns have signed running back Brandon Jackson to a 1-year contract and rookie safety Jamoris Slaughter to a 4-year deal. Also, the team has released safety Eric Hagg, a seventh-round pick in 2011. Jackson has returned after spending the past two seasons with Cleveland, which signed him as an unrestricted free agent in 2011 from Green Bay. Jackson missed the entire '11...
The Browns today announced that they have come to terms with sixth round pick Jamoris Slaughter on a four year contract. Details have not been made available yet. The Browns also confirmed the release of S Eric Haag, as well as linebacker Ryan Rau and running back Robbie Rouse. The club did sign RB Brandon Jackson, as well as two undrafted free agents, wide receiver Michael Edwards...
The Cleveland Browns signed QB Brian Hoyer this past week to a two year contract, which brings the number of QBs in camp to four. They are building up there QB stable in an effort to push Brandon Weeden to bigger and better things in 2013. What follows is a capsule look at each player.      Contestant number one is Brandon Weeden, last year's starter. Weeden, who...
Hot News for FO Cleveland Browns Organization
Scott and I spent a lot of time talking Tribe today. We also touched on Brian Hoyer and whether we should be talking about it or not and also the Chuck Klosterman controversy with the Cleveland Browns. Scott Raab will be on the Ken Carman show weekly every Friday at 9 PM Talking about not talking about Brian Hoyer and his signing Which team should win a championship if you had a...
NFL News

Delivered to your inbox

You'll also receive Yardbarker's daily Top 10, featuring the best sports stories from around the web. Customize your newsletter to get articles on your favorite sports and teams. And the best part? It's free!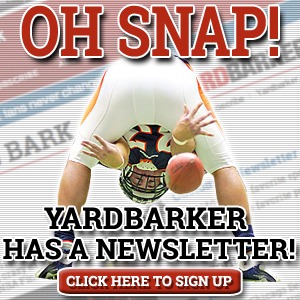 Latest Rumors
The Backyard

Today's Best Stuff

For Bloggers

Join the Yardbarker Network for more promotion, traffic, and money.

Company Info

Help

What is Yardbarker?

Yardbarker is the largest network of sports blogs and pro athlete blogs on the web. This site is the hub of the Yardbarker Network, where our editors and algorithms curate the best sports content from our network and beyond.