Found September 25, 2013 on isportsweb.com:
(Photo credit: Streeter Lecka/Getty Images North America) The New York Giants are 0-3 and while no one seems to be in a panic, they all have to be wondering if head coach Tom Coughlin can save the Giants from an 0-4 start and a possible losing season.Tom Coughlin is one of the best head coaches in the NFL today. He has had an amazing career going all the way back to his days in Jacksonville. He took an expansion franchise and made it into a playoff team in just a few years. Not many coaches know how to build teams and turn franchises around in a short amount of time. In 2004 he became the New York Giants head coach and coming along with him was Eli Manning. In three years time these two men would shock the world with the most unanticipated playoff run, and an unimaginable Super Bowl victory when they beat the undefeated Patriots. After a few up and down seasons in 2011 they made the playoffs with a 9-7 record. They found their magic again and marched straight to the Super Bowl. They beat the Patriots again in a classic match. With a resume like this Tom Coughlin's, fans all know that he will be inducted into the Football Hall of Fame someday. Fast forward to now, the New York Giants are 0-3 and Tom Coughlin has probably the biggest up hill battle of his career. He has to try to save the Giants season before it is too late. The big questions are what can he do and how will he do it? This 0-3 start is just shocking and unexpected, and no body on the Giants  can really say what is causing this kind of performance? Outside of losing Pro Bowl safety Stevie Brown to a season ending ACL injury no one else on the Giants has suffered anything major. Jason Pierre-Paul, Chris Snee, and David Baas are still recovering from their off season surgery. Snee and Baas have being playing a lot of downs since the recovered, and they must have some lingering pains that are affecting their play. It is going to take a lot more than just having all the starters healthy for a game. Where do you even start with this team? Does he start with the anemic offense that has no running game, and an offensive line that allowed seven sacks on Eli? Does coach Coughlin start  with the defense and their non existing pass rush, a linebacker core that can make a play on defense, or the inconsistent secondary that can make a great play one minute and for the rest of the game the cannot cover anyone? Does he  start with the coaching staff and how the offense and defensive coordinators are doing their jobs? Does coach Coughlin examine their game prep a little more closely? Do you start second guessing the plays they call? Do you even take their play calling privileges away? Does coach Coughlin start looking at what he is doing as the head coach? Maybe he needs to change his strategy? Does he go back to being the scary old head coach that yells at everyone? Maybe there is something that he is doing or not doing that can change some of this around? Tom Coughlin needs to find his magic coaching bag that will help him turn this season around fast, and Tom Coughlin is definitely the coach to turn this team around during the season.  The Giants players all respect him and enjoy playing for him, and they will rally around him. As long as he is their head coach he will not quit on them and they will not quit on him. This Sunday's game against the Kansas City Chiefs is a must win, that goes without saying. Whether then do win or lose they need to at least show improvement in their play, they cannot come out flat again. They have to come out swinging and pushing the petal to the metal. They have to act like a prize fighter in the 12 round who has been losing the entire match and just gives his all in the last round. They have nothing to lose and everything to gain this Sunday. If they win they keep hope alive that they can turn the season around. However; no matter the outcome they cannot show the frustration and sense of defeat that they showed Carolina. They have to fight from whistle to whistle, and if Tom Coughlin can coach this team to victory on Sunday it will show why you do not count out a two time Super Bowl winning coach.
Original Story:
http://feedproxy.google.com/~r/isport...
THE BACKYARD
BEST OF MAXIM
RELATED ARTICLES
Of course, Peyton Manning has come a long way and (hopefully) gotten a lot tougher since he spent time playing football with his brothers as a little tot, but watching this footage of big brother Cooper making Peyton cry, whine and throw a temper tantrum as a little kid still is quite amusing. The footage […]The post Here's Peyton Manning crying and whining while playing football...
(Photo credit: Streeter Lecka/Getty Images North America) Sloppy, disorganized, dysfunctional, aggravating, and to an extent, pitiful. These words were used to describe the New York Giants after their Week 1 performance against the Dallas Cowboys. After yesterday's revolting 38-0 loss against the Carolina Panthers, those five words don't even capture the full extent of what the...
Hakeem Nicks, the New York Giants' No. 1 receiver, was targeted once on Sunday and ended the game against the Carolina Panthers without a catch. "I can't throw the ball to myself," he said after the game. Coach Tom Coughlin was asked about the comment on Monday, and said, "I'll 
The Hakeem Nicks-Eli Manning rift if it ever did exist is officially no more. On Wednesday three days after Nicks made headlines for saying "I can't throw it to myself" in the wake of Sunday's 38-0 loss to the Carolina Panthers coach Tom Coughlin hinted that the comment was vastly overblown. And Manning said he didn't even need to talk to the wide receiver about any possible...
The ESPN documentary ''The Book of Manning'' shows a new generation of football fans that Peyton and Eli Manning got their athleticism and acumen from good bloodlines as well as their strong work ethic. The film, narrated by John Goodman, explores how tragedy shaped one of the most influential families in pro sports history and serves as a reminder of how good Archie...
After watching Peyton Manning and his multiple weapons on offense dismantle the Oakland Raiders on MNF, 37-21, you have to wonder how Bill Davis and Chip Kelly might try to disrupt the aging genius this Sunday. It won't be easy. You may not like Jughead, but you have to admit he is a master mechanic at his position. He will begin studying the Eagles defense today as if he...
New York Giants wide receiver Hakeem Nicks says "it's all good" between he and quarterback Eli Manning. Nicks, who was targeted once on Sunday and ended the game against the Carolina Panthers without a catch, 
KANSAS CITY, Mo. (AP) The hungry Kansas City Chiefs defense must be salivating at the thought of Eli Manning and the turnover-prone New York Giants coming to Arrowhead Stadium on Sunday. The Chiefs (3-0) lead the league with a plus-9 turnover differential, a big reason why they're undefeated. The Giants, meanwhile, are a league-worst minus-9, a major reason they've yet to...
Drew Brees, Aaron Rodgers, Joe Flacco and Peyton Manning have all won the Super Bowl once. Tom Brady, Eli Manning and Ben Roethlisberger have each won the top prize multiple times. Those are the headliners, the superstars, the marquee players of the NFL. Super Bowl-winning quarterbacks are what the NFL's marketing machine is built on. They are the Disney World group. Each of them...
The main reaction so far to the 2013 NFL season has been one of surprise. Things to be surprised about: - The San Francisco 49ers are 1-2 and have the third-worst point-differential in the league. - The New York Giants and Washington Redskins are 0-3, and the Giants' point differential is worse than any team but the Jacksonville Jaguars. - Eli Manning has been as bad as that...
Another week gone by and there's even more commotion to try and sort out around the NFL. Two of last season's playoff teams are still left winless, three more are under .500, including your reigning Super Bowl runners up, and the Miami Dolphins are 3-0, if you'll believe that. The first three weeks of this NFL season have been something of a whirlwind for most teams around...
Giants News

Delivered to your inbox

You'll also receive Yardbarker's daily Top 10, featuring the best sports stories from around the web. Customize your newsletter to get articles on your favorite sports and teams. And the best part? It's free!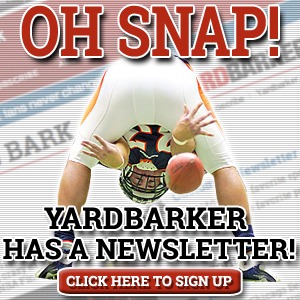 Latest Rumors
Best of Yardbarker

Today's Best Stuff

For Bloggers

Join the Yardbarker Network for more promotion, traffic, and money.

Company Info

Help

What is Yardbarker?

Yardbarker is the largest network of sports blogs and pro athlete blogs on the web. This site is the hub of the Yardbarker Network, where our editors and algorithms curate the best sports content from our network and beyond.