Found August 18, 2012 on isportsweb.com:
The Carolina Panthers proved they are more ready for prime time than the stars of HBO's "Hard Knocks" series, the Miami Dolphins. Bouncing back from an uninteresting effort last week, the Panthers beat the Dolphins 23-17 at Bank of America Stadium in both teams' second preseason game.
Carolina Panthers quarterback Cam Newton hands the ball off to running back Jonathan Stewart Friday night against Miami. Photo courtesy charlotteobserver.com.
Quarterback Cam Newton looked very sharp, completing 8 of 11 passes for 119 yards and a touchdown in his short time on the field Friday night. His offensive line gave him plenty of time to find open receivers, something they failed to do last week against Houston's blitzing defense. "Last week I felt kind of rushed," Newton said. "Today, I knew I had a lot more time to work, and when you know you are in there for longer than a couple series, you let the game come to you. I think it showed tonight."
"I thought Cam played very well – three very solid drives," coach Ron Rivera said. "I thought the big thing he did as far as running the show, he was very efficient. Believe me, I was disappointed last week that we didn't win. Very happy that we won this week. I want to believe this is something we can build on. We did some really good things."
Newton's longest completion was a 27-yarder to tight end Greg Olson – which came after Newton remained in the pocket and took a big hit from defensive tackle Paul Soloiai after throwing the pass.
Newton said, "there was a big difference between this week and last week," crediting the line for giving him time to throw. And, known for his running as much as his passing, Newton did not need to resort to his legs at all in his short time playing.
"(Offensive line coach John) Matsko coached us to protect what's ours and what's most valuable to us, and that's the quarterback," second-year tackle Byron Bell said. "That's Cam, that's (Derek Anderson) and that's Jimmy (Clausen). We had the attitude and effort tonight, and we got the job done."
"These guys take pride in what they do and I appreciate everything they do," said Newton, who added he felt rushed last week. "It starts with them. Without those guys, this offense would stall out each and every time."
Bell and rookie left guard Amini Silatolu remained in the game as the veteran linemen took a seat after the first quarter. The extra time on the field gave the younger players the opportunity to get in a few more hits and blocks, while working with the second-string.
"Coach Matsko keeps me out there. He told me to lead them all and continue my game," Bell said. "You never know. If someone got hurt, I would have to go in. I'm still a young guy and I'm learning from (veteran tackle Jordan) Gross and all those guys so I need all the reps I can get."
"You can prepare every week more and more in the preseason, and I think we were more ready for these guys this week," Gross said. "The whole line gave up eight sacks last week, and that was certainly something we wanted to cut down. We didn't give up any in the first quarter."
The Panthers' running back tandem of DeAngelo Williams and Jonathan Stewart combined for two touchdowns. Stewart ran one in from two yards out and Williams caught a pass from Newton in the flat and scored a 9-yard TD.
Stewart left the game with a calf injury in the first quarter, but it was nothing serious. The injury occurred when Stew caught a short pass from Newton for a one-yard gain.
On the flip side, Miami's first round draft choice (the 8th overall), quarterback Ryan Tannehill, from Texas A&M, made his first preseason start for the Dolphins and played the entire first half. His six possessions – four of which ended in three-and-outs – didn't go as he had hoped, but he was playing against a Panthers defense that has a lot to prove. He found himself under heavy duress for most of the game as the Panthers sacked him three times and batted down three balls at the line of scrimmage.
He finished 11 of 23 for 100 yards passing.
While the Panthers' first-team was in the game, they outgained Miami 152 to 23 in total yardage and had a 12 to 1 edge in first downs.
Carolina Panthers defensive end Charles Johnson gets around Jonathan Martin of the Dolphins and sacks Ryan Tannehill on this play. Photo courtesy charlotteobserver.com.
Defensively, the Panthers were playing with abandon. Defensive end Charles Johnson played an outstanding game, pressuring Tannehill and sacking him viciously, as did Frank Alexander and Thomas Keiser. Each pressured Tannehill, welcoming the rookie to the NFL.
"It was a big leap from what we did last week, " Johnson said. "It really didn't matter who was back there, we just wanted to work on our things and get better off what we did. It's a good game to build on, see what we did wrong, what we did right. But we had a good start."
The first-team defense did not allow a first down until the final play of the opening quarter. They forced back-to-back three-and-outs to start the game, allowing Newton and the offense to control the tempo and grab the early momentum.
Newton was replaced by back-up Derek Anderson in the second quarter, and Anderson was followed by Jimmy Clausen by the end of the third quarter. Former Panthers' quarterback Matt Moore replaced Tannehill in the second half, returning to Bank of America Stadium for the first time since 2010.
Miami Dolphins' Richard Marshall (31) works to separate teammate Vontae Davis (21) from Carolina Panthers' Steve Smith (89). Photo courtesy charlotteobserver.com.
Panthers' wide receiver Steve Smith should get some air time on "Hard Knocks" in Wednesday's show. He battled with  the Dolphins' Vontae Davis twice and ended up pushing the defensive back out of the way a couple of times. Smith had one catch for 15 yards against the Fins, but was pleased with the progress made by the offense.
"Last week was kind of difficult getting in a rhythm. We didn't play too many plays. That's as excuse we can make. But we just didn't show out very good in the short time that we had, " Smith said. "We came out with a different mentality and we're getting closer and closer to getting in the swing of things as the season progresses."
The kicking battle continued for the Panthers, with placekickers Olindo Mare (incumbent) and Justin Medlock (CFL veteran free agent) going toe-to-toe. Medlock kicked a 49-yard field goal in the first quarter, a 43-yard field goal in the fourth quarter and kicked an extra point. Mare hit a 44-yard field goal in the second quarter along with an extra point in the first. Each handled kicking off nicely, with Mare having a slight edge in length. One of Medlock's kickoffs was returned nearly 30 yards in the first quarter, the result of kicking to the goal line and not into the end zone.
Carolina Panthers' wide receiver Louis Murphy (83) is beginning to look like the No. 3 receiver for the team. Photo courtesy charlotteobserver.com.
And the battle for the number three receiver may be getting some clarity. With Steve Smith (No. 1) and Brandon LaFell (No. 2), newcomer Louis Murphy appears to be winning out for the No. 3 position.
The Panthers now have a week to get ready for a nationally televised game on NBC against the New York Jets on August 26. The starters are expected to play most of the game, which will be Newton's first one in New York.
Original Story:
http://feedproxy.google.com/~r/isport...
THE BACKYARD
BEST OF MAXIM
RELATED ARTICLES
Welcome to the best fantasy football show on the web! This week on "Between the 20s", hosts Michael Byrnes (@itsmikebyrnes) and Greg Benedetto (@bengregedetto), provide insight on the 2012 fantasy draft. Find out which players are going early (like Cam Newton), and who is falling to the later rounds. Do not enter draft day without listening to this! [...]
The Panthers are expecting big things this season from tight end Greg Olsen. With the departure of fellow tight end Jeremy Shockey and the arrival of fullback Mike Tolbert, coach Ron Rivera envisions Olsen doing less blocking and catching more balls. In fact, Rivera believes ''it's possible'' Olsen could put up numbers similar to what New England's Rob Gronkowski...
The great thing about the NFL is that there are so many positions that every year, there is almost always at least one player who has a breakout year on every team, no matter how good or bad the team is. This is one part in a 32 part segment detailing one potential breakout player for the 2012 NFL season on each NFL team. For the Carolina Panthers, that player is defensive end Greg...
The Carolina Panthers have high expectations heading into the 2012 NFL season. The atmosphere surrounding the Panther's training camp is so optimistic it prompted center Ryan Kalil to take a full ad out in the newspaper touting a Super Bowl victory for the team. Kalil listed several reasons why the Panthers will win the Super Bowl, and while his bravado should be applauded...
CHARLOTTE, N.C. (AP) -- Greg Olsen is hoping he can be as productive as Rob Gronkowski and Jimmy Graham. Carolina Panthers coach Ron Rivera believes Olsen could be poised for a breakout season not having to share catches with Jeremy Shockey, now a free agent, and with the arrival of new fullback Mike Tolbert, who should lighten Olsen's load as a blocker. In fact, Rivera believes...
The Miami Dolphins look forward to getting on the football field when they take on the Carolina Panthers on Friday night in week 2 of the NFL preseason. The Dolphins spent a crazy week mired in controversy as they parted ways with embattled wide out Chad Johnson. Johnson was arrested after a fight with his wife and the team cut him shortly after the incident. With the bright lights...
CHARLOTTE, N.C. (AP) -- Cam Newton outplayed rookie Ryan Tannehill in a matchup of young quarterbacks Friday night as the Carolina Panthers defeated the Miami Dolphins 23-17 in a preseason game. Newton looked extremely sharp, completing 8 of 11 passes for 119 yards and a touchdown as the Panthers (No. 20 in the AP Pro32) jumped all over the injury-depleted Dolphins defense early...
CHARLOTTE, N.C. — Cam Newton outplayed rookie Ryan Tannehill in a matchup of young quarterbacks Friday night as the Carolina Panthers defeated the Miami Dolphins 23-17 in a preseason game.
Make no doubt about it: Cam Newton is expecting some special things from the Carolina Panthers' offense this season. So he was encouraged to see his first-team offense bounce back from a lackluster performance last week with an impressive showing Friday night in a 23-17 win over the Miami Dolphins, an effort which could prove to be a springboard for the rest of the season. ...
Cam Newton outplayed rookie Ryan Tannehill in a matchup of young quarterbacks Friday night as the Carolina Panthers defeated the Miami Dolphins 23-17 in a preseason game. Newton looked extremely sharp, completing 8 of 11 passes for 119 yards and a touchdown as the Panthers (No. 20 in the AP Pro32) jumped all over the injury-depleted Dolphins defense early, scoring on their first...
Cam Newton outplayed rookie Ryan Tannehill in a matchup of young quarterbacks Friday night as the Carolina Panthers defeated the Miami Dolphins 23-17 in a preseason game.
For what many consider to be a make or break season for the Dallas Cowboys, it's easy to argue that every single home game is a must win and ranks of equal importance in 2012. With a fairly tough road schedule, the 'Boys will have to own "Jerry World" in order to keep pace with the incredibly talented NFC East. There is one game however that ranks above all others as the...
Panthers News

Delivered to your inbox

You'll also receive Yardbarker's daily Top 10, featuring the best sports stories from around the web. Customize your newsletter to get articles on your favorite sports and teams. And the best part? It's free!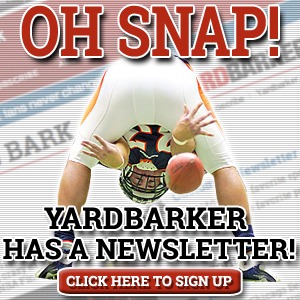 Latest Rumors
Best of Yardbarker

Today's Best Stuff

For Bloggers

Join the Yardbarker Network for more promotion, traffic, and money.

Company Info

Help

What is Yardbarker?

Yardbarker is the largest network of sports blogs and pro athlete blogs on the web. This site is the hub of the Yardbarker Network, where our editors and algorithms curate the best sports content from our network and beyond.