Found September 08, 2012 on isportsweb.com:
The Carolina Panthers open the 2012 regular season with an NFC South divisional rival as they travel to Tampa Bay to play the Buccaneers on Sunday. This marks the first time the two teams have opened the season against each other. Because of the Democratic National Convention taking place in Charlotte, the Panthers began preparations for the game on Tuesday in Bradenton, FL at the IMG campus. NFL Rookie of the Year, Carolina Panthers QB Cam Newton, said he has really improved in the off-season. Quarterback Cam Newton, last season's offensive rookie of the year, heads a potent offense that finished fifth in the League in points, and most of his offensive teammates also return. Guard Travelle Wharton and tight end Jeremy Shockey have left the team, but the team is very confident that second-round draft pick Amini Silatolu (replacing Wharton) and former back-up tight end Greg Olson will pick up the slack.  Offseason acquisition fullback Mike Tolbert also replaces Shockey. In addition to Newton's terrific season (accounting for 35 touchdowns – 21 scoring passes and an NFL quarterback record 14 rushing touchdowns), veteran wide receiver Steve Smith returns. Smith has moved to the top 36 career receivers in receptions and receiving yardage, caught 79 balls and had 1,394 receiving yards in 2011. Smith will look to extend his streak of 75 consecutive games with a reception, which began in 2006. He has played in 151 career games and with six games played, he will rank second in team history, passing Brad Hoover and Muhsin Muhammad. Pro Bowl center Ryan Kalil, the author of a full page ad that ran in the Charlotte Observer in July declaring the Panthers will win the Super Bowl this year, heads the offensive line that returns four of five starters. Coach Ron Rivera feels this year's team will be better than last year when the team was the first to have three 700 yard rushers and saw their passing game jump from 32nd in 2010 to 13th last year. "I think we have the potential to be better. Cam is now in his second season and has gone through offseason OTA's for the first time. We have good continuity throughout our starters and some young players who I believe are prepared to take another step up." Rivera is speaking of receiver Brandon LaFell, who had an excellent preseason, tackle Byron Bell and the big fella, Newton. LaFell, now in his third season, started the final six games last year and Bell started 12 as a rookie after moving into the lineup due to injuries. On the defensive side of the ball, there are more changes, but good ones. Linebacker Jon Beason returns after missing the entire 2011 season with a torn Achilles suffered in the opening game at Arizona. He missed much of the preseason with a pulled hamstring, however. Thomas Davis, who has been attempting to come back from three ACL surgeries after missing the last 2-1/2 years, played in only one preseason game (against the New York Jets), but looked good. Rookie Luke Kuechly, the team's No. 1 draft choice, had a strong preseason and will be a starter at linebacker on Sunday. After backing up All-Pro safety Ed Reed in Baltimore, newcomer Haruki Nakamura will also begin the season as a starter. One of five potential new defensive starters, he was impressive in the preseason and knows what it takes to get to the championship game, as he did with the Ravens. Other potential starters are defensive end Charles Johnson, linebacker James Anderson, cornerback Chris Gamble and safety Charles Godfrey, all back from last year, will try to improve upon the 28th ranked defense (in yards allowed) last year. "We saw some good signs of progress in the preseason and now have to  transfer that into the regular season while continuing to improve," said Rivera. Rookie punter Brad Nortman on his first day of training camp back in July One area the Panthers worked during the offseason to improve upon were the special teams.  Carolina drafted its first punter, Brad Nortman, and he averaged 48.2 yards per kick in the preseason. Placekicker Justin Medlock, with just one NFL game under his belt, but with three solid years of CFL experience behind him, beat out incumbent veteran Olindo Mare for the position. His strong leg was the difference. Kick returner Joe Adams, is a quick (and fast) player who has the potential to change games in a hurry. These three specialists should give the Cats a big improvement over last season's dreadful special teams. The Panthers and Bucs have met 23 times previously, with the Panthers holding a 14-9 edge. The game will mark head coach Greg Schiano's debut in the NFL. He is the ninth head coach in Buccaneers' history, and was the head coach for Rutgers University for the past 12 seasons. Every season is a fresh start, but…on December 24, 2011, the Panthers came of age, beating Tampa Bay 48-16 at Bank of America Stadium in Charlotte. This year every team begins anew, but on paper, the Panthers look to be much stronger.  The Panthers made two new additions to their roster as the team reached the NFL's 53-man active roster limit for the regular season. The team acquired safety Colin Jones from the San Francisco 49ers on Friday, August 31, in exchange for an undisclosed draft choice and signed defensive tackle Dwan Edwards on Sunday, Sept. 2. Jones is a second-year player from TCU, who played 13 games for the 49ers last season, seeing action primarily on special teams (a glaring weakness on the Panthers part last year). Edwards is in his ninth NFL season, having played the last two in Buffalo, where he started 24 of 27 games for the Bills. His career began in Baltimore where he played six seasons for the Ravens after being selected by the team in the second round (51st overall) in the 2004 NFL Draft. Having seen this team play four (okay, three…we all know the fourth preseason game is a joke) games and having watched many practices, the Panthers are going to be much improved from last year. The only problem…their division rivals, the New Orleans Saints and the Atlanta Falcons are also improved. The Saints, in fact, just got a whole lot better, as their previously-suspended players were granted amnesty and all of them, including All-Pro Jonathan Vilma, are eligible to play beginning Sunday. The Panthers improved to 6-10 last season (they had nowhere to go but up) and Cam Newton's level of play shocked nearly everyone. Newton is poised to be even better this season, and has the weapons he needs to lead this team to the top. Looking at their schedule when it first came out, I said the team would win 10 or 11 games. I am sticking with 10 wins this season, but even that could be a stretch. The opener is one of those games they must win, because the next three games (New Orleans, New York Giants, at Atlanta) could all be losses. Their fate in the NFC South Division could be sealed by the end of September, but, should they win two of those three games, the Panthers will have put their divisional rivals on notice…as well as the rest of the league. I am confident the Panthers will prevail, 24-10, in the opener.
Original Story:
http://feedproxy.google.com/~r/isport...
THE BACKYARD
BEST OF MAXIM
RELATED ARTICLES
Two of Cam Newton's biggest games in his Offensive Rookie of the Year season came against Tampa Bay a year ago. The Bucs let the Carolina quarterback kno Sunday they intend this year to be different, sacking Newton three times and intercepting him twice in the second half of Sunday's 16-10 season-opening victory. Newton threw for 303 yards and one touchdown. But the Panthers...
Any revolution in the NFL needs a leader and who better a leader, than Cam Newton. Change is coming to the NFL and kings are always rising and falling as the NFL's reining kings will begin to crumble, under Cam Newton's leadership iin 2012.
Panthers QB Cam Newton exceeded 300 yards Sunday against the Bucs but two interceptions put a damper on his day.Fantasy Spin:Newton completed 69.7 percent of his passes and averaged 9.2 yards per attempt. However, he only threw one touchdown and rushed for just four yards on five carries.
TAMPA, Fla. The Greg Schiano Era officially gets underway this weekend, and the new coach has one ultimate goal in mind for his Tampa Bay Buccaneers: turning the pirate ship back into a championship. But first, Schiano and his revamped team will need to show that they can compete again in the powerhouse NFC South Division and snap the 10-game losing streak that accompanies them...
The Carolina Panthers should be better offensively than a year ago when then-rookie quarterback Cam Newton set a bevy of records and the unit was one of the more entertaining in the NFL. The Panthers' defense should also be improved, as it is healthy knock on wood and made some changes that should make for at least a slightly better pass rush, pass coverage and a greater...
Green Eggs and Cam has to be one of the more creative fantasy team names in the world (feel free to send me yours), and the hype that Cam Newton is getting speaks volumes about the rookie campaign he had. Newton threw for over 4,000 yards and totaled for 35 TD on a team that was the worst in the NFL just two seasons ago. Carolina has suddenly become a sexy pick to make a push towards...
Tampa Bay's rejuvenated defense came up with two interceptions against Cam Newton and the Buccaneers won their debut under coach Greg Schiano, 16-7 over the Carolina Panthers on Sunday. Josh Freeman threw a 6-yard touchdown pass to Mike Williams and Connor Barth kicked three field goals to help the Bucs stop a 10-game losing streak that prompted the firing of former coach Raheem...
Two teams from the NFC South made the playoffs last season.  The two teams that did not, Carolina and Tampa Bay, will square off in Week 1 with hopes of joining the playoff picture in 2012.  What's going to happen on Sunday?  Here are my Three Bold Predictions.Bold Prediction Number One: Doug Martin officially introduces himself to Tampa BayThe Tampa Bay Buccaneers saw something...
Game one of the Bucs regular season has finally arrived. There is no better way to open a schedule than to kickoff against a division rival that stars one of the most exciting players in the game today. Here are a few keys to today's game that can have the Bucs send Carolina away with a loss. Contain Cam Newton This is a no-brainer. Against the Buccaneers last season, Cam Newton...
TAMPA, Fla. (AP) -- Tampa Bay's rejuvenated defense came up with two interceptions against Cam Newton and the Buccaneers won their debut under coach Greg Schiano, 16-7 over the Carolina Panthers on Sunday. Josh Freeman threw a 6-yard touchdown pass to Mike Williams and Connor Barth kicked three field goals to help the Bucs stop a 10-game losing streak that prompted the firing...
Greg Schiano separated himself from every other new NFL head coach who spent Sunday on the sideline. He won. The first-year guy with the Tampa Bay Buccaneers watched his defense shut down Cam Newton and post a 16-10 win over the Carolina Panthers. ''It's all about the players, their commitment to doing what we ask them to do,'' said Schiano, who spent the previous...
TAMPA, Fla. -- The Greg Schiano era officially began in Tampa Bay on Sunday with the Bucs beating Carolina at home, 16-10. With a new look and a new identity, the Bucs knocked off a divisional foe that had beaten them five out of the last seven meetings, shutting down the Panthers' multi-dimensional offense. Carolina's second-year quarterback, Cam Newton had virtually...
Panthers News

Delivered to your inbox

You'll also receive Yardbarker's daily Top 10, featuring the best sports stories from around the web. Customize your newsletter to get articles on your favorite sports and teams. And the best part? It's free!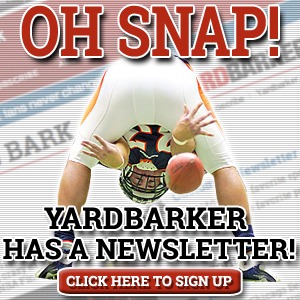 Latest Rumors
Best of Yardbarker

Today's Best Stuff

For Bloggers

Join the Yardbarker Network for more promotion, traffic, and money.

Company Info

Help

What is Yardbarker?

Yardbarker is the largest network of sports blogs and pro athlete blogs on the web. This site is the hub of the Yardbarker Network, where our editors and algorithms curate the best sports content from our network and beyond.