Case Keenum deserves better than the also-ran description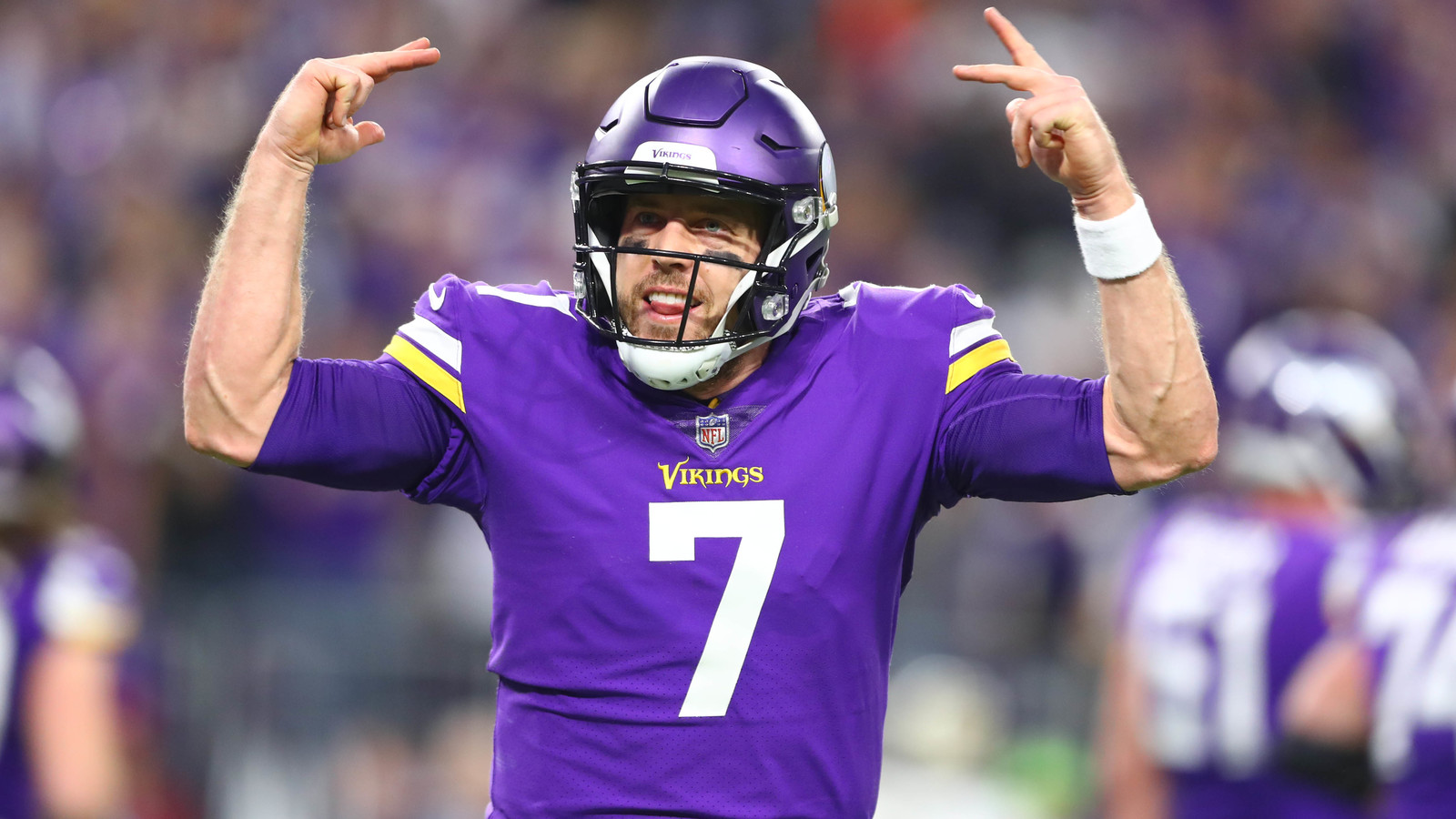 Mark J. Rebilas-USA TODAY Sports
Once the NFL Conference Championship Games were set, the immediate narrative set forth by pundits and fans alike was that the remainder of the postseason will pit the big, bad Patriots with GOAT Tom Brady against a bunch of teams that have never won anything (in the modern era, at least) and a slew of quarterbacks the public only knows through mockery, if at all.

Sure, it's not like that notion is complete devoid of truth. The Patriots are easily the favorite to win Super Bowl LII and understandably so given that the team has already won five championships with its current head coach and quarterback. Just last season, the Pats completed the best comeback in Super Bowl history, so you know that even if they get the A-game of their opponent, they're still capable of winning. Oh, and there's little point in arguing that the career accomplishments and Q rating of Nick Foles, Blake Bortles and Case Keenum can hold a candle to those of Tom Brady.

So while it's fine to say Case Keenum is no Tom Brady, at least in the grand scheme, his 2017 season deserves better than to be lumped in with a group of quarterbacks to point and laugh at.

By any metric, Keenum has had an outstanding season. Among quarterbacks with at least 300 attempts in the regular season, he placed seventh in passer rating, only four points and four spots behind Brady. According to Football Outsiders, Keenum was fourth among quarterbacks in total value in 2017 and actually had the highest value per play.

That easily puts him above the likes of Bortles and Foles. While Bortles certainly puts forth a goofy humility that's easy to root for and he's undefeated so far in the postseason, he hasn't been called on to do that much to win, and his regular-season numbers were middling at best. Foles's regular-season numbers were limited given that he didn't see action outside of garbage time until he had to take over for an injured Carson Wentz in Week 14. He's hardly been impressive since. The Eagles needed a great defensive performance to eke out a victory against the Falcons in the Divisional Round at home.

The Foles and Keenum comparison only really holds up when you look at the breadth of their careers. Each has one standout season in otherwise unremarkable pro careers. They both played for the 2015 St. Louis Rams, a classic Jeff Fisher 7-9 squad if ever there was one. Foles was the default starter for that team and got more snaps, though Keenum had better numbers — and a winning record — when given the chance.

For Foles, his one great season, in 2013, coincided with Chip Kelly's first year in the NFL, when many of his tactics were new and catching defenses off guard. That isn't to say Foles failed to play well, but a schematic advantage means a great deal and it shows in the years since as Foles has largely been mediocre or relegated to backup duty.

Keenum is in a positive situation of his own. After the Vikings' offensive line was a horrible liability in 2016, it was vastly improved this season. It also helps that Adam Thielen and Stefon Diggs are arguably the best receiving tandem in the NFL. Minnesota's defense is also the top-ranked in the league by yardage. Still, there's a difference in being surrounded by talent and throwing to receivers who are wide open because of innovative play design.

Sure, it was Diggs who made a great play, and benefited from a missed tackle, to pull off the Miracle in Minnesota on Sunday. It was also a spot-on throw from Keenum that might have gotten the Vikings in position for a winning field goal even had Diggs not wriggled free and raced to the end zone. Plus, Keenum has just enough mobility and elusiveness in the pocket to make good situations for himself.
Interesting note from

#NFL

pro personnel guy after watching

#Saints

-

#Vikings

final play: "If it was a dead feet quarterback, they'd have rushed three and devoted an additional deep safety. But I bet they were afraid Keenum would run around forever vs. 3 man rush and make a play."

pic.twitter.com/5zJd0Ry126

— Charles Robinson (@CharlesRobinson) January 15, 2018
If the Vikings do end up being the first team to not only play the Super Bowl in their own home stadium, but win it, it will be because they were a great team throughout — and also because they got consistently good performances from their quarterback. The same is unlikely to be said about the Eagles and Jaguars. So while it's easy to make memes about how it's Tom Brady versus a bunch of nobodies to decide the NFL season, that doesn't necessarily mean all those nobodies are bad. And one of them just might surprise you yet.
Vikings News

Delivered to your inbox

You'll also receive Yardbarker's daily Top 10, featuring the best sports stories from around the web. Customize your newsletter to get articles on your favorite sports and teams. And the best part? It's free!
MORE FROM YARDBARKER:
MORE FROM YARDBARKER
Vikings News

Delivered to your inbox

You'll also receive Yardbarker's daily Top 10, featuring the best sports stories from around the web. Customize your newsletter to get articles on your favorite sports and teams. And the best part? It's free!