Found September 20, 2012 on The Other Paper:
Chad Johnson is finally coming to grips with his demons.
After getting cut by the Miami Dolphins, following his domestic-abuse arrest for allegedly head-butting his then-wife Evelyn Lozada, Johnson is now without a team, divorced and hoping to get the train back on the tracks.
The six-time All-Pro receiver has assessed his life and career in the hope he can one last shot at redemption.
Johnson's regrets were evident when when he somberly admitted his pain and his plans during an interview that aired on Showtime's Inside the NFL.
"I'm taking classes, anger management classes," he said. "I'm trying to find out how I can channel my anger when I'm in situations to where I would pop off. How can I defuse those situations?"
The 34-year old knows the market for a self-promoting wide out with dwindling numbers and a posse with more lawyers than fans is not enticing to any NFL team. Just ask Plaxico Burress and Terrell Owens.
"When you get a humble Chad Johnson that has lost everything and has to work his way back up, that's a big deal. Because you're not getting that same individual, you're not getting that same fun guy ... I gotta prove a point," he said. "That's the scariest thing in the world to have someone that has that drive."
Johnson still thinks he has some gas left in his tank and believes the only reason he was cut by the Dolphins was for the arrest and not his performance in training camp.
"That was the reason. There was no need to blow smoke up my ass, you know what I mean?" he said. "First off, I lost two things I love, honestly. Football, I love. You know that, And you know the way I play the game, I enjoy it, I have fun with it, you know? And being married, being a husband, a lover, it was an honor. You know what I mean? And I lost that. And you know the saying,'You never know what you have until it's gone?'
"And now I finally know what they mean."
Original Story:
http://ihatelupica.blogspot.com/2012/...
THE BACKYARD
BEST OF MAXIM
RELATED ARTICLES
Six-time Pro Bowl wide receiver Chad Johnson's divorce from reality TV star Evelyn Lozada was finalized Wednesday, a little more than a month after his arrest on a domestic battery charge, his lawyer said. Johnson was competing for a roster spot on the Miami Dolphins when Lozada accused him on Aug. 12 of head-butting her during an argument about condoms she found, and she filed...
Six-time Pro Bowl wide receiver Chad Johnson's divorce is final from reality TV star Evelyn Lozada. It comes a month after his arrest on a domestic battery charge. Johnson attorney Adam Swickle confirmed the information Wednesday. The couple wed on July 4. The receiver says he legally changed his last name back to Johnson from the playful Ochocinco because of his marriage to...
Evelyn Lozada and Chad "Ochocinco" Johnson are officially divorced, PEOPLE has confirmed. According to Lozada's lawyer Michael Gilden: "Evelyn and Mr. Johnson were divorced this morning in an uncontested final hearing…My client is a single woman and looks forward to her future." One month after Lozada, 36, filed for divorce on grounds the marriage was "irretrievably...
FORT LAUDERDALE, Fla. (AP) -- Former NFL wide receiver Chad Johnson has pleaded no contest to a domestic violence charge involving his then-wife, reality TV star Evelyn Lozada. Johnson was sentenced Friday to a year's probation and a counseling course under a plea deal with prosecutors. Johnson also must pay Lozada unspecified restitution. The six-time Pro Bowl player long...
Chad Johnson and Evelyn Lozada are officially divorced just a little over 2 months after their wedding ceremony. Although Johnson initially didn't want to sign the paperwork, he eventually conceded that the marriage was irretrievably broken last week. Take that Kim K and Kris Humphries… Johnson has allegedly privately vowed to win Lozada back – [...]
Chad Johnson has reached a plea agreement on the misdeamonor charges relating to the domestic violence incident between he and his now ex-wife, Evelyn Lozada. Johnson plead "No contest" and was sentenced to probation and required to attend anger management classes. Evelyn Lozada reportedly didn't wish to pursue charges against Chad. "She did not wish to [...]
Former wide receiver Chad Johnson has put his legal troubles behind him, potentially helping in his bid to return to the NFL. Johnson and state prosecutors worked out a plea agreement to resolve a misdemeanor domestic violence charge against Johnson. He will serve one year probation, complete batterers' intervention counseling, and pay restitution for medical costs. He is...
Chad Johnson gave his first in-depth interview following his arrest for a domestic violence incident with his ex-wife Evelyn Lozada and being cut from the Dolphins to Showtime's "Inside the NFL." Chad was emotional, almost to the point of tears during one portion of the interview. Check out a few excerpts below. On why he [...]
Dinner with Chad Johnson at Ms. Toostie's in Philadelphia Philadelphia, PA – Over dinner in Philadelphia at Ms. Toostie's Chad Johnson said he was going to take this year off from football. He is in talks to with the NFL Network and ESPN about work this season. Johnson also told me he is not in Philadelphia to meet with the Eagles. He did express that he wants to "Go Home"...
Dolphins News

Delivered to your inbox

You'll also receive Yardbarker's daily Top 10, featuring the best sports stories from around the web. Customize your newsletter to get articles on your favorite sports and teams. And the best part? It's free!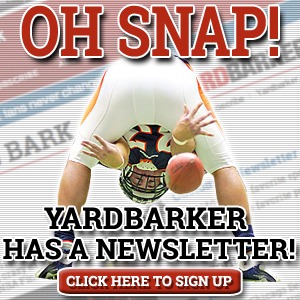 Latest Rumors
Best of Yardbarker

Today's Best Stuff

For Bloggers

Join the Yardbarker Network for more promotion, traffic, and money.

Company Info

Help

What is Yardbarker?

Yardbarker is the largest network of sports blogs and pro athlete blogs on the web. This site is the hub of the Yardbarker Network, where our editors and algorithms curate the best sports content from our network and beyond.