Originally written on
Buddy Nixon
| Last updated 10/21/14
FOXBORO, MA - SEPTEMBER 26: Coach Bill Belichick of the New England Patriots (R) shakes hands with coach Chan Gailey of the Buffalo Bills after the game at Gillette Stadium on September 26, 2010 in Foxboro, Massachusetts. The Patriots won 38-30. (Photo by Jim Rogash/Getty Images)
Holiday season is coming. You know what that means for all of us working professionals (those of us 88% in the workforce)? It's review time. Well guess what? I'm giving the review. Reference while reading: How The Bills Were Built 2010: C.J. Spiller is a top 5 NFL back. What more could you have asked for with the 9th pick? The rest of this draft has been bad.  However we have a few role players: LB Arthur Moats has been good at times, and Marcus Easley still has an opportunity to shine. Carrington has been a very good depth player (he has 2 sacks) and kick blocker. 2nd round pick Torell Troup ended up busting, and it hurts with Buffalo's own TE Rob Gronkowski picked 1 choice after. How much better could this draft had been if we just would have taken Gronkowski instead of Troup? Man I am never "we shoulda" guy, but its fun to think about. One underrated fact of this class was that we got our 2nd and 3rd WR from it. Jones and Nelson have been very good. I believe the Nelson injury this year hurts us more than we can comprehend. Can you imagine if we are able to add someone like Dwayne Bowe next offseason? We would have the best WR core in the league. I still wouldn't count us out drafting a WR. Free agency 2010 was garbage. We got Dwan Edwards who will later be cut at the start of 2012. One final note – we picked up Colin Brown, Kraig Urbik, Chad Rinehart, Scott Chandler, Erik Pears, and Shawne Merriman. That is quite the year saving signings. Grade: A- - Whoa, this was all saved by a few UDFAs and waiver pickups. We built some huge building blocks this year. They are currently paying dividends, and helping solidifying our offensive line for years. Do you guys ever remember having an offensive line this good? Well 2010 is why. We picked up our 4th, 5th, 6th, and 8th best offensive lineman this year. They would all go on to make the top 9 in 2012. Not to mention, our first real Tight End in years. I approve. 2011: This was a very interesting and weird year. We played so well at the end of 2010, only to continue that trend to start the year.  There was a point when Chan was 9-6 in his last 15 games. Obviously we finished 1-8. What is the common theme here? Consistency why do you think Chan harps on it so much? Well it's because he is inconsistent himself. I think we came off to a hot start after the lockout, and I truly believe it helped us as compared to other teams with new head coaches, quarterbacks, and large personnel changes. He has helped Side note statistic: after that 9-4 stretch, Gailey and crew are 6-15 since. So let's review: 0-8, 9-6, and then 6-15. So Chan, when you speak of consistency you are clearly calling yourself out. What a "Dr. Jekyll and Mr. Hyde" story.  As we break down the draft, we notice a common trend start to occur. Prospects that are big, tall, athletic, and multi year starters for big time programs. Marcell Dareus has been a game-changing player at time, and certainly dominated his rookie year. A lot of people have been worried about Marcell regressing, but I just think he has a lot better talent around him. Before him and Barnett stood out, and now they are foreshadowed by other players. Aaron Williams has flashed a lot of promise, but has had a few leg injuries slow him down in his first 2 years, he only has a season's worth of starts underneath him. We expect big things from him next year. Kelvin Sheppard is really coming developing into a nice player. He is the anchor of the defense, and is finally getting use to game speed. Searcy and Hairston have been nice players at their respective positions. Both have a bright future. White has been a solid special teamer, and Justin Rogers has begun to look worse and worse after a promising start to 2011 and 2012 training camp. He has been looking like a 2013 camp causality. Free agency left a little to be deserved. Thigpen, who once considered the savior of Chan Gailey's offense looks to be as bad as ever. His highlight was taking a ball to the face while warming up. Brad Smith is a nice trick player, but we seemed to be more concerned with taking him away form the Jets than anything else. He has proved to be an overpaid toy. However, there are times in 2011 and 2012 that I am glad we have him. Nick Barnett was a good training camp addition, and has proved to be the only player outside of the draft that has helped make a defense. Waiver pickups this year consist of OT Sam Young, RB Tashard Choice, and TE Lee Smith.  There are a few nice role players. Young will be starting at RT to close out the 2012 year. Choice has been able to fill in when needed, and Smith is a good blocking TE. Ruvell Martin was also added during training camp. Is there anyone you dislike more? He was picked up to be a good veteran special teamer, and he can't even do that. He must be a great film session guy. We have 0 UDFAs from this year, and not as dominant of a waiver scrape as the year previous.  One small nugget about 2011, Kyle Moore was added to the roster in November. Man, this is Buddy Nix at his finest. We scraped him off of the Lion's practice squad, after being drafted by the Buccaneers. He could be our starting defense end as the 2013 season opens. Does anyone else now spruce up when we pick up other players? Under Jauron it used to be the same old Chris Drafts and Reggie Torbors. Now, its high potential overlooked players. That is certainly more refreshing than lemonade on a hot summer day. Grade: C+ – outside of a good 7 round draft, this year was filled with heartache, misconception, and weak free agents.  This was a really jumbled year that included a long-term extension for starting QB Ryan Fitzpatrick as well. I don't believe this was the best move, however Fitzpatrick is still not making "top-end" money. 2012: Argh, what promise? A once very sexy pick to make the playoffs in a weak AFC. Mario Williams was locked into a room in Buffalo, and later came a 100 million dollar contract. Add in Mark Anderson, and a late preseason trade for Tarvaris Jackson to solidify the position incase our "franchise" QB gets hurt.  A May tryout pickup of FB Dorin Dickerson seemed to be the second calling of Dallas Clark in his prime. We seemed serious, we seemed ready, this was finally Buffalo's time Gary.  Is it just me, or does it almost not seem fair? I am calling it the curse of the Great Bradbino. Factor in the point of promoting Dave Wannstedt to defensive coordinator, and dumping George Edwards, and everything was finally good in Buffalo right? Well wrong, at least for now. Gilmore and Glenn have been studs. How the heck could you ask for anything else out of your first two picks, and starting LT and CB? Those are two of the hardest positions to transition to. Graham is going to get more reps, and we have used him a lot. He is looking like a decent deep option. Ron Brooks looks like he is the nickel CB of the future as well. McKelvin has been surprisingly good under Chan. He was toasted under Jauron. Nigel Bradham seems to be one of the most surprising finds of this year's draft. I think he has what it takes to be a long-term strong side linebacker under Dave Wannstedt.  We are one stud LB away from our defense really clicking. Searcy is getting stronger, and looks to be a good starting SS next season for George Wilson. Resign Jairus Byrd and are we finally a well-oiled machine? In season pickups this year consist of Shawn Powell, T.J. Heath, Mana Silva, Crezdon Butler, Thomas Welch, and Chris Scott. The jury is still out on these young players, but Nix's history suggests we might have a star in the making out of that group. Also add in the practice squad call up of C David Snow, and we might have some nice depth players here to work with. Side Note statistic: Chan's career record in one score games is 8-14, pretty evident of his game management.  Grad: B – Man, I had to keep this grade down even after a great draft because of all of the preseason hype. Could this be one of our best drafts ever? I think so. I do believe looking back on it expectations were sit a bit high for what we really were, however we were a Tennessee Nate Washington pass breakup, a New England Fitzpatrick touch down throw, and an Indianapolis cover a punt return away from being 8-4 right now. In Review: Lets see who Nix has hit on outside of the draft: David Nelson, Donald Jones, Kraig Urbik, Chad Rinehart, Scott Chandler, Erik Pears, and Kyle Moore. Steve Johnson, Ryan Fitzpatrick, and Fred Jackson have all also flourished underneath this new system. LOLerskates at the people judging the later round picks in the 2012 draft. 6th and 7th rounder should rarely make your ream as it is. Those players are use to starting on a team like ours. Now, those players are not even making teams, and our depth is finally better. How many of our guys got picked up by other teams this year? Dwan Edwards, Mark Asper, Derek Hagan, and Tank Carder. Delano Howell is now on the Colts as well. It's good to finally see OUR cuts being picked up. Overall Grade: B+ Why: All that's keeping this regime from an "A" grade is simple. Game management. If Chan and the staff could make in game changes, we would be a much better team. However, we have established some themes and talent that I could have only wished for from Jauron. I can't really give any props to Chan's 15-29 record, but I expect that go only up from this day forward. How can you deny Nix's ability to build a team after reading this? If we only had a franchise quarterback. Buddy Nixon's look out for list: WR Chris Hogan "Seven-eleven" – He has a lot of talent, and could be used as a Danny Amendola in our offense. Current a practice squad member with a lot of potential. He is next in line, we dumped Kamar Aiken for him. S Mana Silva – Yes, you heard it here first. Silva is a hard-hitting safety that has been moving up the depth chart. He has played a 5 games with the Cowboys after being undrafted out of Hawaii. We dumped Delano Howell for him. OG David snow – Yes, he is now starting. However, he was a highly decorated recruit for Texas. He has a strong all around game, and was undrafted due to not being "exceptional" at one specific thing. He is great on screen passes. Predicted offseason moves: Resign S Jairus Byrd and OG Andy Levitre Draft LB Manti Te'o 11th overall Sign WR Dwayne Bowe Draft QB Landry Jones in the second round Tweet us @buddynixon for comments and thoughts. Look out for Sniper's next piece. It will be an exclusive interview with C.J. Spiller. Have a question you want to ask him? Tweet away.
Original Story:
http://www.buddynixon.com/analysis/re...
PLAYERS:
Chan Gailey
,
Buddy Nix
,
C.J. Spiller
,
Arthur Moats
,
Marcus Easley
,
Torell Troup
,
Dwan Edwards
,
Colin Brown
,
Kraig Urbik
,
Chad Rinehart
,
Scott Chandler
,
Erik Pears
,
Shawne Merriman
,
Marcell Dareus
,
Aaron Williams
,
Kelvin Sheppard
,
Justin Rogers
,
Brad Smith
,
Nick Barnett
,
Sam Young
,
Tashard Choice
,
Lee Smith
,
Ruvell Martin
,
Kyle Moore
,
Ryan Fitzpatrick
,
Mario Williams
,
Mark Anderson
,
Tarvaris Jackson
,
Dorin Dickerson
,
Dallas Clark
,
Ron Brooks
,
Nigel Bradham
,
George Wilson
,
Jairus Byrd
,
Shawn Powell
,
T.J. Heath
,
Mana Silva
,
Crezdon Butler
,
Thomas Welch
,
Chris Scott
,
David Snow
,
Nate Washington
,
David Nelson
,
Donald Jones
,
Steve Johnson
,
Fred Jackson
,
Derek Hagan
,
Delano Howell
,
Chris Hogan
,
Danny Amendola
,
Andy Levitre
TEAMS:
Buffalo Bills
,
Carolina Panthers
,
Tampa Bay Buccaneers
,
Tennessee Titans
,
St. Louis Rams
MORE FROM YARDBARKER
NFL News

Delivered to your inbox

You'll also receive Yardbarker's daily Top 10, featuring the best sports stories from around the web. Customize your newsletter to get articles on your favorite sports and teams. And the best part? It's free!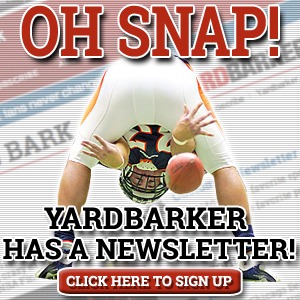 Latest Rumors
Best of Yardbarker

Today's Best Stuff

For Bloggers

Join the Yardbarker Network for more promotion, traffic, and money.

Company Info

Help

What is Yardbarker?

Yardbarker is the largest network of sports blogs and pro athlete blogs on the web. This site is the hub of the Yardbarker Network, where our editors and algorithms curate the best sports content from our network and beyond.